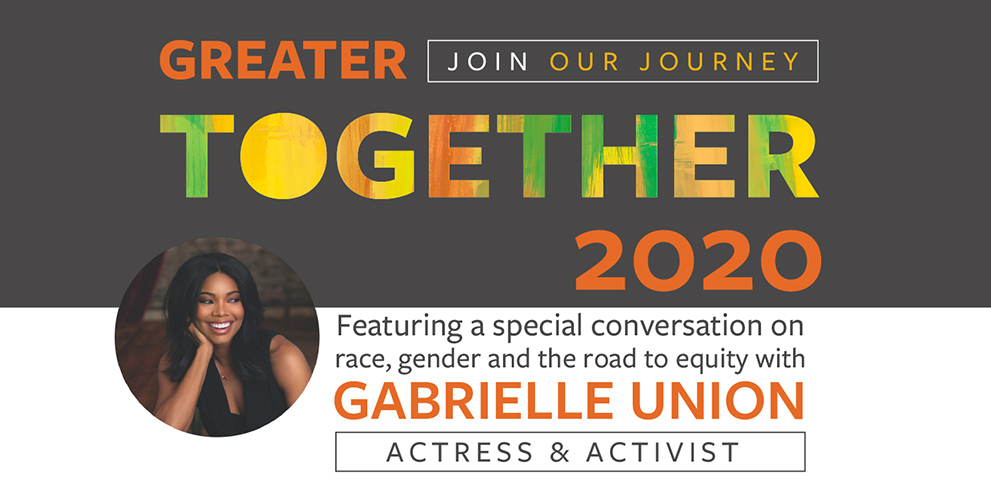 ---
Thank you to everyone who joined us for Greater Together 2020!
Greater Together 2020 was streamed live via Vimeo on November 10th! The event included an overview of the Hartford Foundation's accomplishments in 2020, how the COVID-19 pandemic and racial justice protests have impacted our work, and what lies ahead for next year. It also featured a conversation with our special guest, actress and activist Gabrielle Union.
Below are featured videos from the event.
---
---
The virtual event included a conversation on race, gender and the road to equity with actress and activist, Gabrielle Union and was moderated by UConn-Hartford's Dr. Mark Overmyer-Velázquez.
The Foundation announced a significant investment to dismantle structural racism and establish more equitable opportunity, economic mobility and social capital for Greater Hartford's Black and Latinx communities. In 2021, Foundation will establish two $1 million grants in the name of The Prosperity Foundation, a Black-led philanthropic organization, and The Hispanic Federation – Connecticut, a Latinx-led organization.
Perhaps the most heart-warming portion of the event was meeting the award-winning teen artists of the Foundation's Art in Action initiative. This fall, we put out a call for teenagers from across our region to submit creative work that captures their thoughts and emotions in this time of pandemic and protest. The five winners asked Ms. Union questions that included the source of her courage to speak out, how to maintain positivity in these difficult times and what we can do as individuals to ensure our nation moves toward progress. A virtual gallery of all the artwork submitted to the Art in Action exhibit is now available - take a few minutes to "walk through" and consider how their experiences might reflect your own.
We ask you to join our journey as we seek to dismantle systemic racism by taking our equity pledge. Unless and until an ever-increasing number of our fellow citizens acknowledge the insidious problem and persistently act against the status quo, we are destined to repeat it. Each of us can and must do more, and this pledge is one place to start.