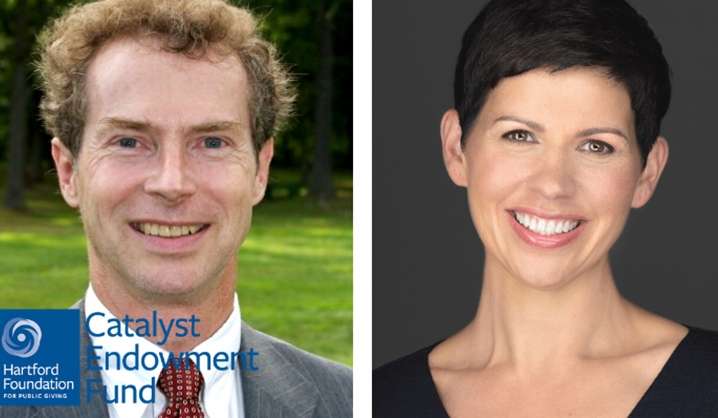 Terry Schmitt Named Chair of Catalyst Endowment Fund at Hartford Foundation
Long-time West Hartford resident Terry Schmitt has been named chair of the steering committee for the Catalyst Endowment Fund at the Hartford Foundation for Public Giving, the community foundation serving the 29-town Greater Hartford region. Amanda Aronson, who also resides in West Hartford, has been named vice-chair of the Catalyst Endowment Fund steering committee.
Schmitt most recently served as the executive director of the CT Council for Interreligious Understanding, a statewide organization that works to increase religious literacy and understanding, particularly among young people, in order to increase tolerance for each other and to put world events into a fuller perspective. An active member of the West Hartford Community, he is a former member of the West Hartford Board of Education.
Aronson is principal of Aronson Consulting, which supports nonprofit and educational communities with specialized research and needs assessment, strategic planning, marketing, development, and interim staff support. An active community member, Amanda serves locally as a current member of the West Hartford Board of Education. 
Since the Catalyst Endowment Fund was established 26 years ago, grants totaling more than $900,000 have been awarded in support of nonprofit programs in areas such as health, housing, domestic violence, juvenile justice and education. The Hartford Foundation pools and invests donations from members (a minimum of $500 annually per membership) to fund grants based on program areas selected by the membership. Funds like Catalyst, also known as 'giving circles,' provide individuals with an opportunity to be involved with philanthropy while providing greater impact through the pooled contributions. In 2019, the Catalyst Endowment Fund awarded grants totaling $58,000 to COMPASS Youth Collaborative and the Peace Center of Connecticut Inc. For more information on the Catalyst Endowment Fund, contact Betty Ann Grady at bagrady@hfpg.org or go to www.hfpg.org/catalyst.
The Hartford Foundation for Public Giving is the community foundation for Hartford and 28 surrounding communities. In 2015, the Foundation celebrated ninety years of grantmaking in the Greater Hartford region, made possible by the gifts of generous individuals, families and organizations. It has awarded grants of more than $600 million since its founding in 1925. For more information about the Hartford Foundation for Public Giving, visit www.hfpg.org or call 860-548-1888.