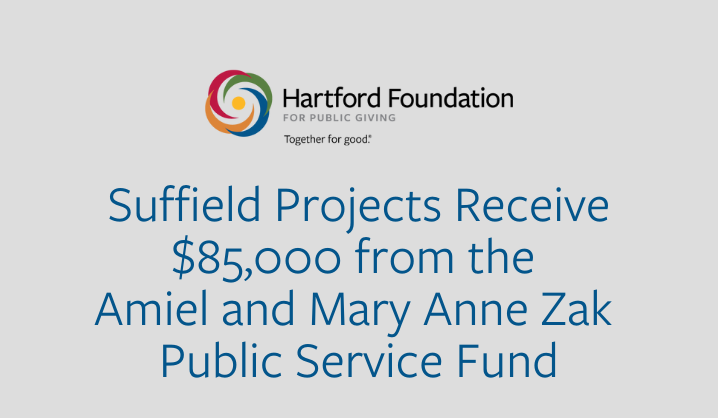 Suffield Projects Receive $85,000 from the Amiel and Mary Anne Zak Public Service Fund at the Hartford Foundation
Ten Suffield organizations have received grants totaling $85,210 from the Amiel and Mary Anne Zak Public Service Fund at the Hartford Foundation for Public Giving.
The fund, formerly known as The Amiel P. Zak Public Service Fund, has a long history of supporting programs that benefit the community of Suffield. The Fund was established in 2002 by Michael Zak to honor the service of his late father, Amiel, a teacher at Suffield High School for 35 years who also served on numerous town boards and many civic and public associations. Michael's mother, Mary Anne, passed away this past March, and a provision was in place to change the name of the Fund to honor both parents. According to Michael, Mary Anne shared her husband's love of Suffield, and both sought to support their community in a variety of ways.
To date, the Zak Public Service Fund has made 162 grants totaling $1,424,394.
The Amiel and Mary Anne Zak Public Service Fund grant recipients for 2022 include:
Boy Scout Troop 260 received a $1,300 to purchase a new canoe.
Boy Scout Troop 66 received a $2,368 grant to repair and upgrade a storage container.
Network Against Domestic Abuse of North Central CT, Inc. received a $10,000 grant to support its Community & Youth Outreach Program in Suffield.
Oak Hill received a $8,546 grant to purchase assistive and smart home technology for the organization's Suffield Group Home.
Suffield Firemen's Association received a $16,001 grant to support Operation Whetstone, a series of annual training classes.
Suffield Girl Scout Troops 10981 & 10964 received a $1,495 grant for CPR & First Aid Training.
The Suffield High School Athletic Booster Club (PTA) received a $5,000 grant toward the cost to install new bench enclosures.
Pan-Massachusetts Challenge Trust received a $500 grant for costs associated with the Suffield Pan Mass Challenge Kids Bike Ride.
Suffield Volunteer Ambulance Association, Inc. received a $15,000 grant for hardware upgrades to the Mass Casualty Incident and Special Events Trailer.
The Friends of the Farm at Hilltop, Inc. received a $25,000 grant to support painting the "Big White Barn" at Hilltop.
The Hartford Foundation for Public Giving is the community foundation for Hartford and 28 surrounding towns. Through partnerships, the Foundation seeks to strengthen communities in Greater Hartford by putting philanthropy in action to dismantle structural racism and achieve equity in social and economic mobility. Made possible by the gifts of generous individuals, families and organizations, the Foundation has awarded grants of more than $894 million since its founding in 1925. For more information, visit www.hfpg.org or call 860-548-1888.