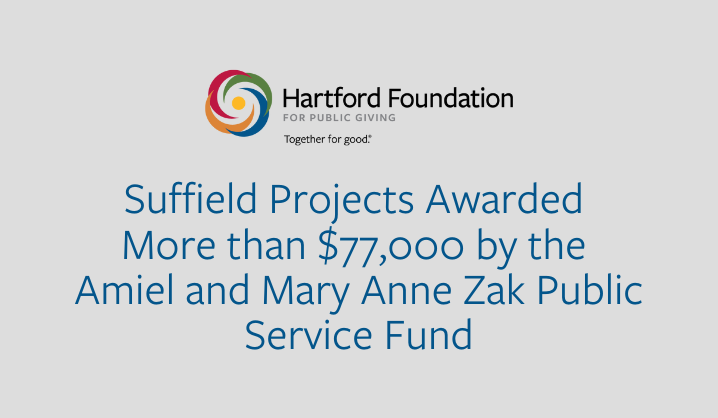 Suffield Projects Awarded More Than $77,000 by the Amiel and Mary Anne Zak Public Service Fund at the Hartford Foundation
Twelve Suffield organizations have received grants totaling $77,460 from the Amiel and Mary Anne Zak Public Service Fund at the Hartford Foundation for Public Giving.
The fund, formerly known as The Amiel P. Zak Public Service Fund, has a long history of supporting programs that benefit the community of Suffield. The Fund was established in 2002 by Michael Zak to honor the service of his late father, Amiel, a teacher at Suffield High School for 35 years who also served on numerous town boards and many civic and public associations. Michael's mother, Mary Anne, passed away in 2022, and a provision was in place to change the name of the Fund to honor both parents. According to Michael, Mary Anne shared her husband's love of Suffield, and both sought to support their community in a variety of ways.
To date, the Zak Public Service Fund has made 174 grants totaling $1,501,854.
The Amiel and Mary Anne Zak Public Service Fund grant recipients for 2023 included:
Boy Scout Troop 260 received a $2,000 grant for gear revitalization.
Boy Scout Troop 66 received a $3,000 grant for fundraising tables and a sidewalk sign.
FIRST Robotics Team - Suffield (Fiscal Sponsor - Hartford County 4-H Foundation) received an $8,000 grant to purchase a Tormach Autofeed Cut-Off CNC Bandsaw.
Friends of the Enfield Falls Canal, Inc. received a $6,000 matching grant towards the purchase of a Kubota RTV 520 utility vehicle.
Network Against Domestic Abuse of North Central CT, Inc. received a $10,000 grant to support its Community & Youth Outreach Program in Suffield.
Special Olympics Connecticut received a $1,000 grant to support Suffield residents who participate in Special Olympics Connecticut.
Suffield Community Aid received a $3,000 grant to purchase and install an automated external defibrillator (AED).
Suffield Little League received a $15,000 grant for improvements to the facilities at Christian Field.
Suffield Public Schools received a $7,250 grant for media upgrades.
The Friends of the Farm at Hilltop, Inc. received a $5,000 grant towards the creation of the River View Picnic Area at Hilltop Farm.
The Village for Children and Families, Inc. received a $11,785 grant for upgrades to its Second Chance Shop in Suffield.
Town of Suffield received a $5,425 grant for technology upgrades to Suffield Police Department's Community Meeting Room.
The Hartford Foundation for Public Giving is the community foundation for Hartford and 28 surrounding communities. Made possible by the gifts of generous individuals, families and organizations, the Foundation has awarded grants of more than $948 million since its founding in 1925. For more information about the Hartford Foundation for Public Giving, visit www.hfpg.org or call 860-548-1888.