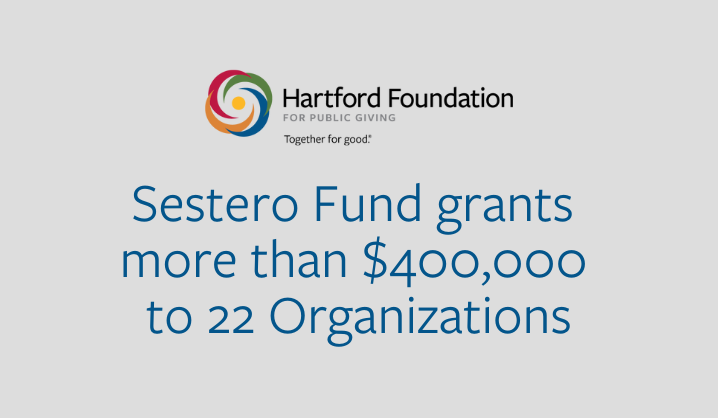 Sestero Fund Supports Utility Terrain Vehicles for Autistic Children and Other Glastonbury Projects
More than $400,000 Granted to 22 Organizations
Open Doors Outdoors started as a nonprofit focused on providing military veterans and their families with opportunities to enjoy activities in nature including hiking, kayaking, snowshoeing and utility terrain vehicle adventures. These activities help veterans cope with mental health issues they often experience when they return home, including depression, anxiety, and posttraumatic stress disorder (PTSD). After working with veteran families, Open Doors Outdoors Executive Director Davey Edwards realized that these activities offered similar benefits to children on the autism spectrum.
In an effort to offer these programs to more children with autism in Glastonbury, Open Doors Outdoors applied for a $25,000 grant from the Norma and Natale Sestero Fund at the Hartford Foundation for Public Giving. The grant will allow the organization to purchase a new utility terrain vehicle (UTV) with a full enclosure to reduce the noise and exposure to the elements. Funds will support expanding the existing Glastonbury Family UTV program into the colder months, as well as support the current Snowshoe Program and Farm Run Race Series.
Our UTV Program has truly blossomed," said Edwards. "The focus of the program was veterans with physical disabilities. One of the veterans participating in our program had two autistic sons and we decided to see how they would respond to using the UTVs. Their response was simply amazing. It was clear this could help many more children. This Sestero grant will not only benefit more kids on the autism spectrum, but also families who can participate in these activities together."
Open Doors Outdoors is one of 22 nonprofits serving Glastonbury residents receiving more than $400,000 through the Norma and Natale Sestero Fund at the Hartford Foundation. The Sesteros were longtime residents of Glastonbury who established the fund through their charitable remainder trusts. Their fund supports organizations that benefit people and institutions in Glastonbury in the areas of culture, health, education, social welfare, and the environment, including town beautification and preservation of heritage.
Other grants awarded are:
| Organization Name | Project Description | Grant Amount |
| --- | --- | --- |
| Community Child Guidance Clinic, Inc. | Technology for Home-Based Care: Funds will support the purchase of tablets to be used while providing in-home services to at risk children and their families. A two-member team collaborates with the family by providing mental health services, intensive case management services and mobile crisis intervention. Services meet the family's unique needs and goals, and treatment plans are co-constructed with each family. Currently, the team utilizes smart phones | $12,900 |
| Community Health Resources, Inc. | Real Health, Real Hope: Funds will support the launch of Real Health, Real Hope, a program to dive deeper into health education (including smoking cessation, nutrition, and exercise counseling) for adults from Glastonbury who are in treatment for mental health or addiction services. This initiative builds upon efforts previously funded by the Sestero Fund as well as a federal grant aimed at integrating physical and behavioral healthcare services. | $21,354 |
| Glastonbury First Church of Christ Congregational | The Rev. David T. Taylor Playground (the "Taylor Playground"): Funds will support the creation of a new accessible playground that's centrally located, open to the public, and visible from town facilities and other buildings. | $42,000 |
| | Girl Scout Starter Troops: Funds will support the Girl Scout Starter Troop pilot program. The program provides a mentor for the leader along with financial assistance to cover mandatory leader training, membership dues, uniforms and summer camp and seed funding for activities. | $3,980 |
| Glastonbury ABC, Inc. | Replacement of Driveway: Funds will support removal of existing asphalt driveway, regarding the existing base, compacting and paving the driveway with asphalt. | $14,000 |
| Glastonbury Links Together | Free choice food bank: This collaboration of public, nonprofit and parochial organizations will use their award to help establish a free choice food bank at the Glastonbury Community Center. Grant dollars will be used to provide start-up goods, supplies and services such as delivery and to continue the student backpack program at four local schools. | $10,000 |
| Glastonbury Little League | Player Support/Facilities Refurbishments: Funds will continue to cover fees and mandatory equipment costs for low-income players. Last season, 28 players received bats, batting helmets and gloves along with the $175 player fee. The goal is that no child be denied the opportunity to play baseball/softball because of financial need. Funds will also support field improvements. | $40,000 |
| Glastonbury MLK Community Initiative | 2023 Community Conversations: Funds will support four Community Conversations, designed to bring town residents together to discuss social justice and civil rights issues. The award also covers licensing fees, technical support for large virtual meetings, and a social media marketing consultant. | $14,900 |
| Glastonbury River Runners | "Get Ready to Run" 5K Training Program: Funds will support a 9-week training program preparing runners to complete 5K runs. The program provides local residents the opportunity to become more active through a safe and encouraging environment that promotes health, wellness and camaraderie. | $2,500 |
| Hill and Dale Garden Club | Herbert T. Clark House Tree Garden: Funds will support planting trees and shrubs at the entrance of the Herbert T. Clark House. The house provides congregate and assisted living services as an affordable option for seniors. This garden will complement three perennial gardens created by the garden club in 1998. All gardens will be maintained by volunteers from the garden club in collaboration with Glastonbury Housing Authority. | $5,191 |
| Layavinyasa | General Operation Support: Funds will provide general operating support to the agency's Intercultural Alliance Outreach focusing on their mission, to support families of Glastonbury to engage in community esthetic, identity, and value in a way that can help them learn and respond. Strategic activities include workshops in Glastonbury schools, Wells Turner Memorial Library, and ISKON, as well as performances at Glastonbury Senior Center and Glastonbury's Riverfront. | $5,000 |
| Malta House of Care, Inc. | Healthcare for Uninsured Glastonbury Residents: Funds will support free medical care for uninsured Glastonbury residents. | $10,000 |
| Operation Fuel, Inc. | Emergency Energy Assistance in Glastonbury: Funds will support emergency energy assistance for low- and moderate-income residents living Glastonbury. The maximum energy grant per household ranges from $250 to-500; these grants are paid directly to utility vendors. Funds will support emergency energy grants, fuel bank fees, staffing, and operating expenses. | $11,000 |
| Planned Parenthood of Southern New England | Glastonbury Fund for Access: Funds will help Glastonbury area residents to access reproductive healthcare – birth control, STI testing and treatment, and preventative care like cervical cancer screenings and breast exams -- regardless of their insurance status and ability to pay. Services are provided on a sliding fee scale. | $20,000 |
| Rushford Centers | Adjunctive Therapies Program: Funds will support adjunctive therapies (including yoga) for a substance abuse disorder treatment program, including training more therapists to deliver trauma-informed and gender-informed care to clients. | $30,000 |
| | Restoration of Exterior of South Glastonbury Public Library: Funds will support exterior restoration work on the South Glastonbury Public Library, a designated landmark on the National Register of Historic Places. | $43,000 |
| Sunrise Northeast, Inc. | "Shelter to Thrive" - Kitchen Expansion and Enhancements: Funds will support kitchen renovations at the Overlook Street home, replacing outdated equipment and transforming the kitchen into a modern, inviting, and more comfortable space for residents. | $22,400 |
| Wind Hill Community Farm & Learning, Inc. | Community Garden Restoration and Ethnic Diversity Gardens Program: Funds will support restoration and renovation of the community garden as well as the creation of three new community presenter beds. The new beds will be utilized by members of the community interested in demonstrating their own ethnic specialties and food choices. Each "presenter" gardener will be sponsored financially by a member of the community. A highlight of each gardener's season will be a celebration of the gardener's harvest by the entire community | $11,000 |
| YMCA of Metropolitan Hartford, Inc. | Preschool Equipment for New Glastonbury Branch: Funds will support equipment purchases for the YMCA's two new preschool classrooms that will be located at the 90 National Drive branch. The two new preschool classrooms will allow the YMCA is double its capacity to serve up to 40 preschoolers. | $30,000 |