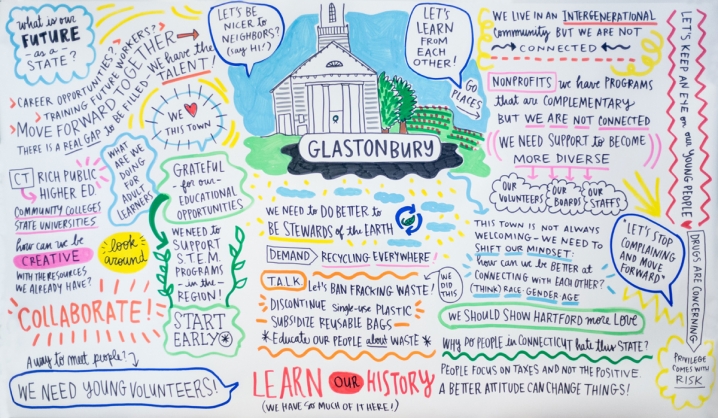 Sestero Fund Supports Mobile Dental Clinic and Other Glastonbury Projects
During the pandemic, accessing timely and safe access to dental care has become more difficult, particularly for low-income seniors who lack adequate insurance to cover costs. In response, the Sestero Fund at the Hartford Foundation for Public Giving has awarded a $20,000 grant to First Choice Health Centers (First Choice) to provide seniors with low incomes in Glastonbury greater access to dental care through the organization's mobile medical van.
"First Choice is excited to continue this partnership with the Sestero Fund at the Hartford Foundation for Public Giving and serving the residents of Glastonbury," said First Choice Health Centers President and CEO Jeffrey Steele. "First Choice has been delivering care to the most vulnerable populations for 25 years, including but not limited to uninsured and under insured patients. First Choice's mission focuses on eliminating barriers to care. This grant from the Sestero Fund will allow First Choice to continue to achieve our mission by deploying our mobile dental unit to bring dental care to the residents at four subsidized housing sites in Glastonbury."
Oral Health is vital for general overall health and well-being; poor oral health is associated with conditions such as diabetes, stroke, respiratory illness, disability, and reduction in mobility. The program will provide quarterly visits to four housing sites, offering dental services provided by a dentist and hygienist, including oral exams, cleanings, extractions, and fillings. A care coordinator will work with residents on an ongoing basis to make appointments and reminder calls, and to follow-up any missed appointments. Since it is likely that the exams and screenings may identify problems and concerns that cannot be fully addressed on the van, the care coordinator will work with a volunteer transportation service to arrange transportation to patients who require a referral at First Choice's dental clinics for further treatment. During the COVID pandemic, First Choice has taken substantial measures to provide safe dental care to its patients, including adding equipment to control aerosols and purify the air in exam rooms and on the dental mobile unit.
Funding to support the First Choice mobile dental clinic was among $406,000 in grants awarded to 19 nonprofits serving Glastonbury residents through the Sestero Fund at the Hartford Foundation.
Norma and Natale Sestero were longtime residents of Glastonbury who established the fund through their charitable remainder trusts. Their fund supports organizations that benefit people and institutions in Glastonbury in the areas of culture, health, education, social welfare, and the environment, including town beautification and preservation of heritage.
Other grants awarded were:
Community Child Guidance Clinic, Inc., $26,200 to update the outpatient clinical offices and shared areas, to create an environment that promotes mental health awareness.
Connecticut Audubon Society, $5,670 in funding to leverage a grant from the Farmington Bank Community Foundation to fund its partnership with the Glastonbury-East Hartford Magnet School (GEHMS) to design and install rain /pollinator gardens on school grounds.
Cuatro Puntos Inc., $6,000 to support to support the purchase of high definition equipment to professionalize virtual artist and local musician collaborations and projects in Glastonbury.
Friends of Glastonbury Aquatics, Inc., $10,000 to new agency to build its capacity as an organization and support the creation of a business marketing plan.
Girl Scouts of Connecticut, $10,000 to support the Building Girl Leaders program in Glastonbury that will invite 175 girls, from kindergarten to third grade, to explore scouting in their community and 25 new adults to explore the benefits of volunteering with the Girl Scouts.
Glastonbury ABC, Inc., $13,659 to refurbish and update the facility's bathroom.
Glastonbury Arts, Inc., $3,500 to support the "Got Art" program, which consists of six, two-hour seminars presented throughout the year.
Glastonbury Little League, $36,000 to install lighting in the bullpen at the Richard H. Ross Field, the home field for the GLL, serving 950 boys and girls aged 4-18 years old.
Glastonbury MLK Community Initiative, $14,000 to continue its free community conversations series and youth leadership development programming that brings Glastonbury residents and neighboring communities together to discuss civil rights issues of importance to the Glastonbury community.
Historical Society of Glastonbury, $25,999 to support structural repairs of the White Barn at the Welles-Shipman-Ward House Museum and updating the computer used to manage the digital archive.
MARC, Inc. of Manchester (MARC), $32,000 for general operating support to continue and maintain services to people with intellectual and development disabilities.
National Council of Community Justice, $35,907 to continue its prejudice reduction partnership with Glastonbury High School. The partnership works with students, faculty and staff to provide educational programs for youth and adults, as well as support and guidance for students and teachers.
Oak Hill, $17,500 funds to renovate a kitchen at their Mott Hill group home and repair and expand the driveway outside the Hebron Avenue group home, both located in Glastonbury.
Open Doors Outdoors, $20,198 to expand its program to veterans, their families and children residing in Glastonbury with physical limitations the same opportunity to experience outdoors that participants without limitations have in programs.
Operation Fuel, Inc., $10,000 to expand emergency energy assistance for low- and moderate- income families living in Glastonbury.
Planned Parenthood of Southern New England, $20,000 to support the Glastonbury Fund for Access program to help reduce rising health care cost through subsidies based on its sliding fee scale.
Rushford Centers, $50,000 to continue its intensive outpatient substance use and addiction treatment program for adolescents and adults through its Glastonbury integrative therapies program.
YMCA of Metropolitan Hartford, Inc., $50,000 to continue to support its LIVESTRONG® fitness and wellness program for adult cancer survivors and its Senior Wellness program. During 2021, one 12-week cycle would be offered to 12 cancer survivors who would participate in a variety of cardio, core, and strengthening activities, workshops and a fall retreat.
The Hartford Foundation for Public Giving is the community foundation for Hartford and 28 surrounding communities. Made possible by the gifts of generous individuals, families and organizations, the Foundation has awarded grants of more than $837 million since its founding in 1925. For more information about the Hartford Foundation for Public Giving, visit www.hfpg.org or call 860-548-1888.