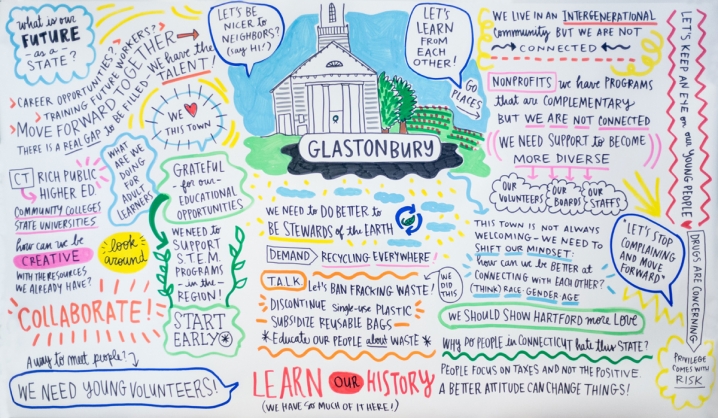 Sestero Fund Supports Glastonbury High School STEAM Lab and Other Local Projects
Sestero Fund at Hartford Foundation Awards $400,000 in Grants to 21 Nonprofits Serving Glastonbury Residents
Educators continue to look for innovative ways to inspire students to develop skills in the areas of Science, Technology, Engineering, the Arts, and Mathematics (STEAM). STEAM competencies are highly sought after by colleges and employers alike. Glastonbury Public Schools have responded to this growing demand by launching the construction of a $3 Million STEAM Lab at Glastonbury High School. The facility will be a modern, flexible, collaborative student workspace that includes state-of-the-art technology to support its STEAM course curriculum.
One of the new offerings at the STEAM Lab will be Mechatronics, or mechatronics engineering, a fast-emerging field that integrates several types of engineering— mechanical, computer, and electrical—with machining, robotics, and information technology. Mechatronics identifies and creates new ways for smart machines to improve manufacturing. The STEAM lab will allow students to pursue a Mechatronics pathway, providing them with hands-on training on advanced equipment within a modern manufacturing facility.
A $20,000 grant to support the purchase of Mechatronic equipment at the STEAM Lab was among $400,000 in grants awarded to 21 nonprofits serving Glastonbury residents through the Sestero Fund at the Hartford Foundation for Public Giving.
"As we prepare our students for college and careers beyond high school, we are mindful of the everchanging landscape of our world," said Glastonbury Public School Superintendent Alan Bookman. "Technology, manufacturing, and engineering are broad fields, integral to our modern lives, and they are advancing rapidly. STEAM education provides these interdisciplinary experiences for students. Many of the careers our students will enter do not even exist yet. We are grateful to receive this generous support from the Sestero Fund to allow us to provide our students with these exciting opportunities. We hope it sparks even more interest and support as we look to fund the lab's specialized equipment and furniture through donations."
Norma and Natale Sestero were longtime residents of Glastonbury who established the fund through their charitable remainder trusts. Their fund supports organizations that benefit people and institutions in Glastonbury in the areas of culture, health, education, social welfare, and the environment, including town beautification and preservation of heritage.
Other grants awarded were:
The Hartford Foundation for Public Giving is the community foundation for Hartford and 28 surrounding communities. Made possible by the gifts of generous individuals, families and organizations, the Foundation has awarded grants of more than $837 million since its founding in 1925. For more information about the Hartford Foundation for Public Giving, visit www.hfpg.org or call 860-548-1888.