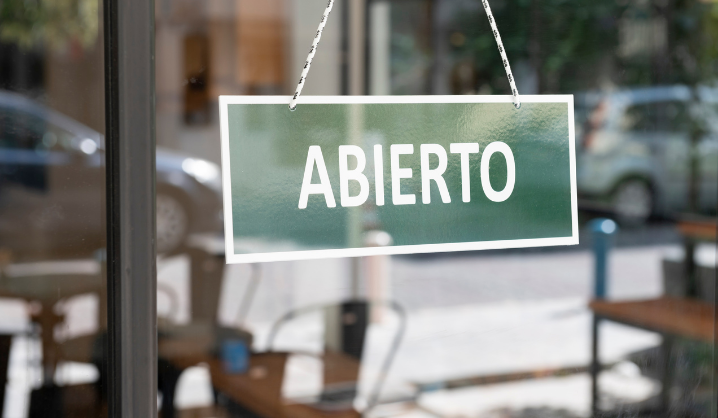 Latino Endowment Fund, Hispanic Federation and SAMA Launch "PROGRESSO" Program to Assist Latino-Owned Small Businesses
Small businesses are a critical component of growing, vibrant and equitable communities. They generally spend more on labor, goods, and services from local sources, employ more people per unit of sales, and retain more employees during economic downturns. Small businesses can be a source of generational wealth, creating economic mobility and freedom that can be passed down within families. Yet Latino-owned small businesses have not had equal access to the tools that foster successful small businesses due to systemic barriers to accessing financial and social capital including a lack of mentors, networks, coaching, and technical assistance.
In response, the Latino Endowment Fund at the Hartford Foundation for Public Giving and the Hispanic Federation are providing $25,000 in grants to the Spanish American Merchants Association (SAMA) to launch "PROGRESSO." This pilot program will provide ten Greater Hartford Latino-owned businesses with capacity-building and consultation support to improve their ability to access federal and state funding. The program also seeks to build the capacity of Latino business consultants by offering work experience, compensation, and professional development. The lack of experienced bilingual and bicultural consultants presents a challenge for Latino-owned small businesses.
As documented in a new report from Hispanic Federation and New America, Overcoming COVID-19: Economic Barriers for Latino Communities, prior to the pandemic, Latinos were the fastest growing group of small business owners across the United States. By May 2020, 86 percent of Latino small business owners in the U.S. had experienced substantial negative impacts on their businesses. Furthermore, Latinos were less than half as likely as white business owners to receive federal Payment Protection Program (PPP) loans in the first round of the program, which contributed to continuing problems.
The Small Business Administration and other federal agencies provided billions in small business assistance in 2020, including the PPP loan program. Unfortunately, many Latino owned businesses in our region did not fully participate in these programs. In May 2020, the SBA once again provided federal assistance for small businesses. The program was fully subscribed in ten days with Latino small businesses continuing to lag behind their white peers in qualifying for the program.
"When the state was forced to close down, this not only had a devastating impact on many of our local small business owners and staff but also the residents who rely on their services and the vibrancy they bring to their neighborhoods," said Barbara Fernandez, chair of the Latino Endowment Fund steering committee. "PROGRESSO will help businesses assess their operations, identify gaps and connect them to organizations that will help them fill those gaps. We know the federal and state government will be deploying more funds and our businesses must be ready to take advantage of these opportunities."
"We are proud partners of the Latino Endowment Fund in powering the PROGRESSO Pilot Program's launch with the SAMA," said Yanidsi Velez, New England Regional Director at the Hispanic Federation. "The PROGRESSO initiative will contribute to the capacity building, visibility, and innovation of Latino-owned small businesses in the region. SAMA and all of our community-based organizations have responded in extraordinary ways to the need experienced in our community; it is our commitment that we stand by them and will support them in emerging stronger and as more resilient changemakers."
SAMA has selected Luis Gutierrez to lead this first phase of the PROGRESSO pilot program. With over 25 years of experience as entrepreneur and sales executive, managing across cultures and across industries, Gutierrez will work with SAMA to identify ten small businesses to identify needs and develop solutions to ensure they are qualified to meet them. This includes working with partners to develop and implement business assessment help them prepare to successfully apply for federal and/or state funds. The goal of the first phase of PROGRESSO is to develop a scalable model that can serve Latino small business owners statewide to allow their businesses to grow and become more sustainable.
"We want to select ten merchants from within the Greater Hartford area who will be identified and benefit from all the support the PROGRESSO program has to offer," said Angel Sierra, Board President of the Spanish American Merchants Association (SAMA). "These merchants will not only benefit from the training, but so will the consultant who will build on their capability to work within this growing group of Hispanic Business owners that need highly trained and skilled experts. With the selection of Luis Gutierrez to lead the program, I believe we have taken a giant step forward in implementing a program that will deliver long term results to our Latino businesses. We thank the Hartford Foundation for Public Giving, Latino Endowment Fund, chairwoman Barbara Fernandez and The Hispanic Federation for providing the funds for this program."
The Latino Endowment Fund was founded in 2003 by Latino leaders in Greater Hartford to increase philanthropy in their community and to strengthen nonprofits working to improve the quality of life for Latino residents. Members examine issues affecting the Latino community and recommend grants from the fund to address those issues.
In October 2020, the Hartford Foundation announced the creation of two five-year, $250,000 flex-funds to support the Foundation's key stakeholders of color through its Latino Endowment Fund and Black Giving Circle Fund. These additional resources will empower the two giving circles to increase their grantmaking capacity by up to $50,000 per year for the next five years and/or contribute up to $50 thousand per year to their endowment to increase their perpetual grantmaking capacity.
For more information, contact Susan Dana at 860-548-1888 or sdana@hfpg.org, or go to www.hfpg.org/latino.
The Hartford Foundation for Public Giving is the community foundation for Hartford and 28 surrounding towns. Through partnerships, the Foundation seeks to strengthen communities in Greater Hartford by putting philanthropy in action to dismantle structural racism and achieve equity in social and economic mobility. Made possible by the gifts of generous individuals, families and organizations, the Foundation has awarded grants of more than $849 million since its founding in 1925. For more information, visit www.hfpg.org or call 860-548-1888.