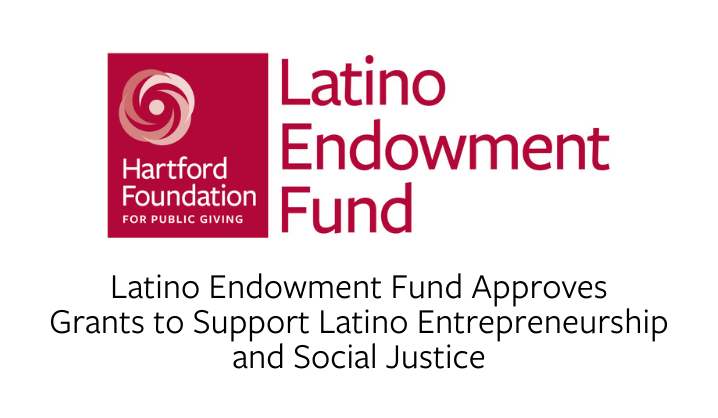 Latino Endowment Fund at the Hartford Foundation Approves Grants to Support Latino Entrepreneurship and Social Justice
Members of the Latino Endowment Fund (LEF) at the Hartford Foundation for Public Giving have approved grants to the Hartford Public Library and Know Thy Neighbor totaling nearly $50,000. These grants support initiatives providing professional development and entrepreneurship for Latino immigrant women, social justice and Latino resident engagement.
"Hartford Public Library's Mujeres Emprendedoras is a critical program to support the growth of female entrepreneurs in the heart of Hartford. Know Thy Neighbor is a growing program that brings hope, partnership and community when we need it most," said LEF Steering Committee Chair Delpha DiGiacomo. "The strength of the Latino Endowment Fund is in supporting programs that positively impact and bring progress to our communities. I am so excited to see how these two programs continue to impact our community with the support of LEF."
Hartford Public Library's (HPL) Mujeres Emprendedoras (Entrepreneurial Women) program has received a $24,960 grant to provide professional development for immigrant women entrepreneurs to create and showcase their works of cultural significance. Located at HPL's Park Street Branch. The project will offer Spanish language workforce development support by supplying a space, childcare, and Spanish-language financial education to further their entrepreneurial goals. Project objectives include developing small business incubation by removing barriers that prevent immigrant women from making their entrepreneurial efforts profitable, primarily due to a lack of resources and capital.
"The Hartford Public Library is excited to have been selected to receive the grant from the Hartford Foundation's Latino Endowment Fund and start project Mujeres Emprendedoras (Entrepreneurial Women)," said Hartford Public Library Customer Experience Officer Leticia Cotto. "This grant will support and enhance work that is inherent to the Hartford Public Library's mission around economic and workforce development, community collaboration and engagement and the creation of avenues for social and economic mobility. These resources will help Hartford Public Library and local artists in the Arte Popular Collective strengthen and continue the momentum of community revitalization in our new location; the Park Street Library @ the Lyric."
Know Thy Neighbor's (KTN) Advancing Racial and Social Justice in Hartford's Latino Community program is an effort to bring together Hartford residents (Latinos and others) with police and other City agencies to build relationships working collectively to create community-driven change. KTN will hold bi-weekly meetings in Clay Arsenal, Frog Hollow, and a new neighborhood with a large Latino population. Meetings will initially be held online but will resume in person as soon when it is safe to do so. KTN will recruit and train new facilitators, use resident liaisons to grow KTN leaders, and implement actions resulting from idea generated through dialogue. A portion of the grant will be used for KTN to become a 501c3 and develop a new website.
"We at Know Thy Neighbor are so excited and grateful to have been chosen as a recipient of a grant from the Hartford Foundation's Latino Endowment Fund," said Know Thy Neighbor's Executive Director Yanira Jeter. "This will be a wonderful opportunity to bring together Hartford's Latino community and others to build relationships and take collective action, resulting in positive, community-driven change. The grant will enable Know Thy Neighbor to contribute to changing the culture in Hartford and advancing racial and social justice.
"I am so proud of the fact that the Latino Endowment Fund is supporting these organizations that directly impact the Latino community," said LEF Steering Committee Vice-Chair Barbara Fernandez. "We look forward to working with them on their innovative programs to improve the life and economic prosperity of all Latinos in our region"
The Latino Endowment Fund was founded in 2003 by Latino leaders in Greater Hartford to increase philanthropy in their community and to strengthen nonprofits working to improve the quality of life for Latino residents. Members examine issues affecting the Latino community and recommend grants from the fund to address those issues.
For more information, contact Susan Dana at 860-548-1888 or sdana@hfpg.org or go to www.hfpg.org/latino.
The Hartford Foundation for Public Giving is the community foundation for Hartford and 28 surrounding towns. Through partnerships, the Foundation seeks to strengthen communities in Greater Hartford by putting philanthropy in action to dismantle structural racism and achieve equity in social and economic mobility. Made possible by the gifts of generous individuals, families and organizations, the Foundation has awarded grants of more than $849 million since its founding in 1925. For more information, visit www.hfpg.org or call 860-548-1888.