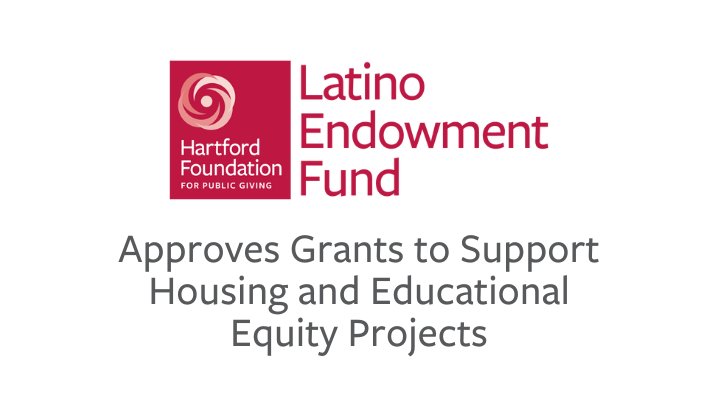 Latino Endowment Fund at the Hartford Foundation Approves Grants to Support Housing and Educational Equity Projects
Members of the Latino Endowment Fund (LEF) at the Hartford Foundation for Public Giving have approved grants to the Capitol Region Educational Council (CREC) and Make The Road Connecticut totaling nearly $40,000. The grant to CREC will support a mentoring project for chronically absent ninth grade Latina students from two CREC's magnet schools. The grant to Make the Road will support existing tenant-led organizing efforts to directly address housing inequities in Hartford and across the state.
"I am so proud of the fact that the Latino Endowment Fund is supporting these organizations that directly impact the Latino community," said LEF Steering Committee Chair Barbara Fernandez. "We look forward to working with them on their innovative programs to improve the life and economic prosperity of all Latinos in our region."
Make the Road's project addresses housing inequity in Hartford's Latino community by training and supporting tenant leaders. The LEF grant will support ongoing leadership training, planning meetings, advocacy, rallies, and other strategies to ensure tenants can secure positive changes for themselves and their communities. Make the Road will provide information and support for community members trying to navigate Connecticut's complex housing system. This includes "know your rights" presentations on tenant rights, programs to promote homeownership, and sharing available resources in the community that can support tenants dealing with housing challenges.
"We are excited to grow and deepen our roots in Hartford through our housing justice work and feel grateful to partner with the Latino Endowment Fund to make this a possibility," said Make the Road Connecticut Executive Director Barbara Lopez.
CREC's "Empowering Latinas Leadership Alliance (ELLA)" mentoring program supports chronically absent ninth grade Latina students attending Greater Hartford Academy of The Arts and Academy of Computer Science & Engineering. This work will connect 20 Latina students with CREC staff and former mentees who graduated from CREC's Academy of Science and Innovation, meeting bi-weekly during the last quarter of this school year and in the summer. Activities include presentations from distinguished Latina business and civic leaders, field trips, art projects, team-building activities and volunteer opportunities.
"This grant will provide CREC with the resources needed to stay focused on a target audience - Latinas, who have potential to accomplish great things," said CREC Superintendent of Schools Tim Sullivan. "Through the mentoring and guidance the program offers, these young women will be able to see their futures in a way which inspires them to continue to do well in school and prepare for a future of emotional wellness, financial security and giving back to their community."
The Latino Endowment Fund was founded in 2003 by Latino leaders in Greater Hartford to increase philanthropy in their community and to strengthen nonprofits working to improve the quality of life for Latino residents. Members examine issues affecting the Latino community and recommend grants from the fund to address those issues.
For more information, contact Ramonita Garcia at 860-548-1888 or rgarcia@hfpg.org or go to www.hfpg.org/latino.
The Hartford Foundation for Public Giving is the community foundation for Hartford and 28 surrounding towns. Through partnerships, the Foundation seeks to strengthen communities in Greater Hartford by putting philanthropy in action to dismantle structural racism and achieve equity in social and economic mobility. Made possible by the gifts of generous individuals, families and organizations, the Foundation has awarded grants of more than $948 million since its founding in 1925. For more information, visit www.hfpg.org or call 860-548-1888.