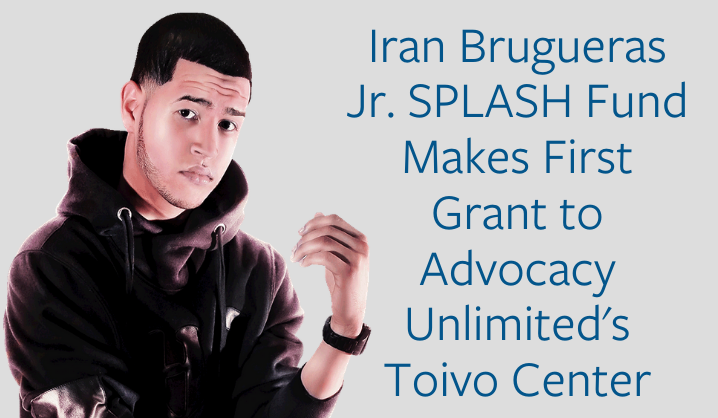 Iran Brugueras Jr. SPLASH Fund at the Hartford Foundation Makes First Grant to Advocacy Unlimited's Toivo Center
Grant marks the late local Hip-Hop artist's 25th Birthday
Since childhood, Iran Brugueras, Jr. courageously and publicly battled mental illness. He used music and poetry, combining both into performance art, as a positive message and a coping mechanism for people like him who are living with this disease. Many of the songs he wrote illuminated his reality, in hopes of increasing awareness about mental illness. Following his death in a car accident in 2016, his family started the S.P.L.A.S.H. Project, an homage to his stage name and an acronym for Special People Looking & Aiming for Success & Health, as a way of honoring his memory and the values he embodied.
The S.P.L.A.S.H Project's mission is to create a platform that promotes spirituality, empowerment, health & success; encouraging individuals to reach their full potential by identifying and reducing barriers, raising community awareness and nurturing family dynamics. The first initiative of the S.P.L.A.S.H. Project was the creation of the Iran Brugueras Jr. SPLASH Fund at the Hartford Foundation for Public Giving. The fund supports inner city children and young adults who suffer from mental illness, focusing on the importance of a multi-disciplinary and holistic care approach to medication and treatment, the positive impact of art (especially performance art) and music, and the role that families and primary caregivers play (especially fathers, blended families, divorced families, primary care givers who are in substance abuse recovery, and those families where parents are deceased.)
After fundraising for several years, the Fund was able to award its first $5,000 grant to Advocacy Unlimited's Toivo Center in Hartford. The Toivo Center provides alternative treatments like bilingual yoga, music and art therapy to residents where they typically would not have the awareness of or access to these services.
"The outpouring support from the community, family and friends have helped reach our goal to fund the first nonprofit organization that aligns with the vision of our project," said Iran's stepmother, Nora Brugueras. "We are humbled to be able to award this grant in Iran Jr.'s memory. The Toivo Center is a peer-run organization that has caught the eye of several of the committee members early on our journey. During the pandemic we have seen that many more people are experiencing mental health crises. Despite the many challenges COVID has created, the Center never shut down and used their creativity to offer innovative virtual resources keeping in mind the safety of the community and staff."
In appreciation for the grant and as a tribute to Iran Brugueras Jr.'s memory, Toivo Center is naming its new stage after the late poet and hip-hop artist.
"We are honored to be the first recipient of the S.P.L.A.S.H. Project," said Toivo Director Jessica Goldman. "We are grateful to partner with them to shed light on alternative holistic approaches, and we are grateful to be recognized for our work in this way. Iran's presence and passion will be carried forward at Toivo, especially on the stage we have built, which now has even more purpose. We are honored to dedicate the SPLASH Stage to Iran on his 25th birthday. May the SPLASH Stage be a space for expression and empowerment, a place to share awareness and gain understanding, and most importantly a platform for healing and success."
The Hartford Foundation for Public Giving is the community foundation for Hartford and 28 surrounding communities. Made possible by the gifts of generous individuals, families and organizations, the Foundation has awarded grants of more than $795 million since its founding in 1925. For more information about the Hartford Foundation for Public Giving, visit www.hfpg.org or call 860-548-1888