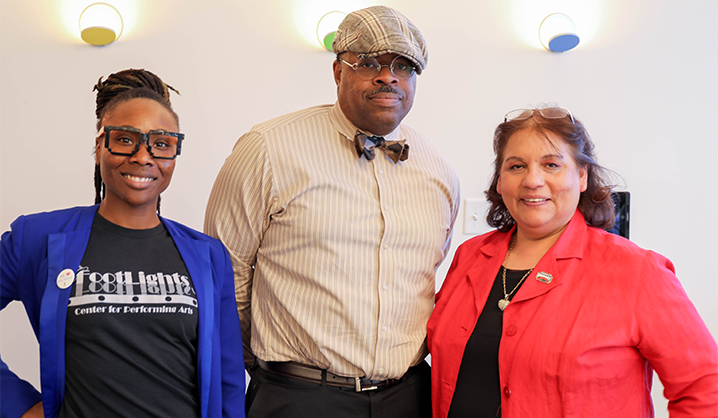 Initiative for a Competitive Inner City Inner City Launches Second Round of Inner City Capital Connections Program
The Hartford Foundation for Public Giving, in collaboration with Boston-based nonprofit Initiative for a Competitive Inner City (ICIC), is launching the second round of the Inner City Capital Connections (ICCC) program to the Hartford area.
ICCC hosted an information session at the Hartford Foundation for Public Giving for representatives of area anchor institutions, larger businesses, financial institutions, nonprofits and local government officials who are being asked to identify and recruit interested business owners to learn more about the program and consider applying to the program. The meeting including presentations from three of last year's ICCC participants including Lael Marie Williams, CEO & Founder of FootLights Performing Arts and Education Program, Lebert Lester owner of It's A Gee Thang Barber Shop and Ruth Espinoza of Identidad Latina news.
In 2019, ICCC worked with 65 small- and medium-sized Hartford area businesses providing them with a tuition-free 40-hour executive leadership training program that positions businesses in economically distressed areas for long-term growth through capacity-building education, one-on-one coaching, and access to capital. ICCC was designed by ICIC to address the needs of urban entrepreneurs identified by its research in accessing capital, leadership and management education, and enhanced business networks and visibility. Of the 65 Hartford-area 2019 ICCC participants, 46 percent were women-owned businesses and 55 percent were minority-owned businesses. . To support these businesses, the Hartford Foundation awarded the Initiative for a Competitive Inner City (ICIC) a $325,000 grant to bring the Inner City Capital Connections (ICCC) program to businesses in Hartford and its surrounding communities.
The recruitment process for the 2020 ICCC program will run through March and April with the deadline for nominations occurring on May 1 and the deadline for applications is May 15. Accepted business owners will be required to attend an opening seminar on June 10 to be considered participants in the program.
The ICCC program supports diverse business owners in building capacity for sustainable growth in revenue, profitability, and employment. The program kicks off with an all-day training seminar on Wednesday, June 10 followed by a series of online webinars where participants learn strategy, entrepreneurial finance, marketing, and capital options.
"Many of the entrepreneurs who go through this program have never been taught talent management and leadership effectiveness. Those are some of the key components of the program from an educational standpoint," CEO of ICIC, Steve Grossman says. "You go home saying, 'I learned six or eight things that I can put into my business tomorrow morning.'"
The program also offers one-on-one coaching with local and virtual mentors ranging from small business bankers to top consulting firms. The program culminates with a National Conference in Boston in November where participants apply their training to connect with different capital providers, including private equity, venture capital, and commercial banking.
The Hartford area program will target small- and medium-sized businesses that have been in operations for at least two years and have strong growth potential, but need guidance on getting access to capital and building their capacity.
For those interested in applying for the ICCC program, apply here.
For any additional questions, contact Marynee Pontes, Senior Program Coordinator with ICCC, at mpontes@icic.org or (617) 238-3035.