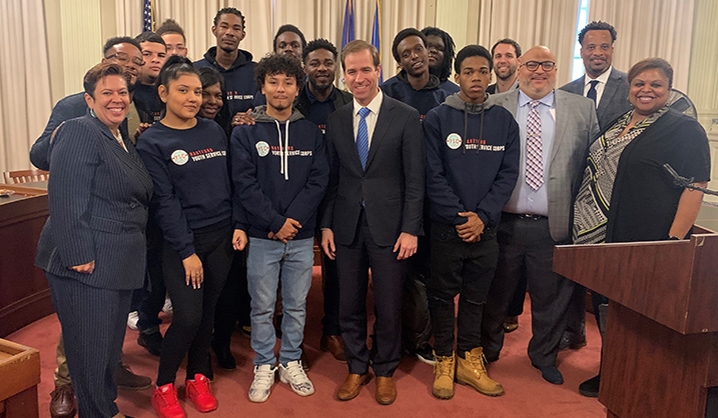 Hartford Foundation Awards $750,000 Grant to Our Piece of the Pie in Support of the Hartford Youth Service Corps
The Hartford Youth Service Corps (HYSC) was created by Mayor Luke Bronin in 2016 to reengage at-risk or disconnected youth in paid service-learning and academic and workforce development support to help them get back in school or on the path to a job.  Young people who are disconnected from school or work, whether because of chronic absence, suspension, or involvement in the criminal justice system, face significant barriers to building healthy, productive lives. 
In support of this work, Our Piece of the Pie (OPP), which administers the Youth Service Corps, has been awarded a one-year, $750,000 grant to support the HYSC. In collaboration with the City of Hartford as well as state and local community partners, OPP will work to reengage youth in their education and employment through integrating service-learning projects and wrap-around supports, targeting 250 youth ages 16 to 24.  This work supports the Hartford Foundation's strategic commitments to addressing student progress and community safety.
"The Hartford Foundation has long supported efforts to reengage young people who have become disconnected from school, recognizing the significant challenges they will face as adults without a high school diploma or job training," said Hartford Foundation President Jay Williams. "We are pleased to be part of the Hartford Youth Service Corps' collaborative effort that engages state and local government as well as community organizations to provide a wide variety of services for youth to reconnect them to education and workforce development while enabling them to earn an income."
The Hartford Youth Service Corps uses Our Piece of the Pie's youth-centered and positive youth development approaches to engage young people. OPP has a long track record of successfully working with teenagers and young adults who face multiple barriers to success.  Since 2016, the organization has been implementing the Hartford Youth Service Corps, in collaboration with Hartford's Department of Families, Children, Youth, and Recreation as well as other partners involved in addressing the needs of disengaged youth in Hartford.
"We built the Youth Service Corps so that young people in Hartford could have the chance to earn a paycheck, build critical skills, get connected to coaching and mentors, and contribute in tangible ways to their city and their neighborhoods," said Mayor Luke Bronin.  "In the first three years, we've helped hundreds of young people get their first job and lay a foundation for their future, and I'm so grateful to the Hartford Foundation for this generous investment in young people in our community as we work to sustain and grow the Youth Service Corps."
Additional partners include the Hartford Public Schools, Court Support Services Division of the Judicial Branch, the Hartford Police Department, Juvenile Probation, Hartford's Violence Prevention Initiative, and grassroots organizations, including community advocates participating in the Hartford Community Safety Coalition. The City of Hartford's role includes facilitating resource development, coordinating partners, program monitoring, communications support, addressing obstacles, as well as providing access to City departments to support collaborative service-learning projects, including the Department of Public Works and Parks and Recreation to identify blight remediation and other projects.
With guidance from OPP's staff, youth focus on completing goals in Individual Service Plans around personal, academic and workforce development.  HYSC primarily serves as a diversion and opportunity program for youth disconnected or disengaged in education and employment.  Service-learning projects are developed with youth input, and participants are engaged in 470 hours of paid service-learning over one year, recognizing that students in school may complete fewer service hours.
"OPP's mission is 'to empower youth with the key competencies to overcome barriers and succeed in education and employment,'" said OPP CEO Enid M. Rey.  "We know that disconnected youth face increased barriers that impede their success in both education and employment.  We see all youth as full of promise and undeveloped potential.  We must focus on engagement, persistence and second, third, fourth chances. OPP is proud to be part of this unprecedented collaboration as it is a clear example of how together, community partners can unite to grow opportunities for youth to Earn & Learn and make positive contributions to the City of Hartford."
The funding from the Foundation allows OPP to expand services to increase the number of youth served to at least 250, with the prospect of reengaging up to 275 youth at various stages in pursuing their educational, workforce development, and employment goals.