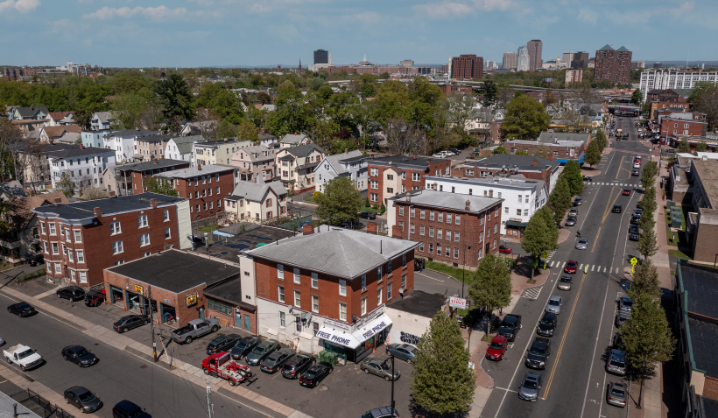 Hartford Officially Debuts 'Neighborhood Ambassador' Program at 12 Commercial Corridors
Today, Mayor Luke Bronin joined partners at The Open Hearth, Open Hearth Works, and the Hartford Foundation for Public Giving to officially debut the "Neighborhood Ambassadors" program, a new neighborhood beautification and workforce development initiative funded through American Rescue Plan and Hartford Foundation dollars. The Neighborhood Ambassadors program will give formerly-incarcerated residents a part-time employment opportunity contributing to their community, through work such as litter removal, weed removal, cleanup of high-traffic areas, graffiti identification, and other special projects on twelve commercial corridors throughout the city.
The Neighborhood Ambassadors program provides on-the-job experience for 25 hours per week, from Monday to Friday, for six months. It is part of the City's Love Hartford Initiative – a resident engagement, employment, and community resilience program celebrating civic pride in Hartford.
This morning, Mayor Bronin joined Neighborhood Ambassadors on Albany Avenue for the official launch.
"We're thrilled to launch this Neighborhood Ambassadors program to help make sure that our commercial corridors are clean and well-cared for, while at the same time providing a second chance job opportunity to residents who want to make a contribution to their community," said Mayor Bronin. "This is a win-win, creating job opportunities that we hope will be a pathway to long-term employment and making our neighborhoods cleaner, greener and more beautiful in the process. I'm grateful to The Open Hearth and Open Hearth Works as well as our Hartford Reentry Welcome Center for partnering with us to run the program, and grateful also to the Hartford Foundation for their continued partnership."
"The Neighborhood Ambassadors program is transformative because it will provide employment opportunities to a community that is traditionally forgotten and/or discarded," said Councilwoman Marilyn E. Rossetti, President & CEO of The Open Hearth Association. "Consistent employment and income is also key in housing security. These men and women can be productive members of our city while building the foundations necessary to live sustainable and healthy lives. I am proud to be part of this effort and am committed to seeing this program grow year after year."
"The Neighborhood Ambassadors program is about revitalization and renewal in many different ways," said Hartford Foundation Senior Community Impact Officer Erika Frank. "It offers a second chance for fellow citizens returning from incarceration and an opportunity to show off Hartford's vibrant neighborhood corridors and businesses in their best light. The Hartford Foundation has been proud to partner with the City on the various components of the Love Hartford initiative and welcomes this next stage of our partnership."
"I am excited to see the Love Hartford Initiative expanded into employment opportunities, especially to individuals who are committed to changing their lives for the better," said Janice Castle, Director of Community Engagement for the City of Hartford. "This program falls directly in line with our efforts to beautify while also maintaining a high quality of life for all throughout the City."
The Neighborhood Ambassadors are tasked with cleaning and maintaining the following commercial corridors:
Blue Hills Avenue – between Manchester Street to Brookline Avenue
Albany Avenue – Main Street to Scarborough
Main Street – High Street to Sunset Street
Asylum Avenue – Garden Street to Woodland Street
Farmington Avenue – Garden Street to Prospect Avenue
Capital Avenue – Broad to Prospect
Park Street – Park Terrace to Prospect
New Britain Avenue – Washington Street to Grant Street
Maple Avenue – Franklin Avenue to Fairfield Avenue
Franklin Avenue – Maple Avenue to Victoria Road
Wethersfield Avenue – Main Street to Victoria Road
Sisson Avenue