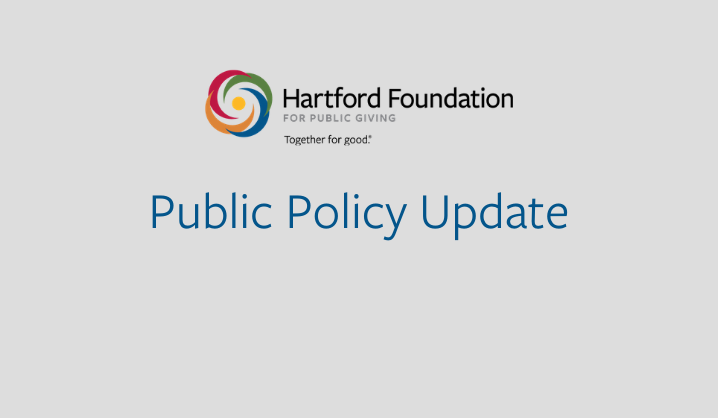 Hartford Foundation Submits Testimony in Support of Several Bills to Prevent Homelessness and Expand Access to Quality, Affordable Housing in Higher Opportunity Neighborhoods
Read the Foundation's Testimony
On Thursday, March 4, the Hartford Foundation submitted written testimony to the legislature's Housing Committee in support of several bills to prevent homelessness and expand access to quality, affordable housing in higher opportunity neighborhoods.
As part of our efforts to dismantle structural racism and improve social and economic mobility for Black and Latinx residents of Greater Hartford, the Hartford Foundation seeks to increase the number of Hartford residents living in higher opportunity neighborhoods. Higher opportunity neighborhoods are defined by a variety of factors, including low unemployment, better performing schools, lower crime and greater availability of quality, affordable housing stock.
The Hartford Foundation seeks to increase the numbers of Hartford residents living in higher opportunity neighborhoods both by increasing the opportunities in Hartford neighborhoods and by increasing the ability of Hartford residents to choose to move to other higher opportunity areas throughout the Greater Hartford region.
Significant portions of the Foundation's past and current investments have focused on preventing and reducing homelessness in the Greater Hartford region. On an annual basis, the Foundation provides approximately $1 million to local nonprofit organizations to provide access to emergency shelter, housing subsidies, case management, eviction prevention/landlord negotiation, employment services, and housing services to residents' at-risk or experiencing homelessness. This includes support to the Greater Hartford Coordinated Access Network for rapid re-housing services during the coldest months.
The Foundation offers its support for Senate Bill 194, An Act Establishing a Right to Housing which directs state agencies to consider the right to housing when adopting policies and regulations prioritizing the interests of those below 50 percent of the median income.
We credit the committee for including an expansive list of policy prescriptions and recommendations for state investments including (particularly those disproportionately impacted including people of color, returning citizens, LGBTQ adults and youth), legal aid and financial assistance.
The Foundation also supports the bills provision to create a Right to Housing Committee to review policies that includes a wide range of representation from those most impacted by a lack of access to housing. We see the benefit of the legislation's creation of a Housing Advocate position within the Department of Housing to review policies and respond to concerns and complaints. We would also encourage the committee to consider providing additional tools to empower the Housing Advocate to resolve complaints and grievances to ensure that existing housing discrimination laws are enforced.
Our investments in supporting returning citizens have shown us how the stigma of incarceration undermines the ability of returning citizens who seek opportunities for housing, education, and employment to successfully reenter into the community. It is for this reason the Foundation supports Senate Bill 355 which would require the Commissioner of Housing to adopt regulations concerning a limited time period for which a landlord may consider the criminal record of a prospective tenant.
The Foundation also endorses Senate Bill 875: An Act Concerning the Risk of Homelessness for Those Released from the Custody of the Department of Correction, which directs the DOC to assess the risk of homelessness for incarcerated persons released from its custody and to create a program to address such homelessness and to require additional reports to measure the extent of such homelessness.
Providing adequate transition planning before release that effectively connects returning citizens to services following release, including housing resources, is recognized as a best practice.
The Foundation also supports Senate Bill 880, An Act Concerning Payments in Lieu of Taxes to Municipalities for Housing Authorities, which proposes to pay 77 percent of the property tax obligation. We actually would prefer the passage of similar House bill that would provide 100 percent of taxes that would have been paid of taxable properties.
The state needs a substantial increase in the supply of deed-restricted affordable housing units. This bill would create an opportunity for communities to provide the state with more of these units while allowing them to maintain local property tax rolls. While this would require substantial state investments, they could provide the type of positive reinforcements necessary to allow municipalities to diversify their communities and create more affordable housing to strengthen the long-term future of our state.
The Hartford Foundation's work to give more Hartford residents the choice to live in higher opportunity neighborhoods includes strategies to develop a wide variety of affordable housing, including apartments, duplexes, multi-family housing and accessory dwelling units. ADUs can play a role in creating more affordable housing options for older disabled people who may need to live close by family members of caregivers and also represent an affordable option for low and middle-income residents including young adults. For these reasons, the Foundation endorses House Bill 6521, An Act Concerning Changes to Zoning and Affordable Housing Requirements Concerning Accessory Dwelling Units and Prohibiting List-Back Agreements. But the Foundation also recognizes that this is but one of many policy changes that need to be enacted to expand access to safe, quality, affordable housing in high opportunity neighborhoods in every Connecticut community.
The Foundation also endorses House Bill 6531, An Act Concerning the Right to Counsel in Eviction Proceedings. Evictions have devastating long-term impacts on families and we know that while the vast majority of landlords in eviction proceedings have an attorney, only a small minority of tenants do and this usually results in tenants losing their cases. At a time when thousands of Connecticut households are threatened by potential evictions once existing housing moratoriums end, this legislation is a vital tool to ensuring that tenants have a more equitable opportunity to remain in their homes.
The Hartford Foundation also offers its support for House Bill 6532, An Act Appropriating State Funds for Mental Health Services and Housing. Through its investments to prevent and reduce homelessness, we recognize the challenges faced by individuals living with mental health challenges and substance abuse disorders and the need for housing support and counseling services.