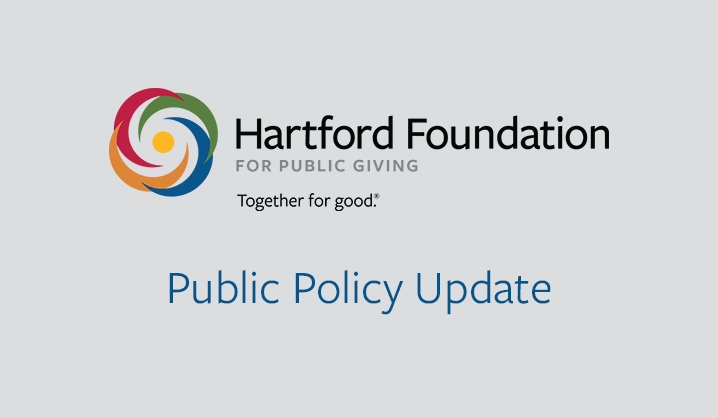 The Hartford Foundation Submits Testimony In Support of Legislation To Expand Access To Child Care Services And Create A Pilot Program To Support Family Child Care Providers
On Friday, March 6, the Hartford Foundation for Public Giving submitted testimony to the General Assembly's education committee in support of two bills to expand the state's Care4Kids child care subsidy to parents participating in job training and secondary education programs and to families experiences homeless. The Foundation also offered its support of legislation to create a business incubator that offers new child care entrepreneurs a supportive place to launch their business and learn the skills essential to sustaining it.
The Hartford Foundation strongly supports House Bill 5220, which would extend child care subsidy eligibility to families in education and training programs. For many working families, access to affordable, reliable, and high-quality child care is a necessity to attain and maintain a job, as well as to foster the learning and development of their young children. Care4Kids is a critical program that ensures working parents can access safe, high-quality child care. Extending Care4Kids to families who are pursuing education or training to increase their earning potential will help families exit poverty and reach greater self-sufficiency. In particular, we recommend that the committee ensure this bill extends Care4Kids to families in all job training programs. The Foundation has seen how essential access to child care is based on the experiences of participants in our Career Pathways Initiative. Since 2016, Career Pathways has served Greater Hartford residents who face significant barriers to employment
The Foundation supports House Bill 5222, which would provide homeless families with access to Care4Kids. In 2019, the Foundation provided a grant to the Connecticut Coalition to End Homelessness. With that support, homeless children aged six weeks to five years of age were able to attend a licensed child care program for up to eight weeks. Providing child care services to homeless families can make a real difference to parents seeking to work and obtain stable, long-term housing.
The Hartford Foundation also supports House Bill 5213, which would allow the Commissioner of Early Childhood to issue a license to a person or a group operating an early child care program in a facility provided by an association, organization, corporation, institution or agency in the cities of New Britain, New Haven, Bridgeport, Stamford or Hartford. Family child care centers are key to solving the dire shortage of child care for infants and toddlers, care that is linguistically and culturally appropriate as well as available during non-traditional hours. However, these child care entrepreneurs face significant barriers, everything from a lack of basic business skills to property owners and condominium associations that do not allow home-based businesses.
Family child care providers serve nearly two thousand children in Greater Hartford each day. While they are a major source of child care services for the region's working families, with many receiving subsidies from the state's Care4Kids child care program, providers often receive little or no professional development, capital support or other critical resources. Family child care providers play a vital role in ensuring the health and safety of many of our youngest children and provide access to affordable child care to thousands of working families throughout the state. This bill will provide unique support that values their important role in our early childhood system.