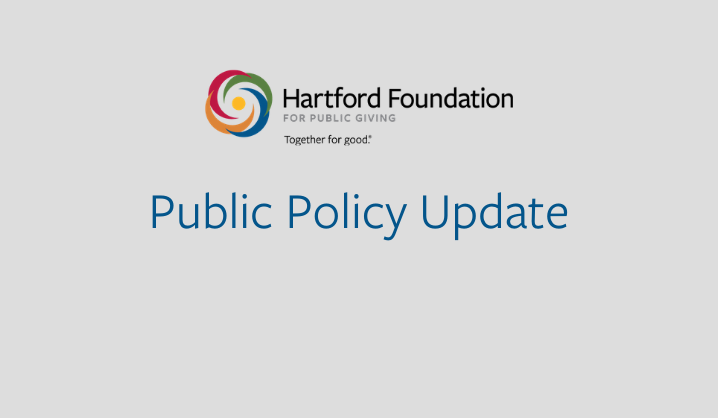 Hartford Foundation Submits Testimony in Support of Funding for Nonprofit Grant Program
Read the Foundation's Testimony
On Wednesday, March 24, 2021, the Hartford Foundation for Public Giving submitted testimony to the legislature's Finance, Revenue and Bonding Committee asking the committee to consider restoring $25 million in grants-in-aid in each year of the biennium for the Office of Policy and Management's Nonprofit grant program. Since 2013, the General Assembly has authorized at least $25 million for grant-in-aid relief annually to be used for capital and infrastructure projects for nonprofit health and human services providers through the Nonprofit Grant Program. Unfortunately, over the past two years, the State Bond Commission has failed to allocate any of these funds.
Since the COVID-19 outbreak, our nonprofits have needed to take on additional financial burdens in order for them to work remotely and purchase personal protective equipment to protect the health and safety of their staff and clients. Many of these costs are not reimbursable by the State, Coronavirus Relief Funds, or Paycheck Protection Program loans. The pandemic has also highlighted the invaluable role smaller, neighborhood-based nonprofit organizations play in providing services to some of our most challenged residents. To reach these residents, state funds must be accessible not only to larger multiservice organizations but also to these smaller organizations as well, something that may require a reconsideration of application processes and outreach regarding funding opportunities.
Over the past year, the Hartford Foundation's COVID-19 Response Fund has made more than 230 grants, distributing more than $9.6 million to nonprofit organizations and local school districts, since the start of the pandemic. The fund initially focused on basic human needs as a result of health and economic impacts of the pandemic, and then transitioned to supporting a wide variety of nonprofits to provide services safely, including personal protective equipment (PPE), cleaning costs, technology and minor building enhancements. As nonprofits continue to recover from the pandemic, the Nonprofit Grant Program would be another resource for additional enhancements that still need to be done to protect clients and staff from COVID-19 or to prepare for any future public health emergency, as capital funding pays for renovations to physical space, upgrading information technology, improving ventilation systems and retrofitting vehicles to safely transport people, especially those at higher risk of severe disease.