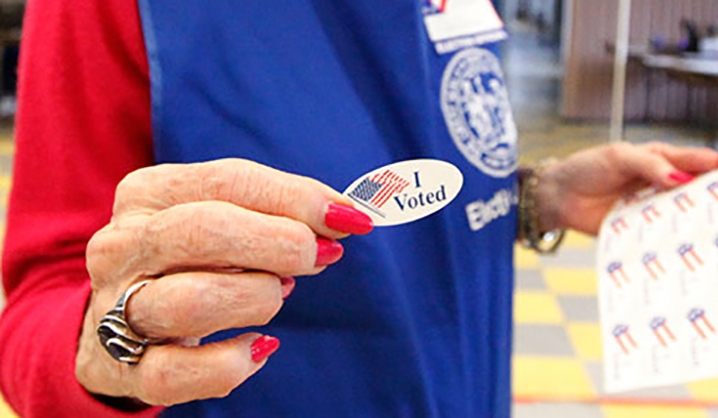 Hartford Foundation Launches Get Out the Vote/Get Out the Count Initiative
Hartford Foundation Awards $448,400 In Grants to 20 Organizations to support Voter Registration and Census Campaign
In 2018, the Hartford Foundation for Public Giving launched its first nonpartisan voter registration initiative for Greater Hartford. Known as Get Out the Vote (GOTV), the objective was to reach out to populations least likely to participate in federal, state and local elections: young adults, Latinx and Black residents and people living in high poverty neighborhoods. Thirteen community-based nonprofits successfully registered more than 1,000 new voters and received 1,500 pledges to participate in the 2018 elections.
Building off lessons learned from the 2018 effort, the Hartford Foundation initiated an open call for proposals supporting voter registration and engagement along with participation in the 2020 Census (Get Out the Census, or GOTC). The Hartford Foundation has awarded 20 grants totaling $448,400 over eighteen months to support voter engagement in 2019 and 2020 as well as Census participation activities.
Across the 20 grants for 2019 and 2020, nonprofits will reach several underrepresented demographic groups and geographic areas using a mix of strategies, including canvassing, phone banking, outreach at neighborhood events such as parades and festivals, internet and text messaging, special events such as voter registration drives, one-on-one assistance and embedding conversations into ongoing operations. Six of the recommended grants focus on GOTV activities, three on GOTC activities, and 11 include both. The work is concentrated in Hartford, with a particular focus in north and south end neighborhoods. Projects will also reach underrepresented residents in hard-to-count areas in Bloomfield, Manchester and East Hartford.
"Community voice, such as participation in the electoral process, is vital to creating and sustaining more vibrant communities," said Hartford Foundation President Jay Williams. "As the community foundation for Greater Hartford, we believe we have a role to play in helping local nonprofit organizations deliver the educational and outreach efforts that encourage people to register, learn about the issues that affect them and cast their ballot on Election Day. Our support of Census 2020 outreach efforts reflects how crucial it is to have a fair and accurate count of our residents. Our communities, our region and our state rely on a fair and accurate Census to secure billions in federal funding to support our schools, social services and infrastructure. These determinations ultimately impact policies and programs in the public, nonprofit and private sectors."
According to the CT Data Collaborative, historically hard-to-count tracts in our region include Hartford, East Hartford and Manchester, with the highest non-responsive tracts in Hartford (70 percent), Manchester (17 percent) and East Hartford (13 percent). Reduced federal and state funding for Census outreach combined with confusion over the proposed citizenship question risks suppressing participation further in these particular tracts.
The following organizations are engaging in Get Out the Vote and Get Out the Count (Census) activities:
Advocacy to Legacy
AFCAMP
Catholic Charities
Connecticut Students for a Dream (through its fiscal agent, United We Dream Network, Inc.)
Full Citizens Coalitions (through its fiscal agent, Christian Activities Council)
Hartford Next (formerly known as Hartford 2000)
Health Equity Solutions
Hispanic Health Council
Latino Community Solutions, Inc.
San Juan Center, Inc.
University of Connecticut, Humphreys Institute
Advocacy to Legacy is focusing on youth of color in Hartford's North end, the Greater Hartford West Indian community and the West Indian population in and near Hartford. The organization will utilize four strategies to register voters and conduct Census outreach including youth and adult civic engagement trainings; creating a youth team for on-the-ground outreach at strategic locations and targeted events; creating a youth forum planned and implemented by youth leaders during winter 2019/2020; and participation at high school graduations to register voters. Goals: 100+ newly registered voters; 500-1000 individuals informed about the Census.
AFCAMP is conducting Census and voter outreach work with low-income Hartford families, primarily African Americans, Latinos and West Indians. Outreach work is integrated into their current services at AFCAMP's offices at the Wheeler Clinic Family Health and Wellness Center. The group will also host three call-to-action events, with two targeting youth; as well as embedding messaging in print and digital communications. Goals: 180+ new registered and pledged voters; 180+ completed Census forms and hundreds more individuals educated.
Catholic Charities, Inc. is targeting residents of Hartford's Asylum Hill, Frog Hollow, Northeast, Parkville, and Sheldon-Charter Oak neighborhoods. Parent leaders within the Hartford Family Centers Network (HFCN) will engage and register underrepresented voters and ensure undercounted Census tract residents complete the Questionnaire. Efforts will be focused on young people ages 18 to 24. Catholic Charities will leverage community events for outreach and engagement, provide access to computers to complete the Census, and will use existing parent cafes as information sessions. Goals: 120 new registered voters; 200 pledged voters; 100 completed Census Questionnaire and educating 200 more.
Connecticut Students for a Dream is focusing its work on young people of color in Hartford, reaching out to students through afterschool programming and community events, canvassing neighborhoods, visiting churches and community groups utilizing youth volunteers. Goals: 50 new registered voters; 75 pledged voters; 200 engaged on the Census; and assisting 100 individuals in completing the Census.
Full Citizens Coalitions is working in partnership with Unlock the Vote to engage people in Bloomfield and Hartford who have previously been incarcerated, people on parole, and their families. The effort will be led by two coordinators who will train and educate community canvassers before they knock on approximately 125 doors each day. Goals: 200+ new registered voters, engage 250+ individuals to complete the Census Questionnaire.
Hartford Next (formerly Hartford 2000) is conducting voter and Census outreach to residents of Hartford's Neighborhood Revitalization Zones from August 2019 until June 2020. Activities include tables at neighborhood events, working with the Hartford Public Library to disseminate information, and providing transportation to the polls.
Health Equity Solutions is targeting its voter registration and Census outreach efforts on African -American, Black, and Caribbean-American residents in the Greater Hartford region including opportunity youth. Working with the Hartford Alumnae Chapter of Delta Sigma Theta Sorority, Inc. and the Greater Hartford Chapter of The Links, Inc., Health Equity Solutions will incorporate voter registration and voter pledges into planned workshops, community activities and events. Young adults at local colleges will be targeted using a coordinated social media campaign that emphasizes the importance of voting, the Census and health, and link to online voter pledge and registration webpages.  Goals: 200 new voter registrations; 300 pledges to vote; 150 individuals assisted in completing the Census.
Hispanic Health Council is engaging community members during routine services and special activities about the importance to vote and participate in the Census; support individuals in registering and voting (including transport) and completing the Census questionnaire.  Goals: 100 new voter registrations registered voters, 200 pledges to vote, 200 people voting, 200 completing the Census questionnaire on their own and 100 provided support in completing the Census. 
Latino Community Services, Inc.'s voter registration and Census activities are focused on Latinos, African Americans, young adults (18-24), seniors, low-income individuals, Spanish-speaking-only persons and female-headed households. Voter and Census outreach is being conducted at LCS Offices and food pantry, including on National Voter Registration Day. LCS will hold two or three voter registration drives at 15-25 colleges and high schools. Latino Community Services will also be providing transportation to registered voters who need help to get to their polling site. Goals: 200+ new registered voters; 300+ pledged voters; engage and inform 300+ about the Census; 100+ individuals receiving assistance in filling out the Census Questionnaire.
San Juan Center, Inc. is focusing its outreach on Latinx residents in the North and South ends of Hartford from September 2019 through November 2020. Activities will include utilizing volunteers to canvas the community, attending multiple activities, interactions at the main office and thrift store, a series of public education television spots, and social media outreach. Goals: 300 new registered voters; 500 completed pledge cards; follow-up with a minimum of 500 registered voters; engage 1,000 residents regarding the Census.
University of Connecticut, Humphreys Institute is targeting students at UConn Hartford by offering training for first year social work students in voting and Census outreach. Students will conduct voter and Census outreach through field placements in 2019 and 2020. Goals: 300-400 new voter registrations in 2019 and 2020 at the UConn Hartford with others through field placements; 120 Census forms completed during student trainings with others through field placements.
The following organizations are engaging in Get Out the Vote Activities:
Community Renewal Team
Hartford Health Initiative
Hartford Knights Corporation
Hartford Parent University
Upper Albany Neighborhood Collaborative
YWCA Hartford Region
Community Renewal Team is conducting its voter engagement efforts at CRT office and partner locations in East Hartford, Hartford and Manchester with a focus on Black, African American and Latinx residents. In addition, CRT is creating a video in English and Spanish to air in CRT office waiting rooms, at agency tables at local events, and on its website. Goals:  100+ new voters registered voters, 200 pledged to voters.
Hartford Health Initiative is conducting education, phone banking, canvassing and outreach at public spaces such as churches and schools to engage African Americans, Latinx and West Indian residents in Hartford. Public Service Announcements and informational materials will be developed to encourage voter registration and participation. Outreach teams will inform and educate voters (particularly new voters) on topics such as where to register, completing the registration process and deadlines in order to vote. Residents will have the option to register online using iPads and on paper. Goals: 100+ new voters; 200 pledged voters.
Hartford Knights Corporation (HKC) is conducting voter outreach in Hartford's north and south ends, engaging African American, Latino and other low-income families and youth. HKC is engaging residents through in person contacts, telephone calls and texting (utilizing the Hustle app) as well as social media. Election Day follow up will include transportation to polls. Goals: 100+ new voter registrations; 200+ voter pledges, 3,000 engaged through the Hustle app.
Hartford Parent University (HPU) leaders are canvassing Hartford residents, with tables being set up in eight Hartford Public Schools.  In addition, HPU will engage Hartford Parent Teacher Organization leaders and School Governance Council members on the importance of voting. Follow up calls to new and pledged voters will serve as a reminder to vote.  Education sessions around the importance of voting will continue after elections so that new residents in Hartford are engaged.  Goals: 100 new registered voters; 950 pledged voters.
Upper Albany Neighborhood Collaborative is conducting a variety of voter outreach activities including hosting voter registration/education drives at all Collaborative events, engaging over 1,000 Volunteer Income Tax Assistance (VITA) clients, other drives throughout the year and door-to-door canvasing. In addition, the Collaborative will be offering Upper Albany residents transportation to polls on Election Day. Goals: 100 new registered voters; 400 pledged voters; and 40/45 voters transported to the polls.
YWCA Hartford Region is conducting voter education and registration as part of its existing programs in Greater Hartford. This work includes voter registration events, community canvassing in the city of Hartford, social media outreach and transportation services on Election Day in 2019 and 2020. Goals: 1,500 new registered voters; 1,000 pledged voters; 300 people transported to the polls.
The following organizations are engaging in Get Out the Count (Census) activities:
East Hartford Public Library
Hartford Public Library
Make the Road
East Hartford Public Library will be the community hub for the town's Everyone Counts Census initiative. This effort includes a collaboration with the East Hartford Housing Authority, public schools, the YWCA, HartfordCONNects and other community-based agencies. Temporary part-time staff will be hired from March to July 2020 to conduct Census outreach based at the library sites. Dedicated library staff will be trained and will serve as liaisons to the partner agencies. The library will extend weekend hours of operation during peak Census season by opening on Sunday. Promotional materials in both English and Spanish will be developed and distributed at the library and through partners and the Complete Count Committee. Social media will micro-target critical undercounted Census tracts. Goals: 100+ residents completing Census forms and 200 residents engaged.
Hartford Public Library (HPL) has hired a Project Support Specialist to oversee the coordination and implementation of various Census outreach activities across HPLs seven locations, one mobile library and throughout the community.  Information sessions will be held at senior centers, shelters, family resource centers, community health centers and churches.  HPL will engage immigrants and refugees through The American Place, low literate individuals through its Adult Education services, and re-entry populations and at-risk youth through its American Job Center. Goals: 600 complete Census Questionnaire.; over 5,000 individuals engaged about the Census. 
Make the Road Connecticut is focused on Census engagement, outreach and education, working directly with immigrant, Latinx and working class populations in Hartford. Make the Road will utilize written materials in Spanish and English, in conjunction with auditory and artistic popular education. This grant will support their unique approach to civic engagement in Hartford (not at their Bridgeport headquarters).  Goals: assisting 100+ individuals in completing the Census Questionnaire; engaging 200 people in Latinx community on the importance of participating in the Census.
In addition to providing grant support for nonprofit Census outreach efforts, Hartford Foundation staff also serve on state and local Complete Count Committees that include government, community organizations and the Census Bureau. Their objectives are to share information and resources, and collaborate on Census outreach efforts.
The Hartford Foundation for Public Giving is the community foundation for Hartford and 28 surrounding communities. Made possible by the gifts of generous individuals, families and organizations, the Foundation has awarded grants of more than $750 million since its founding in 1925. For more information about the Hartford Foundation for Public Giving, visit www.hfpg.org or call 860-548-1888.