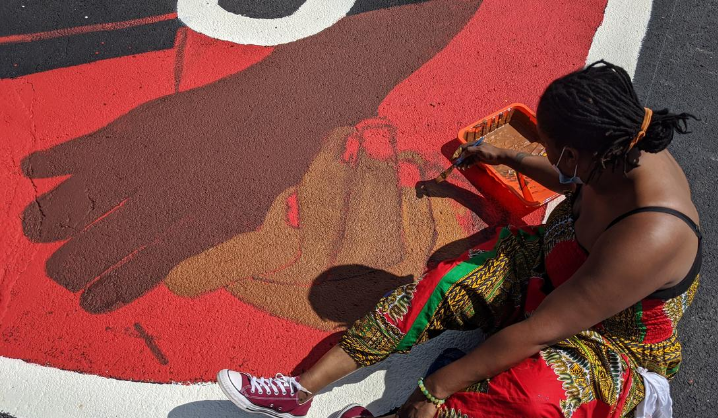 Hartford Foundation Grant Supports Black Lives Matter Murals in Bloomfield
A Celebration Event Will Take Place on Tuesday, September 1 at 6 p.m. at the Bloomfield Town Hall
As the national conversation continues around issues related to systemic racism, Black Lives Matter murals have been created in communities throughout the country, including in Connecticut. Thanks to a $6,640 grant from the Hartford Foundation for Public Giving, the town of Bloomfield will soon have three murals in the community. The Bloomfield Town Council voted to have the Black Lives Matter murals created at three sites including the Town Hall, a location on the East Coast Greenway and a third location that has yet to be determined. The first mural was painted at the Town Hall on August 28 - August 30.
"The Black Lives Matter mural is a strong statement that we are standing in solidarity when injustice happens to Black and Brown lives," said Bloomfield Mayor Suzette DeBeatham-Brown. "We are committed to the movement not an organization. We don't want to forget what has brought us to this moment as a community and we will continue to have those conversations that will help us to do better and live better. These murals will help to remind us of that commitment."
The Town Hall Black Lives Matter mural project team is being led by Hartford artist Khaiim A.K.A Self Suffice and Stephen (Stefon) Richmond, owner of Painting with A Twist Hartford. The team includes more than 15 artists from Bloomfield and across Greater Hartford. The group includes educators Zazzarro Decarish and Sacha Kelly, muralists Michael Borders and Chris Gann, and several well-known and newer artists including Aariyan Googe, Che' La'Mora, and Trae Brooks. The Hartford Foundation grant will cover stipends for the stencilers, supervisors and artists, and the cost of supplies and gift cards for youth assisting on the project.
"Like all the Black Lives Matter murals prior to this one, the art will serve as a silent protest and a reminder of suffrages of Blacks in America and well as serve as a symbol of hope through the art displayed in the individual letters," said project Stephen Richmond.
Earlier this month, the Hartford Foundation supported a similar Black Lives Matter mural project in Hartford.
"The Hartford Foundation's Artists of Color Advisory Group supported the grant for Hartford's BLM mural and inspired the City to pay stipends to the artists," said Hartford Foundation Senior Education Investment Officer Jackie Coleman. "Their recommendation influenced the Foundation's interest in supporting Bloomfield for their murals - including making sure the artists once again received acknowledgment for their talent in the form of stipends."