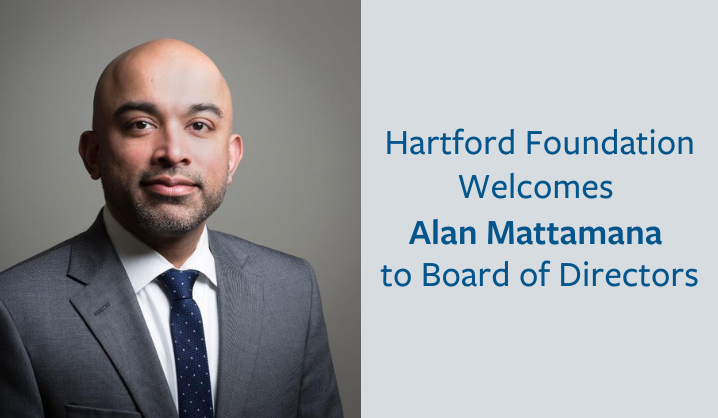 Hartford Foundation for Public Giving Welcomes Alan Mattamana to Board of Directors
The Board of Directors of the Hartford Foundation for Public Giving, the community foundation for Hartford and 28 surrounding communities, has announced that Alan Mattamana has been appointed by the Hartford Consortium for Higher Education to serve on the Board. Mattamana will replace departing Board member Rodney Powell, who has served on the Board of Directors since 2012, most recently serving as Vice-Chair.
A resident of West Hartford, Mr. Mattamana is a Partner at Fairview Capital, a West Hartford-based venture capital firm, where he is involved in investment selection, deal execution and monitoring activities for the firm's venture capital and private equity direct co-investment and partnership portfolios.
Prior to joining Fairview in 2009, Mr. Mattamana was a Principal with Polaris Venture Partners, a diversified venture capital firm. At Polaris, he focused on venture capital investments in the software, digital media, consumer, medical technology, and healthcare services sectors. Previously, Mr. Mattamana was a strategy consultant at McKinsey & Co, where he served clients in the software, telecommunications and aerospace sectors in the firm's Silicon Valley office. He also has prior experience at NASA, Goldman Sachs, and Neuberger Berman. Mr. Mattamana graduated from Princeton University with a B.S.E in Chemical Engineering and earned an MBA from Harvard Business School.
He currently serves on Foundation's HFPG Impact! Committee, and the Board of Connecticut Health and Education Facilities Authority (CHEFA).
The Hartford Foundation for Public Giving is the community foundation for Hartford and 28 surrounding towns. Through partnerships, the Foundation seeks to strengthen communities in Greater Hartford by putting philanthropy in action to dismantle structural racism and achieve equity in social and economic mobility. Made possible by the gifts of generous individuals, families and organizations, the Foundation has awarded grants of more than $894 million since its founding in 1925. For more information, visit www.hfpg.org or call 860-548-1888.