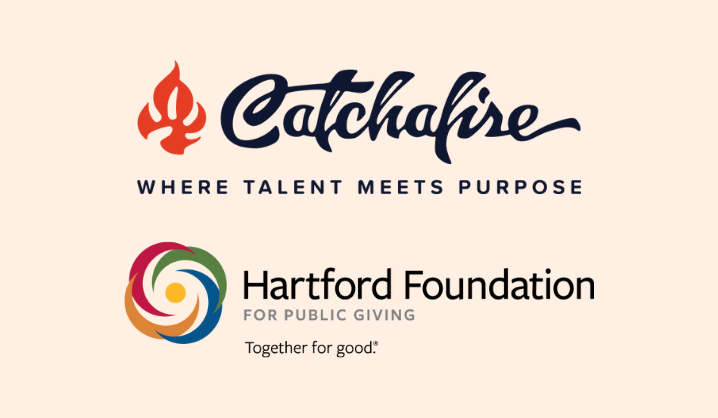 Hartford Foundation Expands Successful Nonprofit Volunteer Recruitment Program
Nonprofits provide critical support to their communities, but budget limitations can make it difficult to hire the skilled talent they need to operate most effectively. Skills-based volunteering is an effective way to bridge that gap. In February 2020, the Hartford Foundation for Public Giving's Nonprofit Support Program launched a partnership with Catchafire to provide Greater Hartford nonprofits with equitable access to skilled human capital and talent. The Foundation has sponsored 200 Catchafire memberships to match professionals who want to donate their time with nonprofits that need their skills. Using Catchafire's robust online platform, nonprofits can develop and post projects seeking a potential match. The timing of this launch was incredibly fortunate, as many nonprofits transitioned to a virtual format at the onset of the COVID-19 pandemic.
Since the partnership began, more than 300 projects for 70 nonprofits have been matched with a skilled volunteer. This resulted in more than 5,000 volunteer hours donated with an estimated value exceeding $1 million. Given the success of the first two years, the Foundation will be increasing the number of sponsored Catchafire memberships to 250 for 2022.
"Our region's nonprofits are working every day to solve significant challenges facing our communities, but they often struggle with a lack of adequate resources to meet their missions," said Hartford Foundation Senior Community Impact Officer, Amy Studwell. "Many nonprofit organizations can help to fill these human resource gaps by partnering with volunteers who have the skills and experience they need. We are proud to continue this successful collaboration with Catchafire to help meet the volunteer needs of our region's nonprofit providers."
Catchafire volunteers have helped local nonprofits with projects in the areas of communications (social media strategy, copy writing, graphic design, etc.), technology (tech systems setup, Google ad words setup, Salesforce customization, etc.), organizational strategy, human resources, language translation, financial management, business planning and more.
AFCAMP Advocacy for Children in Hartford serves a diversity of parents, youth, and families that need special education services as well as assistance with navigating the juvenile justice, child welfare, and health systems, including children's behavioral health. AFCAMP was able to use Catchafire volunteers to assist with modernizing its QuickBooks accounting operations as well as help the organization's staff convert to working from home when COVID required the organization to work virtually.
"A Catchafire volunteer was able to more fully utilize our QuickBooks Online software and better organize our financial reports to make them more usable for staff and grantors," said AFCAMP's Director of Finance and Administration, Tom Falik. "With the onset of the pandemic, we were able to utilize the expertise of Catchafire volunteer consultants to remotely set up laptop computers and utilize Microsoft 365 to allow our staff to successfully work from home."
Hartford-based youth development organization, ConnectiKids used Catchafire to improve fundraising and coach a new board of directors through brainstorming strategy and board engagement; development of a board engagement plan, fundraising and marketing strategies for future growth and attending Catchafire webinars for regular training.
"We have been able to speak with several professionals regarding strategic planning, fundraising and marketing and we are looking forward to a few high-level projects for the upcoming year," said ConnectiKids Executive Director Andrea Williams. "It is always great to have resources and professionals with additional expertise aside from our own who can be thought partners and assist us with projects, allowing us to think and operate at our highest level daily."
Nonprofit organizations interested in learning more or would like to be considered for a Foundation-sponsored membership with Catchafire can email Betsy Johnson at bjohnson@hfpg.org
The Hartford Foundation for Public Giving is the community foundation for Hartford and 28 surrounding towns. Through partnerships, the Foundation seeks to strengthen communities in Greater Hartford by putting philanthropy in action to dismantle structural racism and achieve equity in social and economic mobility. Made possible by the gifts of generous individuals, families and organizations, the Foundation has awarded grants of more than $894 million since its founding in 1925. For more information, visit www.hfpg.org or call 860-548-1888.