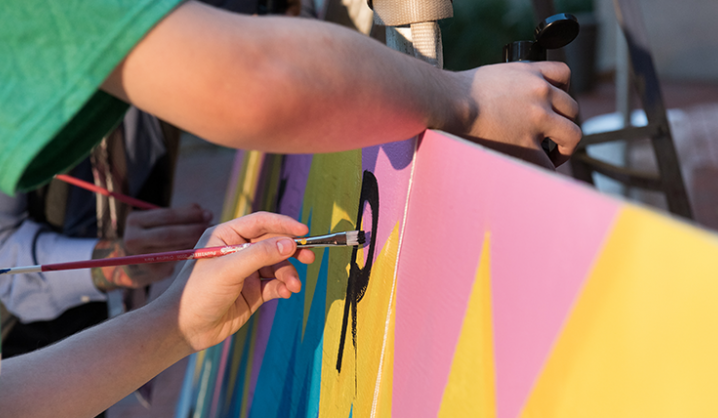 Hartford Foundation Awards $360,000 to Support Arts Programs for Hartford Youth
In July 2019, the Hartford Foundation for Public Giving and the Connecticut Office of the Arts released the Greater Hartford Arts Landscape Study. The study identified several disparities in access to and use of arts resources, inequities within the arts workforce, and multiple proven and possible benefits of the arts for school-age children and youth. Many youth in Hartford do not currently have access to quality arts instruction either in school or out of school.
In response to these findings, the Hartford Foundation issued an open call for proposals to support programs that provide high-quality arts instruction to middle- and high-school students attending Hartford Public Schools, outside the formal school day. The Foundation's Board of Directors has authorized $360,000 in grants to support 11 arts programs. Foundation funding will support free access to programming and, in certain cases, stipends for students.
One of these programs is run by Hartford-based nonprofit ActUp Theater. Founded in 2015 by Faithlynn Johnson and her two daughters, Tyler and Priestley Johnson, ActUp's work in social justice has cemented their stake in the community. Through their productions, they incorporate a message of inclusion, empowerment and activism to make positive changes in the community. They also mobilize cast members, parents and supporters to be advocates for themselves and their neighborhood. The Hartford Foundation grant will be used to support a theatre-based program in the north end of Hartford, culminating in a theatrical production that typically engages more than 70 youth.
"ActUp Theater's mission is to mobilize the power of the arts to promote social justice activism within our community by empowering our young people to see that I AM ENOUGH with the endless possibilities of their future," said Faithlynn Johnson, ActUp's executive director.
The Hartford Foundation's new strategic framework recognizes that the Hartford region must achieve greater racial, geographic and economic inclusion to reach its full potential as a vibrant, thriving and contributing force for regional and state prosperity. Persistent disparities affected by race/ethnicity, place (ZIP code) and income serve as barriers to this vision being fully realized. As the Foundation builds its portfolios of activities that can contribute to inclusive opportunity, partnerships with programs that provide positive youth development and engagement are a critical component to the strategy.
Other organizations receiving support for youth arts programming include:
Arts for Learning – In partnership with the Hartford Public Library, teaching artists will lead a variety of three session access workshops across all library branches this summer. Each library will host two, three-session workshops.
Connecticut Historical Society – Over the summer, a cohort of youth will learn about West Indian history through authentic costume making. Youth will also participate in the West Indian Parade.
Ebony Horsewomen - "A Horse of a Different Color" is a collaborative project between Ebony Horsewomen, Sankofa Kuumba and the Joe Young Studios. The project will select thirteen youth who will work with project partners of different genders, races and ages. The end project will be a trans-disciplinary film documentary on the transformation of the North-end of Hartford from a thriving network of neighborhoods to one of the poorest, highest crime areas in the state.
Hartbeat Ensemble – Youth Play Institute (YPI) for Hartford High School students will run across winter, summer and fall. YPI is will also have cohorts at other high schools. Students write, act, direct and design their own performances and receive stipends for their efforts. The final performance will have an additional showing at Hartbeat's location.
Hartford Stage – A paid theatre immersion program for high school youth in partnership with the Hartford Public Library. Hartford Stage will offer after school theatre classes at the main branch and three other library locations around the city. Teaching artists are bilingual.
Mothers Against Violence – Independent artist Lance James will provide drumming instruction to youth in Hartford.
Real Art Ways – A group of 16-20 high school students will meet 4 hours a week for 6 weeks to explore their identities and expression through storytelling. Students will brainstorm, draft, revise, perform, and both give and receive feedback from their peers. Over the six weeks, they will hone their skills, working toward being able to share their story live in a culminating community event.
Spectrum in Motion – A summer dance program for high school youth, this is an expansion of past successful programming. Spectrum in Motion takes place at Asylum Hill Congregational Church.
YMCA – Footlights Performing Arts (through the management of the YMCA) will provide an expansion of after school arts classes, meeting Monday through Friday. The program also includes academic tutoring.
YWCA – High school youth in the Young Women's Leadership Corps will now receive Latin Dance in the spring semester.