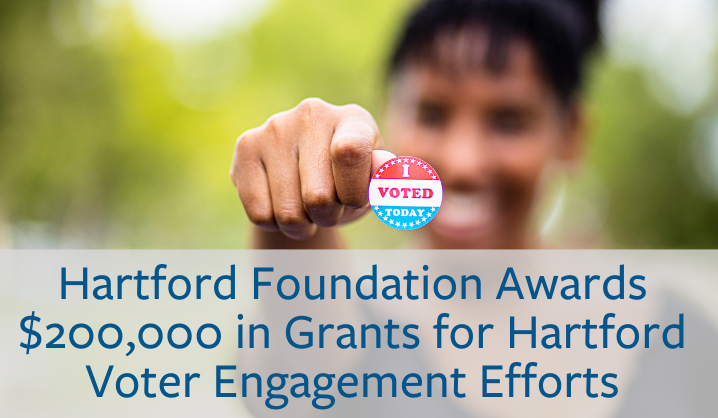 Hartford Foundation Awards $200,000 in Grants for Hartford Voter Engagement Efforts
The Hartford Foundation for Public Giving has awarded $200,000 in grants to eleven nonprofit organizations to support nonpartisan voter engagement activities leading up to Hartford's mayoral primary election in September and general election in November. With more than 14,000 eligible, not-yet-registered voters residing in the city, the Foundation's Get Out the Vote project aims to encourage greater civic engagement and increase voter participation throughout Hartford's local election season.
BSL Educational Foundation received a $20,000 grant to support its effort to produce at least four candidate forums for the Hartford Mayoral and City Council races, two of which will be organized in collaboration with the Hartford Votes~Hartford Vota Coalition. Voter registration support will be provided at the forums, and BSL will offer other resources including childcare and transportation to allow as many residents as possible to attend the events. The forums will be promoted through public service announcements on local radio stations and will be broadcast on local cable access channels. BSL will also engage in a GOTV Caravan event in partnership with other organizations and community groups, driving through city neighborhoods to engage in voter registration activities among residents.
"We at BSL Educational Foundation understand that local elections are our society's economic, cultural, and social hubs," said BSL Board of Director's Vice President Tyron Harris. "Local elections are crucial because they determine the policies and decisions that affect people's daily lives including the allocation of municipal resources, education funding and policies, and policies and allocation of municipal funding for economic development. By voting in local elections, Hartford residents can ensure that their needs and priorities are represented in the decision-making process and that their communities are safe, healthy, and prosperous."
This is the fourth time over the past five years that the Foundation has provided support for nonpartisan voter engagement; in 2019, the Foundation awarded 20 grants totaling $448,400 to support voter engagement work and 2020 Census participation in Greater Hartford.
This year, nonprofits were invited to submit proposals to engage in nonpartisan voter education and mobilization activities in Greater Hartford including, but not limited to, the following:
Nonpartisan voter guides
Voter registration
Strategies that educate voters on the voting process
Providing supports to remove barriers to voting on Election Day (e.g., transportation to polling locations)
Assisting voters with disabilities, language barriers, or in need of special assistance
Publicizing a voter information line or website to answer questions about early voting or polling
Sponsoring nonpartisan candidate forums or debates for all the candidates running for a particular office
Other related civic education efforts that promote civic engagement
"While voter turnout has increased among all demographic groups across Connecticut between the 2016 and 2020 elections, disparities in voter turnout still persist among both young people and people of color. These disparities are even more pronounced in municipal elections," said Hartford Foundation Senior Community Impact Officer Kate Piotrowski. "The Foundation hopes to build on the positive trend of increased voter engagement by supporting local organizations' efforts to address a range of factors that have historically discouraged and disempowered residents from participating in local and national elections, particularly among residents ages 18 – 29 and people of color."
In addition to BSL Educational Foundation, the following nonprofit organizations were awarded 2023 Hartford Voter Engagement grants:
| Organization Name | Program Description | Grant Award |
| --- | --- | --- |
| Blue Hills Civic Association | Blue Hills Civic Association (BHCA) will engage Hartford residents through door-to-door canvassing, social media marketing, the creation and use of a phone bank, and voter registration at well-attended city events and at public high schools. BHCA will also partner with other organizations to provide transportation for Hartford residents to their polling locations on Election Day. Activities will occur in Blue Hills, Upper Albany, Clay Arsenal, and Northeast neighborhoods. | $20,000 |
| Center for Latino Progress | The Center for Latino Progress' project will focus on South Hartford. It will utilize existing community outreach events as well as existing programming events, to provide residents with voting information - consisting of written materials in English and Spanish - voting instructions, and a list of candidates with related candidate information links. CLP will set up a dedicated phone line for GOTV activities and questions, which will also be live on Election Day. Activities will occur in neighborhoods in South Hartford. | $10,000 |
| Connecticut Democracy Center | CT Democracy Center will host a National Voter Registration Day event at the Old State House in Downtown Hartford on September 19, 2023. The event will include music and food as well as a panel discussion on civic engagement and a "Ballot Break" to describe the offices and current issues reflected on the ballot. Voter registration tables will be set up at the event and will provide assistance in Spanish and English. The Center will broadcast the panel discussion and "Ballot Break," and it will use bus ads, radio ads, and social media to market the event. The event will be in Downtown but outreach and broadcasting will be city wide. | $10,000 |
| FaithActs for Education | FaithActs will collaborate with churches to support voter education and registration among congregants during services and events and through social media annoucements. It will verify voter registration information for residents, provide registration materials to unregistered voters, translate voter guides into Spanish, and offer phone banking, text message reminders, and rides to the polls. Before the primary, FaithActs will also hold a candidate event. Activities will occur in Behind the Rocks, Blue Hills, Clay Arsenal, Frog Hollow, North Meadows, Northeast, Southend, and Upper Albany neighborhoods. | $10,000 |
| Hartford Health Initiative | Hartford Health Initiative's (HHI) project consists of facilialting a civic education series, performing outreach at public spaces such as churches and schools, and hosting community conversations as well as a candidate forum. HHI will assist in online voter registration at its GOTV events as well as when in attendance at other partner organizations' events. The activities will occur in neighborhoods across North Hartford. | $25,000 |
| Hartford Next | Hartford Next will collaborate with the Hartford Neighborhood Revitalization Zones to provide voter information and assistance in voter registration at block parties, shelters and soup kitchens, neighborhood meetings, existing candidate forums, and city-sponsored events. It will provided educational materials and registration access through the joint computer kiosks set up at Hartford Public Library to provide residents with access to electronic registration and election information. Hartford Next will work with The League of Women Voters and UConn School of Social work for educational materials. Activities will be city wide. | $20,000 |
| Hartford Votes~Hartford Vota Coalition | Hartford Votes~Hartford Vota Coalition plans to host two informational and collaborative convenings for organizations performing GOTV activities with presentations from CT Data Collaborative and the Nancy Humphreys Institute. The Coalition will also organize at least two candidate forums in Downtown - one for City Council candidates and one for the mayoral candidates - and it will assist both BSL Educational Foundation and the NAACP with their own neighborhood-based candidate forums. Voter registration assistance will be offered at all forums and the Coalition will record and disseminate the recording of its candidate forums. Activities will be city wide. | $25,000 |
| Health Equity Solutions, Inc. | Health Equity Solutions will engage in neighborhood canvassing, provide voter check-ups with residents to look into their voter status, distribute flyers and voter registration forms, and host community conversations and educational workshops. Health Equity Solutions will partner with community-based organizations such as the West Indian Club, Ministerial Health Fellowship, and other groups. Activities will be city wide. | $25,000 |
| ReJOYCE-CT | ReJOYCE-CT and Posh Paint CT intend to provide three voter registration and Election Day awareness events to increase voter engagement: one at Bushnell Park on Juneteenth, one at Parkville Market on National Voter Registration Day, and a final event at the YWCA on Broad street in October. The events will be social in nature and admittance involves bringing an unregistered guest. ReJOYCE-CT will also offer pop-up registration tables outside local businesses and other Hartford summer events, such as the Jazz Festival and the Puerto Rican parade. Activities will be city wide but intend to reach North and South Hartford residents. | $20,000 |
| San Juan Center | San Juan Center will engage in door-to-door canvassing, coordinate voter registration drives at existing community events and at SJC headquarters, and will host a series of public education segments on Telemundo and Analeh Show. San Juan Center will also engage in civic education and voter registration among its existing client base and through its social media platforms. Activities will take place in Asylum Hill, Clay Arsenal, Downtown, Frog Hollow, Parkville, and Upper Albany neighborhoods. | $15,000 |
The Hartford Foundation for Public Giving is the community foundation for Hartford and 28 surrounding towns. Through partnerships, the Foundation seeks to strengthen communities in Greater Hartford by putting philanthropy in action to dismantle structural racism and achieve equity in social and economic mobility. Made possible by the gifts of generous individuals, families and organizations, the Foundation has awarded grants of more than $948 million since its founding in 1925. For more information, visit www.hfpg.org or call 860-548-1888.