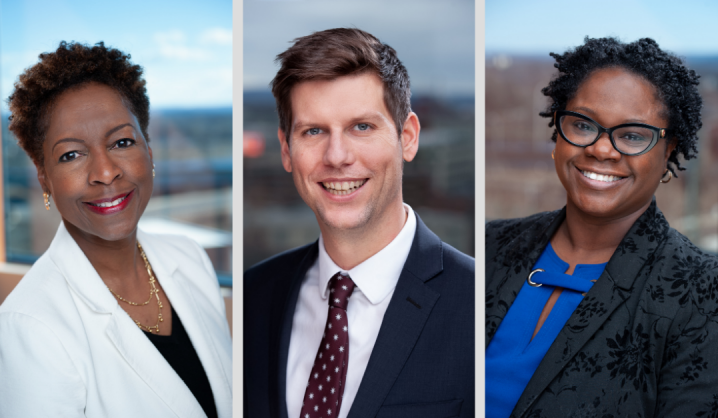 Hartford Foundation Announces Redesigned Development Team
Francesca Borges Gordon named Director of Development- Outreach and External Relations
In an effort to grow assets in order to distribute more dollars to the community, further engage donors in its strategic work and steward the charitable assets it manages, the Hartford Foundation for Public Giving has restructured its development team.
The redesigned team will continue to be led by Deborah Rothstein, who serves as vice president for development and is responsible for the overall executive direction of the department as well as the newly created Development Leadership Team, comprised of her and three Directors. Together, they will lead efforts to refine the Foundation's suite of philanthropic solutions to be more reflective of donor needs and objectives; grow Foundation assets; build a diverse pipeline of new donors; and enhance donor engagement opportunities to boost learning and foster collaboration.
The redesign includes several promotions, including:
Francesca Borges Gordon has been promoted to Director of Development - Outreach and External Relations. In her new position, Borges Gordon will be part of the Development Leadership Team, and lead outreach and external relations for the department. Borges Gordon joined the Foundation in 2016 as a member of the donor-advised team, working to cultivate major gifts.
Previously, she held senior roles in corporate and non-profit arenas, including banking, higher education and area hospitals. A resident of Hartford, Gordon is a member of the Connecticut Women's Council and serves as president of the Trinity Club of Hartford.
Ryan O'Halloran has been promoted to Senior Development Officer. He will continue to steward donor advisors and is expanding his role on the Foundation's prospect team, cultivating existing and new donors including individuals, businesses and foundations for fund development. A resident of Hartford, O'Halloran previously led the fundraising and marketing efforts at KNOX for nine years.
Chari Anderson has been promoted to Development Officer and will become a member of the Foundation's donor-advised fund team, working with advisors to help them in their grantmaking. She will continue in her role as staff lead of the Foundation's Black Giving Circle Fund. Anderson previously led the Foundation's prospect research initiatives.
"The Hartford Foundation's development team will amplify our organization-wide commitment to take steps to dismantle structural and systemic racism and achieve equity in social and economic mobility in Greater Hartford's Black and Latinx communities," Rothstein said. "The new team structure will enhance our efforts to engage our donors in our strategic work and grow the Foundation's assets to support our community, today and for the future."
The Hartford Foundation for Public Giving is the community foundation for Hartford and 28 surrounding communities. Made possible by the gifts of generous individuals, families and organizations, the Foundation has awarded grants of more than $837 million since its founding in 1925. For more information about the Hartford Foundation for Public Giving, visit www.hfpg.org or call 860-548-1888.