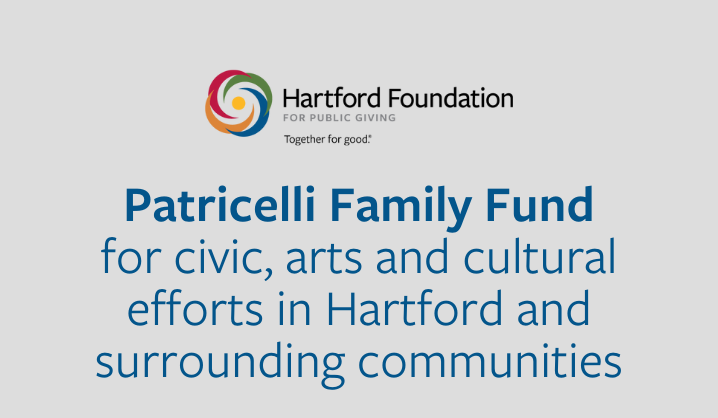 Hartford Foundation Announces New Patricelli Family Fund
$5 Million Fund Will Focus on Civic, Arts and Cultural Efforts in Hartford and Surrounding Communities
Robert and Margaret Patricelli, who reside in Simsbury, CT, have created a new $5 million fund at the Hartford Foundation for Public Giving, the largest donor advised fund created at the Foundation in nearly a decade.
With a focus on providing support for civic, arts and cultural efforts in Hartford and surrounding communities, the Patricelli Family Fund at the Hartford Foundation has already announced an inaugural grant of $50,000 over two years to support the Brother Carl Hardrick Institute.
"Margaret and I are very pleased to join with the Hartford Foundation in creating this new fund," said Robert Patricelli. "These will typically be larger multi-year grants, and we hope that by working with the Foundation we can partner with other leading philanthropic funds and families. My family has deep roots in Hartford, and we believe that it can once again become a leading multi-racial and multi-ethnic American city where people want to live and work."
Established in 2021, the Brother Carl Institute provides training to young people to serve as professional violence intervention workers. The Institute is hoping to develop into a national resource in the public health campaign against urban violence. Located at the Wilson-Gray YMCA on Hartford's Albany Avenue, the Institute offers training created by the Health Alliance for Violence Intervention, a national organization that provides technical assistance, policy information, and leadership development through its Violence Prevention Professional Certification program. Founded by a cross section of local leaders, the Brother Carl Institute aims to prevent further violence, attract more groups to do this work and train and certify more violence interrupters to support the community.
"I have known Bob Patricelli since the 1970s when we worked together on the South Arsenal Neighborhood Development (SAND)," said Brother Carl Hardrick. "The Institute will carry forward the values of community organizing and education into to engage Hartford residents to become part of the solution. Over the years, Bob has shown a longstanding commitment to the work of organizers like me and many others, and I am grateful for his willingness to step in and help. His financial support and trust in community leaders to be changemakers is remarkable."
The Patricelli Family Fund at the Hartford Foundation will operate alongside the previously established Robert & Margaret Patricelli Family Foundation which has been operating since 1997 when Mr. Patricelli received the proceeds from the sale of his public company, Value Health, Inc. The Patricelli Family Foundation has a national focus, but also supports many Connecticut-based organizations, including most recently a $600,000 grant initiated by Margaret Patricelli to the Elizabeth Park Conservancy for the restoration of their three historic greenhouses.
The Hartford Foundation provides donors with a clearer understanding of the region's diverse challenges and the nonprofit organizations working to address them. "The Hartford Foundation is incredibly grateful for Bob and Margaret's incredible generosity in creating this fund," said Hartford Foundation President Jay Williams. "We look forward to working with the Patricellis to identify potential opportunities to support the community they love so much. The Foundation also looks forward to connecting them with other donors to identify shared funding opportunities to meet community challenges and entertain new forms of philanthropy."
For more information about donor advised funds, contact Deborah Rothstein, J.D. Vice President for Development at drothstein@hfpg.org.
The Hartford Foundation for Public Giving is the community foundation for Hartford and 28 surrounding towns. Through partnerships, the Foundation seeks to strengthen communities in Greater Hartford by putting philanthropy in action to dismantle structural racism and achieve equity in social and economic mobility. Made possible by the gifts of generous individuals, families and organizations, the Foundation has awarded grants of more than $849 million since its founding in 1925. For more information, visit www.hfpg.org or call 860-548-1888.