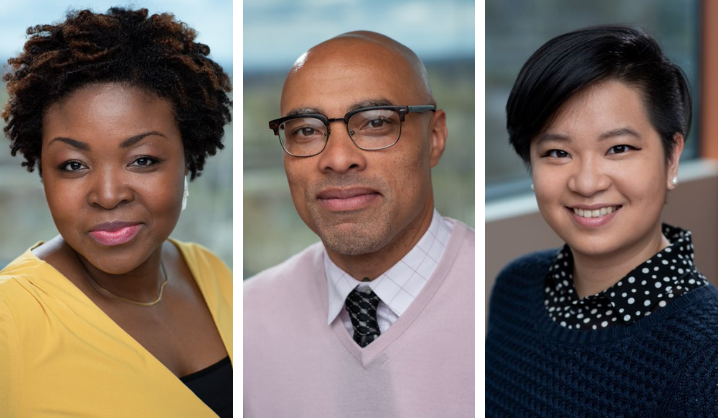 Hartford Foundation Announces New Members of Community Impact Team
New hires will enhance the Foundation's grantmaking and learning and evaluation efforts
Over the past two years, the Hartford Foundation for Public Giving has worked to enhance its staff capacity in order to maximize the Foundation's impact in the community. This effort included merging grantmaking and nonprofit capacity building with the Foundation's learning, evaluation areas to form the Community Impact department. As part of this ongoing effort, the Foundation is pleased to introduce three new additions to its Community Impact team with impressive backgrounds in academia, nonprofit and community leadership roles.
The three new staff members are:
Willona Y. Amoakoh, LMSW, Community Impact Officer
Willona brings her wealth of experience working with children, families, and youth. Most recently, she served as the clinical supervisor for Hartford Healthcare's Stronger Families, Stronger Futures Program where she managed the daily operations of the Hartford Hospital home visiting team, coordinating prenatal group facilitators, and family support providers of early childhood development and education. Previously, she was a school-based behavioral health clinician at the Community Health Center site at Meriden's Orville H. Platt High School where she provided outpatient therapy to underinsured high school students. She also held several roles at Wheeler Clinic, including serving as a clinical care manager for Wheeler's Foster Care Program and as a vocational education specialist in Wheeler's Youth Equipped for Success (YES!) Program. A Ghanaian-American resident of Manchester, Willona is an engaged member of the Greater Hartford community, using her passion for performing arts to bring hope and healing through children's books, theater, and animated motion pictures. As a response to the interpersonal challenges of COVID-19, Willona co-founded Scholar Empower, LLC. to provide social and emotional learning for students and support for faculty and social workers serving in urban communities. A first-generation college graduate, Willona received her bachelor's degree in education from Central Connecticut State University and her master's in social work administration from the University of Connecticut School of Social Work.
Damion Baker, Community Impact Officer
Damion has dedicated his professional career to stable housing and homelessness prevention for Connecticut residents. Most recently, he led a dynamic team of Rapid Rehousing Support specialists with Community Housing Resources (CHR), servicing the housing needs of some of Greater Hartford's most vulnerable residents. In this role he represented CHR in Greater Hartford's Coordinated Access Network to reduce homelessness and has worked with Capital Community College's Center for Equity, Diversity and Inclusion, to connect students to stable housing. Prior to his work with CHR, Damion collaborated with a variety of nonprofit organizations in Connecticut and Massachusetts as Development Project Manager with the Corporation for Independent Living. He also managed transitional living programs for Mercy Housing and Shelter. He received his bachelor's degree in psychology for Central Connecticut State University where he was a member of the CCSU football team. Damion currently resides in West Hartford.
"As the Foundation's work in dismantling structural racism and advancing equity in social and economic mobility in Greater Hartford continues to evolve, we are incredibly excited to have these talented new staff join us in furthering these efforts," said Hartford Foundation Director of Community Impact Grantmaking Megan Burke. "Willona and Damon bring a wealth of professional and personal experiences that will broaden our team's perspectives and enhance our ability to work with our region's nonprofits and residents."
Madeline "Maddie" Nguyen, MPH, Learning and Evaluation Officer
Maddie joins the organization with considerable analytical expertise and experience with equitable and culturally responsive approaches to evaluation. She most recently worked at the Yale Child Study Center's Social & Affective Neurodevelopment of Autism Lab, where she coded and analyzed of behavioral and physiological data in clinical experiments. While studying at Yale, she worked as a teaching fellow in the School of Public Health's Social & Behavioral Sciences Department and served as the Executive Chair of the Yale University Womxn of Color for Maternal and Child student organization. As a health equity intern in the City of New Haven's Food System Policy Division, Maddie examined the state of New Haven's food system to unearth how the City could better promote racial health equity and developed a report, toolkit and policy memo reflective of her analysis of the effect of land use on resident health. Maddie earned her bachelor's degree in psychology and Spanish at Santa Clara University and her master's degree in public health, social and behavioral sciences at Yale University. She is fluent in three languages, including Vietnamese, Spanish and English and presently resides in New Haven.
"The Hartford Foundation's Learning and Evaluation team is enormously pleased to welcome Maddie to the organization as we seek to enhance our capacity to learn with community and inform our strategic outcome areas," said Hartford Foundation Director of Strategic Learning and Evaluation Kate Szczerbacki. "In addition to her skills as quantitative and qualitative analyst, Maddie also brings a deep commitment to racial and social equity that is essential to improving our contribution to a richer and more holistically rigorous data and evaluation ecosystem for nonprofits, policymakers, and residents."
The Hartford Foundation for Public Giving is the community foundation for Hartford and 28 surrounding towns. Through partnerships, the Foundation seeks to strengthen communities in Greater Hartford by putting philanthropy in action to dismantle structural racism and achieve equity in social and economic mobility. Made possible by the gifts of generous individuals, families and organizations, the Foundation has awarded grants of more than $894 million since its founding in 1925. For more information, visit www.hfpg.org or call 860-548-1888.