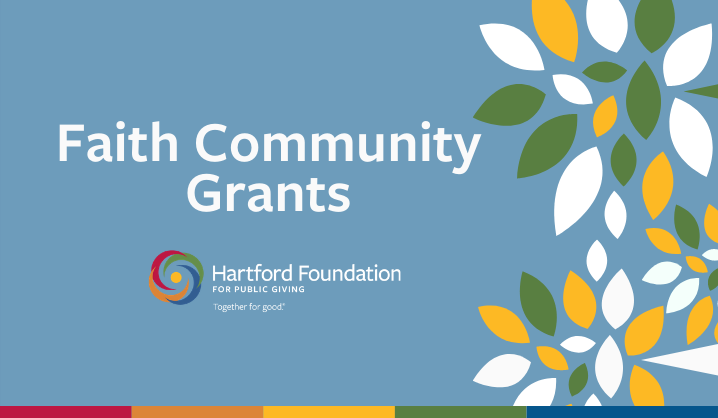 Hartford Foundation Announces New Grant Opportunities for Faith-based Organizations
Initiative Reflects a Change in Foundation Policy and Practice
The Greater Hartford region is fortunate to have many, diverse faith-based organizations. Our churches, synagogues, mosques and other communities of faith make essential contributions to the communities they serve, providing food, shelter and other basic human needs, youth development, job readiness, healing from grief and loss, as well as community-wide improvement through safety campaigns, community organizing and civic engagement.
In 2020, the Hartford Foundation for Public Giving convened Greater Hartford faith leaders representing various religious organizations and traditions to learn about pressing needs they see, the ways they are addressing them, and what more is needed to support their efforts. The Foundation learned the faith community has been responding to the challenges arising from, and exacerbated by, the dual pandemics of COVID-19 and racism. Faith leaders told the Foundation how their organizations are sharing resources and providing vital resources for critical human needs, nurturing and healing, regardless of whether they identify with a specific faith. The Foundation also heard how communities of faith are catalyzing their congregants and the broader community around social and racial justice issues.
To support this work, the Hartford Foundation is pleased to announce a new grant opportunity to support faith organizations assisting residents disproportionately affected by COVID-19, addressing needs of congregants and the broader community affected by racial/ethnic, geographic and/or economic disparities, and/or advancing community engagement focused on social and racial justice.
The Foundation expects to award grants ranging from approximately $2,500 to $10,000 to individual faith organizations, and grants up to $25,000 to support collaborative projects of two or more partnering faith organizations and/or partnerships with other nonprofits. All grant awards will be based on the size of the project, funding needed, and quality of plans responding to the criteria presented in an RFP available at this link. Applicants must complete the online grant application by Monday, April 19, 2021. Grant announcements are expected by May 31, 2021. While this new grant opportunity reflects a change in the Hartford Foundation's policy and practice to allow funding to religious organizations, and a range of different projects can be considered for support, the Foundation will continue not to fund activities that promote religious doctrine.
"The Hartford Foundation sees the faith community as essential partners in responding to community needs across Greater Hartford, and its fundamental role in supporting residents, providing inspirational support and nurturing the overall well-being of residents we both serve," said Judy McBride, the Hartford Foundation's director of strategic partnerships. "Faith leaders see and hear the challenges of residents and their families across the life cycle—from birth to death. The new Faith Community Grant program allows us to tap into their insights and provides an opportunity for us to work together."
The Hartford Foundation for Public Giving is the community foundation for Hartford and 28 surrounding communities. Made possible by the gifts of generous individuals, families and organizations, the Foundation has awarded grants of more than $837 million since its founding in 1925. For more information about the Hartford Foundation for Public Giving, visit www.hfpg.org or call 860-548-1888.