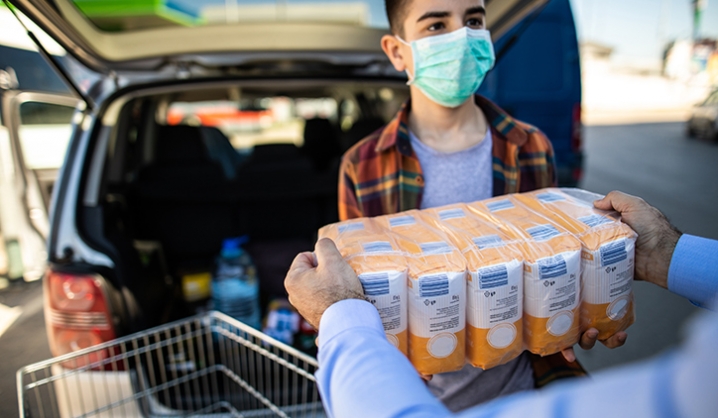 Hartford Foundation Announces Final Round of Phase One Grants from COVID-19 Response Fund
Includes $1,000,000 Grant to Support Six Alliance Districts Made Possible By Donation from LEGO Foundation
In March, the Hartford Foundation for Public Giving launched the COVID-19 Response Fund to rapidly deploy resources to support the residents who are most significantly affected by the coronavirus pandemic. The Fund is designed to complement the work of federal, state and municipal government efforts and expand local capacity to address all aspects of the outbreak as efficiently as possible. Earlier this month, the Foundation announced that for the remainder of 2020, the Fund will transition from emergency response to keeping nonprofit staff and clients well prepared and safe during the re-opening phase of the pandemic. Grant awards will support re-opening costs that nonprofits expect to incur over the next six-months, including personal protective equipment (PPE), cleaning, small COVID-related infrastructure accommodations, technology to support virtual services and/or remote staff, staff health screenings, etc. and must be in alignment with state and federal public health guidelines for safely re-opening facilities.
"As the Hartford Foundation COVID-19 Response Fund transitions to a new phase, we would like to express our gratitude for the incredible generosity of our community and our dedicated community nonprofit providers who have been working on the frontlines to respond to residents' needs during this public health and economic crisis," said Hartford Foundation President Jay Williams. "A wonderful example of this generosity is the substantial grant made possible by the LEGO Foundation and LEGO Group which will be used to support six Alliance school districts in our region as they continue to work to educate our young people during this challenging time. This final round of grants from the Fund also includes resources to help our local arts community develop virtual programming, home repair services for the elderly and people with disabilities so they can continue to live independently, and to support research on the relationship between COVID-19 and other health disparities particularly in our Black and Latinx communities."
The latest round of COVID-19 Response Fund grants totaling $1,173,338 support community-based organizations that provide a variety of critical supports. Since its launch, the COVID-19 Response Fund has made grants totaling $7,777,383 million to more than 130 organizations providing basic human needs and other services to local residents.
| | | |
| --- | --- | --- |
| Organization | Services | Grant Amount |
| African Caribbean American Parents of Children with Disabilities | Grant will allow for disbursement of emergency financial assistance to families to support food, housing and other basic needs. | $10,000 |
| | Grant will provide support for the distance learning needs of students including technology, tutoring, professional development and family engagement. | $75,000 |
| | Grant will provide support for a campaign to increase Census completion in the Hartford region through youth organizing. | $50,000 |
| | Made possible by a contribution from the LEGO Foundation and LEGO Group, this grant will provide operating support for the technology needs of six Alliance school districts in the Greater Hartford region. | $1,000,000 |
| | Grant will support the development of www.HartfordArts.org to build out an artist's communication network and to support the availability of Zoom access for 100+ arts organizations and artists to develop virtual programming for this summer and fall. | $11,000 |
| | Grant will allow the organization to provide direct basic human needs assistance to youth and families in its programming. | $7,838 |
| | Grant will allow for free food distribution to low-income families experiencing an illness, including those recovering from COVID-19. | $5,000 |
| | Grant will allow for distribution of food and hygiene items to youth and their families. | $2,000 |
| | Grant will support supplies needed to provide home repair services to low-income communities, including the elderly and people with disabilities, so they are able to continue living independently in their homes through the COVID-19 pandemic. | $7,500 |
| | Grant will support the Community Wellbeing Survey in the Hartford area, exploring the interrelationship of COVID-19 and factors leading to health disparities, with particular emphasis on the Latinx and Black/African-American communities. | $5,000 |
The Foundation has committed $6.4 million to the COVID-19 Response Fund through the end of May. Furthermore, the Foundation has received more than $4.1 million in donations from generous individuals, corporations and donor-advised-funds. For a complete listing of COVID-19 Response Donors follow this link.
Fundraising will continue throughout the public health crisis, and it is clear that the consequences of COVID-19 will persist through the end of 2020.
To learn more about the COVID-19 Response Fund or to make a donation log onto www.hfpg.org/covid-19-response.