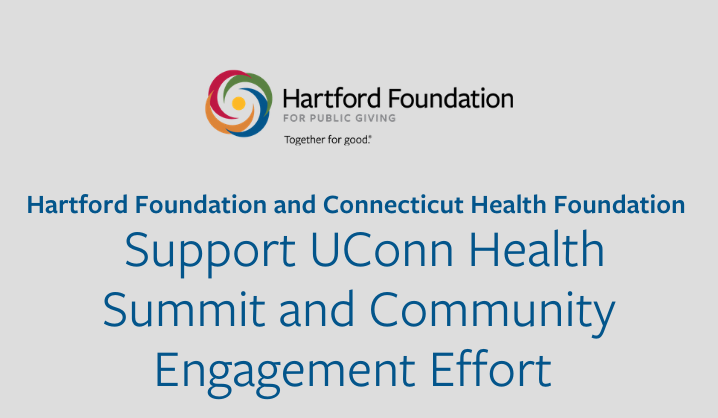 Hartford Foundation and Connecticut Health Foundation Support UConn Health Summit and Community Engagement Effort Focused on Health Equity among Boys and Men of Color
Boys and men of color face some of the starkest disparities in society. In fact, children of color face higher rates of adverse childhood experiences, and men of color are incarcerated at significantly higher rates than white men. In addition, even before the COVID-19 pandemic, Black men had the shortest lives of anyone in the United States, dying an average of 4.2 years younger than white men and 9.2 years younger than white women. Black men have also lost three years of life expectancy as the result of COVID-19.
To further address and advance solutions to these issues, the UConn Health Disparities Institute hosted the 2021 State of Health Equity among Boys and Men of Color Summit last week focused on "Trauma, incarceration and justice across the life course: transforming systems for behavioral health equity among boys and men of color." To support this critical work, the Hartford Foundation for Public Giving and the Connecticut Health Foundation have awarded $40,000 in grants to the UConn Foundation to support the summit and its unique Ideas Lab.
"We wanted to move beyond conferences that purely raise awareness," said Health Disparities Institute Director Dr. Wizdom Powell. "Our intention was to create an experience that bridges deep abiding empathy gaps and moves attendees towards sustained action. The grants we will award are designed to incubate and accelerate health equity innovations for boys and men of color."
The Ideas Lab is intended to advance work on health issues and provide seed funding to support community-based projects developed by teams of local residents. The grants from the Hartford Foundation and the Connecticut Health Foundation support the community resident Ideas Lab, which will take place over the course of the year following the Health Equity Summit.
"The Hartford Foundation is excited about this important collaboration with the Connecticut Health Foundation supporting this UConn Health Disparities Institute effort to educate, engage and empower Black men and boys to respond to the longstanding health challenges in their communities," said Hartford Foundation Director of Community Partnerships Judy McBride. "This effort directly advances our shared commitment to supporting civic engagement and resident engagement, as the summit and its community workshops will develop action projects that have the potential to support dismantling structural racism by expanding resident-led community and advocacy efforts and creating innovative solutions."
"As a foundation dedicated to achieving health equity by eliminating racial and ethnic health disparities, we are thrilled to partner with the Hartford Foundation in supporting the UConn Health Disparities Institute's critical work to find solutions to the many disparities that affect boys and men of color," said Tiffany Donelson, president and CEO of the Connecticut Health Foundation. "The Ideas Lab provides a tremendous opportunity to engage the perspectives of community members in identifying solutions. We know that we will never develop the right solutions to dismantle health disparities and racial inequities unless we engage those most affected by these challenges."
The three-day Summit and the Ideas Lab are intended to ignite public discourse and action to advance health equity, racial justice, and systems change to address challenges experience by many boys and men of color. Themes explored included the impact of trauma, incarceration, and justice across the life course, focused on transforming systems for behavioral health equity. The Summit also focused on HIV/AIDS through a partnership with Hartford's Ryan White Program. An arts curator and visual storyteller was engaged to support the summit's arts components that included work of artists of color, and integrated arts-based as well as other interdisciplinary approaches into sessions. The arts were used as a vehicle for education and to spur discussion on social justice issues. Intergenerational dialogues were designed to amplify youth of color voices.
To learn more about the topics covered at the summit, visit https://health.uconn.edu/health-disparities/bmoc-summit/.
About UConn Health Disparities Institute
The mission of UConn Health Disparities Institute (HDI) is to reduce disparities by turning ideas shown to work into policies and actions and the vision is that everyone in Connecticut will have an opportunity to enjoy good health and well-being. The Bioscience Connecticut Initiative created HDI in 2011. UConn HDI is unique in dual charge by fulfilling the academic obligations of a Type II center and a legislative mandate to eliminate disparities among residents in the state of Connecticut. UConn HDI is organized into a series of cores: Data Analytics; Policy and Strategic Communications; Research, Training, & Leadership Development; and Community Engagement & Collaborations. To advance this mission, HDI produced and disseminated the first CT Report Card on Health Equity among Boys and Men of Color, which serves as a launch pad for this Summit.
About the Connecticut Health Foundation
The Connecticut Health Foundation is the state's largest independent health philanthropy dedicated to improving health outcomes for people of color. Since its creation in 1999, the foundation has awarded more than $70 million to nonprofit organizations and public entities to expand health equity, reduce health disparities, expand health coverage, and improve the health of all Connecticut residents.
About the Hartford Foundation for Public Giving
The Hartford Foundation for Public Giving is the community foundation for Hartford and 28 surrounding towns. Through partnerships, the Foundation seeks to strengthen communities in Greater Hartford by putting philanthropy in action to dismantle structural racism and achieve equity in social and economic mobility. Made possible by the gifts of generous individuals, families and organizations, the Foundation has awarded grants of more than $849 million since its founding in 1925. For more information, visit www.hfpg.org or call 860-548-1888.