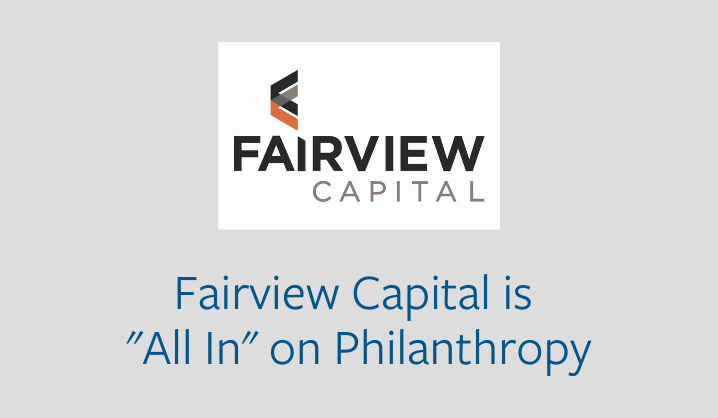 Fairview Capital is "All In" on Philanthropy
Consensus building is a key element of the culture at Fairview Capital. When the COVID-19 pandemic arrived in Connecticut, their commitment to collective problem solving provided a natural foundation for action. The Fairview team quickly created a fund committed to helping nonprofits in the Hartford region.
Fairview partner Cynthia Tseng calls it the quintessential group effort.
"We all sit in different nonprofit organizations and began discussing what the nonprofits are doing during the pandemic," says Tseng. "The common theme there was everyone is suffering."
Tseng serves on the board of Hartford Performs, a prime example of how community engagement and giving back are part of the firm's ethos. Fairview launched the "All In" Fund in late March and within few short months they were truly all in, having received monetary contributions from every staff member across the organization.
"This is coming from the employees versus from Fairview Inc., and that's very meaningful for all of our colleagues," says Tseng.
Fairview Capital was co-founded in 1994 by JoAnn A. Price and Laurence C. Morse and is based in West Hartford. The co-managing partners have built one of the country's largest minority-owned private equity investment management firms, and they manage a staff of approximately two dozen professionals with a broad diversity of experience and perspective.
Upon launching this philanthropic effort, Fairview decided to set up a business donor advised fund at the Hartford Foundation. The professionals at the Foundation handle the administration on the back end, allowing the Fairview staff to focus their energy on the need in the community. Fairview has established a five-person committee that reviews requests for funding. Senior Research Analyst and Business Development Coordinator Damaris Rivera says it's important for the small group to communicate with the entire firm about grantmaking decisions.
"A person is more apt to give when they see what their donation is doing," says Rivera. "If I can see where my $200 went, I'm more likely to give another $200 and continue to support the effort."
To date, the All-In Fund has awarded five grants, totaling more than $20,000 to nonprofits in Greater Hartford as well as one in the San Francisco Bay Area, where the firm has a satellite office. Organizations that combat homelessness, support education and provide basic human needs have received grants thus far.
Going forward, the firms plans to grow an endowed fund that will support local nonprofits in perpetuity. It's a model that Cynthia Tseng believes can easily be replicated by other small- and medium-sized businesses across the region.
"The pandemic will end one day, but the Fairview "All In" Fund will live on. It's an evergreen structure to carry out the work for Hartford and Connecticut-based nonprofits," says Tseng.
Damaris Rivera is extremely proud of the collective commitment of her colleagues and her longtime employer.
"This effort to help each other is of the utmost importance, and I can't stress it enough: together we can really make a difference."