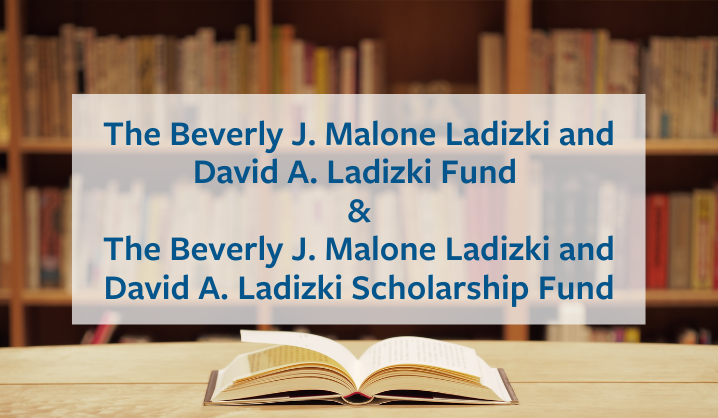 David Ladizki Creates Donor-Advised and Scholarship Funds at Hartford Foundation in Memory of His Wife Beverly Malone Ladizki
Scholarships to support students in Suffield, Agawam and surrounding communities
Throughout her life, Beverly Ladizki was an active, generous, thoughtful member of her community, first growing up in Agawam, Mass., and later in Suffield, Conn. Beverly's volunteer work - for her church and the diocese, the Eastern States Exposition, and the Suffield Senior Center - spanned the state border. She worked hard and believed that helping others is a moral obligation, affirming her positive outlook toward life and her faith.
In remembrance of Beverly, who passed away in May 2020, her husband, David A. Ladizki, established two funds at the Hartford Foundation with gifts of stock. He chose the Foundation because of its long track record, and ability to grow the funds in perpetuity.
The Beverly J. Malone Ladizki and David A. Ladizki Scholarship Fund is open to graduating high school seniors who live in Agawam and Suffield and residents of bordering towns including Southwick, Westfield, West Springfield, Springfield, and Longmeadow and Granby, East Granby, Windsor Locks, and Enfield who will be attending college or vocational school full time. David, an attorney and scholarship recipient himself, embraces the concept of "paying it forward."
The Beverly J. Malone Ladizki and David A. Ladizki Fund is a donor-advised fund, through which David will make grants to organizations that advance the work to which Beverly committed herself. He plans to address needs in Agawam and Suffield and will develop other goals.
"It is important that Beverly's name carry on" said Ladizki. "She could walk into a room and calm it down. Everybody that met her loved her, and considered her an angel."
"Through these funds, Beverly's work lives on as the Ladizikis help generations to come," said Susan Dana, the Hartford Foundation's Director of Major Gifts.
The Hartford Foundation for Public Giving is the community foundation for Hartford and 28 surrounding communities. Made possible by the gifts of generous individuals, families and organizations, the Foundation has awarded grants of more than $785 million since its founding in 1925. For more information about the Hartford Foundation for Public Giving, visit www.hfpg.org or call 860-548-1888.