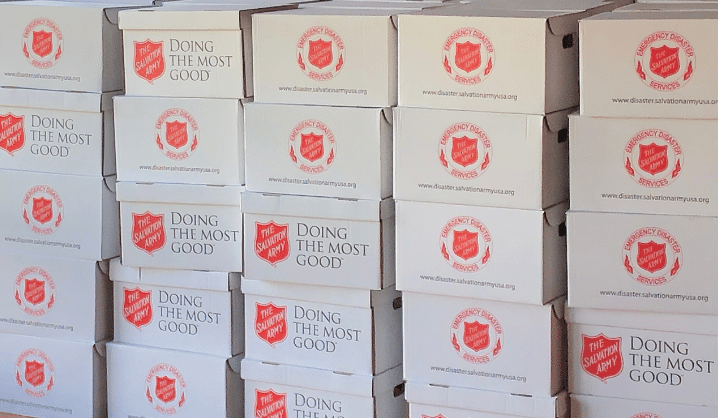 COVID-19 Response Fund Grantees: The Salvation Army Southern New England Division - Serving CT and RI
Throughout the COVID-19 pandemic, nonprofits across Connecticut have been working tirelessly to provide relief to the communities they serve. Many organizations, like The Salvation Army Southern New England Division, rely on volunteers to help make their work possible. At the start of the pandemic, The Salvation Army found the need for their services increased greatly.
"With so many people losing their jobs in the beginning and not being able to collect unemployment for a while, it was sad … I was really upset by that and I wanted to be able to help in any way I could," said Robin Brennan of West Hartford.
Brennan is a realtor who began volunteering with The Salvation Army in Hartford when the pandemic impacted her workload. Since March, she has volunteered her time every Monday, Wednesday and Friday, packing food boxes for the Emergency Meals Program, working in the pantry or making lunches for the community meals program which is distributed on Sunday's.
During the first several months of the pandemic, The Salvation Army mass produced emergency food boxes at five hubs throughout Connecticut. Thousands of people who were out of work needed these boxes of food, which were distributed out of The Salvation Army Corps Community Centers - restaurant workers, who once volunteered their time with the organization, began seeking help themselves.
In the fall, The Salvation Army reverted to a more normal posture, closing all but one of the distribution hubs as the need declined and transitioning Corps Community Centers to their usual food pantry (still open Mondays, Wednesdays and Fridays 9am-12pm). The remaining distribution hub continues to serve food pantry locations across Connecticut, acting on behalf of and funded by The Salvation Army.
As the holiday season approached, Kathryn Perrett, Volunteer Coordinator at The Salvation Army Southern New England Division, knew things would ramp up.
"We knew there was going to be a much greater need this holiday season," said Perrett.
With the help of a cadre of volunteers, the organization continued their most successful annual campaign, bell ringing outside of public places like Walmart to raise funds for programs throughout the year. This holiday season, Walmart also allowed customers to round up their transaction totals in store or online to assist with donations to The Salvation Army.
Generous corporate partners, families and individuals stepped up to donate food boxes and toys during the holiday season, and many people answered the organization's call to help deliver meals on Thanksgiving and Christmas.
Being on the frontlines of the pandemic, The Salvation Army has a new set of volunteers like Robin, who can be utilized in different ways moving forward.
"While our year-round social service programs are operational and providing services under COVID restrictions and limitations, some of our other alternative community programs are on a hold until we can return them to full operation. In the meantime, there are other programs like our Emergency Disaster Services. We are still in response to the pandemic, and this has given us an opportunity to mold volunteers into Disaster Services volunteers," said Perrett. "They're getting ready so in the future when we have another natural disaster or something we are going to respond to, they can potentially deploy."
Perrett says The Salvation Army will continue to respond to the spike in community need – specifically the need for food while so many are still out of work.
"We are in this for the long haul," said Perrett.
In 2021, she hopes to cultivate more relationships with volunteers and looks forward to providing as many opportunities for them as possible.