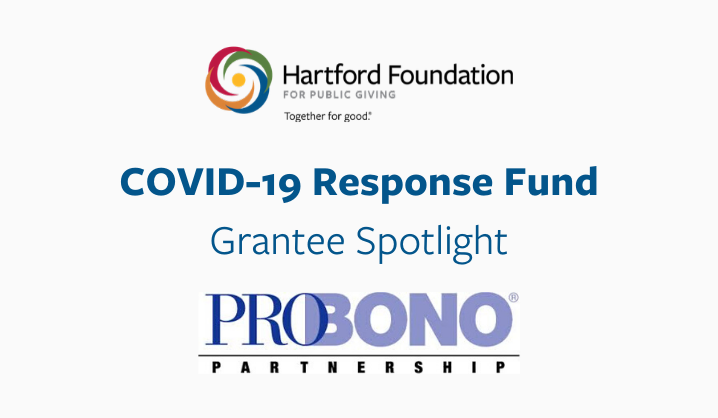 COVID-19 Response Fund Grantees: Pro Bono Partnership
Navigating the Legal Landscape of COVID-19
The COVID-19 pandemic is a global health crisis that has given rise to an economic crisis. What people don't often see are the underlying legal ramifications: questions relating to everything from staffing and contracts to cash flow management and advocacy.
Fortunately, Pro Bono Partnership is dedicated to resolving these issues for nonprofit organizations across the region. Since their founding in 1997, the Partnership has assisted nearly 4,000 nonprofits in Connecticut, New Jersey, and New York with nearly 18,000 legal matters. And as their name states, they do it all free of charge.
Before the pandemic hit our region, the Partnership was busy supporting nonprofits with a broad range of legal issues. "We work with clients from formation to mergers and collaborations; from general employment law and volunteer concerns to real estate, intellectual property and more," said Priya Morganstern, Director of the Connecticut Program. "That work didn't stop in March. We've just added to it."
The team of ten attorneys and eleven support staff has been tackling a variety of rapidly evolving issues. For example, when the Payroll Protection Program (PPP) was first announced as part of the CARES Act, nonprofits needed help completing the detailed application process. Today, those questions have shifted to administering the loan payments properly so that nonprofits qualify for full forgiveness at the end of the loan period, and understanding legal requirements for reopening, as well as how to minimize risk.
The Partnership has clients in almost every type of nonprofit organization, all of which are dealing with concerns created by the pandemic. "On any given day, we may help a theater re-negotiate their contract with a restaurant because they had to cancel their annual fundraising gala. The next client might be a childcare center that needs help interpreting CDC and OSHA guidelines to ensure they can reopen safely, or a museum seeking waivers for visitors or volunteers. Every issue that for-profit businesses in Greater Hartford are facing, nonprofit organizations are facing as well—only without the support of in-house counsel or the ability to pay for outside legal help."
"There is no handbook for operating during a pandemic," Morganstern continued. "We are reading the legislation, following ongoing guidelines from various government agencies and providing guidance to our clients, all in real time. And, we are listening carefully to be sure we're ready to support our clients with whatever comes next."
Like many nonprofits, Pro Bono Partnership itself is navigating a perfect storm: increasing demand coupled with decreasing revenues. The legal concerns around running an organization during a pandemic are seemingly unlimited, while the business realities facing their donors have constrained contributions.
"We wouldn't be able to do what we do without the generosity of a broad community. The attorneys who volunteer their time are the lifeblood of our work. Robinson & Cole has generously provided office space in Hartford (even though we're not there today) along with volunteer hours. Combined with our many other generous donors and funders -- such as Aetna, Day Pitney, Eversource, The Hartford, Pratt & Whitney, UTC (now Raytheon) and UnitedHealthcare -- we've been able to adapt during these uncertain times and meet the evolving needs of the nonprofit community."
A grant from the Hartford Foundation's COVID-19 Response Fund has allowed Pro Bono Partnership to keep working without interruption as their team transitioned to a remote work arrangement. "Like many organizations, we went from working in our offices to working from home virtually overnight, so we've incurred some unplanned IT expenses," said Morganstern. "Since so many have been generous with us, and given our mission to serve the nonprofit community, we wanted to pay it forward. We have put on a series of free webinars, and posted them to our website alongside a number of other free resources. Our team has prepared memos and position papers that answer questions raised by a number of our clients. And because of our strong working relationships with other firms in Greater Hartford, we we've been able to help in unique ways, such as working with Governor Lamont to include language in an executive order that expressly allows nonprofits to host their annual meetings in virtual environments."
"Most of what we do will never be seen by anyone outside the organizations we serve," Morganstern concluded. "But at the end of the day, knowing that our work supports nonprofits as they serve people in need, I cannot imagine any work that is more rewarding."