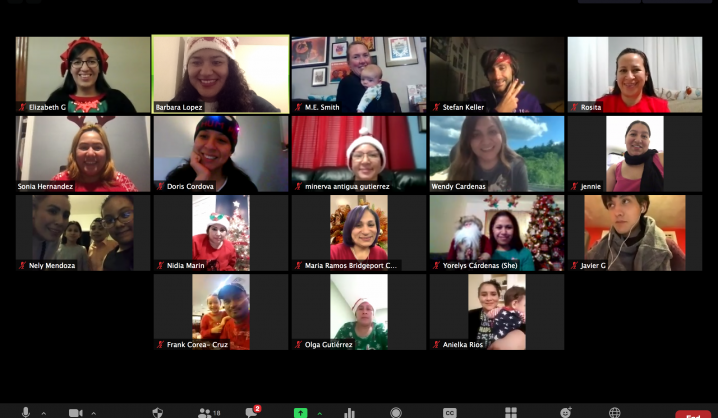 COVID-19 Response Fund Grantees: Make the Road CT
Make the Road CT supports immigrants and their families in a variety of ways, and since the global pandemic hit the state, the need for these supports have increased substantially.
"What does a rent freeze mean?" "Will we be indebted for a long time?" These are the sort of questions that members look to the organization for answers.
"The first thing we do is have conversations and demystify the scare tactic," said Barbara Lopez, Director of Make the Road CT.
At the start of the pandemic, members of the community needed vital information and resources, pushing Make the Road CT to devise new ways to connect with their members. In-person campaigns around the public education system have now become engagements on Facebook Live focused on a long list of COVID-related issues. Make the Road CT has supported members throughout the pandemic - sharing information around the moratorium on rent, extending health benefits and workers' rights.
However, the coronavirus deeply impacted those in the service industry, many of whom are no longer able to or uncomfortable with going to work.
"When you have limited access to spaces to help you … there is no way of qualifying for unemployment, no way of getting help for section 8 or a voucher, when you have no reality like that … $850 with no work is a really tough situation to be in," says Lopez.
Unfortunately, this is a reality for thousands of people in the immigrant community.
Amelia Rojas has been a member of Make the Road CT for two years. Since COVID arrived, she has not been able to work and is spending several hours a day assisting with her children's remote education.
Now more than ever, Amelia feels she needs to be connected to the community. She enjoys being an active learner, especially during a time like this when she needs to find resources for her family.
At the start of the pandemic, Amelia logged on every Wednesday for Make the Road's weekly Facebook Live updates to keep current on her rights, the statewide COVID issues and changing politics, as well as how to access pandemic-related benefits. She sits on several of the agency's committees which meet via Zoom and stay connected with each other through WhatsApp.
To further support the community, Make the Road CT raised $50,000 to seed their Immigrant Community Relief Fund. The Fund aims to provide members and undocumented or mixed status community members with $500 Visa gift cards - allowing 100 families in Hartford and Bridgeport to pay for anything from personal hygiene products to their rent.
Make the Road CT continues to assist undocumented individuals and families with financial relief. Since September, the organization has begun receiving intakes for a $2.5 million housing program in partnership with the Department of Housing and CIRI, assisting undocumented residents in Hartford and Bridgeport. So far, nearly 70 families have received between $600 and $1,200 in relief, and as of early December additional relief was extended to some families.
On December 17, the organization held its second Statewide Assembly on Zoom. 50 members from the Bridgeport and Hartford communities set the organization's 2021 priorities as: education equity, housing justice, health care for all and immigrant reform. Make the Road CT is a multi-issue & multi-generational community - ready for new challenges in the new year!