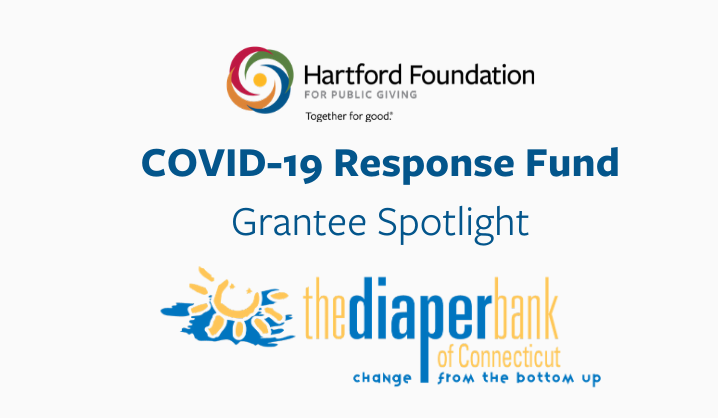 COVID-19 Response Fund Grantee Stories: The Diaper Bank of Connecticut
The need for diapers does not stop during a pandemic. At the first hint of a potential shutdown, the Diaper Bank of Connecticut took steps to secure an adequate supply of diapers for their network of social agency distribution partners. 
"Diapers typically are not the first thing people think of as affecting a family's well-being," said Janet Stolfi Alfano, Executive Director of the Diaper Bank of Connecticut. "But having access to a reliable supply of disposable diapers makes a measurable difference in the physical and financial health of our state's poorest families."
In 2018, the Connecticut Center for Economic Analysis (CCEA) at the University of Connecticut co-produced a report* on the economic impact of The Diaper Bank of Connecticut – the first such report in the country. Among the many findings were:
Fifty-one percent of adults living in households that received diapers through the Diaper Bank program were working. More than 60% of those households reported annual incomes of less than $20,000; more than 90% live on less than $40,000.
Fifty-six percent of parents surveyed had missed work because they lacked access to the disposable diapers required to send their children to daycare. 
In 2016, for every $10,000 of assistance provided by the Diaper Bank, the total personal income of program recipients was expected to increase by $114,000.
They are committed to ensuring the health and safety of their team as well. Rather than picking up supplies at their North Haven warehouse, Diaper Bank staff deliver all supplies directly to their partner agencies. Volunteers were asked to stay safe at home and to donate money rather than diapers. The Diaper Bank also applied for emergency funding from a number of sources, including The Hartford Foundation for Public Giving. 
"The Office of Early Childhood provided funding for a one-month supply of diapers to families receiving home visits from social service agencies. We are working with the OEC to identify families most in need, and using the grant from the Hartford Foundation, we'll be able to supply another three months of diapers to 140 families in Greater Hartford."
"Our staff and partner agencies have responded to the increased need with amazing courage, serving on the frontlines even while their own families are dealing with loss," said Stolfi Alfano. "I feel immense gratitude that I get to do this job." 
The full report is available online.