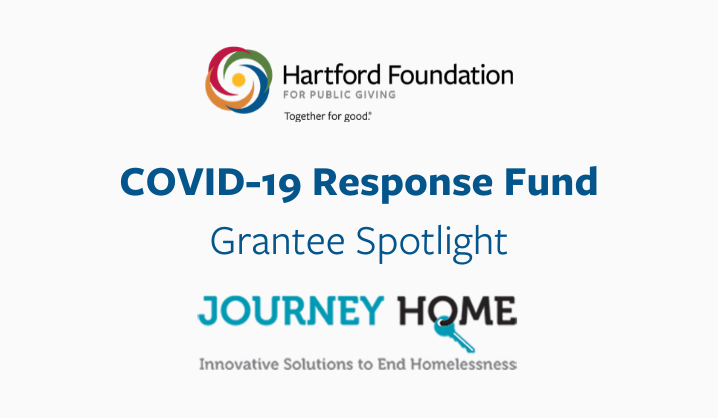 COVID-19 Response Fund Grantee Stories: Journey Home Helps to Prevent Spread of Virus Among Homeless Residents
Journey Home's mission is clear: to accelerate progress towards ending chronic homelessness in the Greater Hartford region. As the lead agency within the Greater Hartford and Central Coordinated Access Network, Journey Home partners with social service providers to solve the problem of chronic homelessness with housing, employment, and support services to offer those experiencing homelessness paths toward independent, fulfilling, and productive lives.
When COVID-19 arrived in Connecticut, one of the most pressing concerns from state and municipal public health and housing officials was protecting homeless residents as shelters in other states had become virus hotspots. After calls from the City of Hartford and state officials, Journey Home quickly developed a plan to protect the highest-risk homeless residents, including the elderly and people with existing health conditions, by procuring rooms at local hotels. To support this work, Journey Home received a $150,000 grant from the Hartford Foundation for Public Giving's COVID-19 Response Fund.
"This is obviously nothing we had ever planned on doing," said Journey Home Executive Director Matt Morgan. "But we recognized the need to respond to these challenges to protect our residents and avoid some of the horrific experiences we had seen in other states. We are fortunate to have a creative and dedicated staff as well as an incredibly effective network of talent and compassionate social service agencies to effectively implement these plans. We are also grateful to receive strong support from our donors and Hartford Foundation for Public Giving to provide us with the additional resources we needed to respond to this crisis."
The first phase of this effort was to hire temporary staff for the hotels and relocate the elderly and immunocompromised clients. In the second phase, Journey Home worked with local homeless shelters to further deconcentrate them by relocating additional clients or the entire shelter operations to hotels. Journey Home collaborated with staff at South Park Inn, CRT McKinney Shelter, CRT East Hartford Shelter, and the Enfield Warming Center, and relocated several residents from Salvation Army and Open Hearth as well. The third phase has entailed increasing temporary staffing at hotels and reaching out to high-risk individuals living outside of shelters to persuade them to move into hotels.
This type of direct service is extremely challenging and is not something Journey Home was accustomed to doing; it requires not only providing people with housing but access to meals, health care services, laundry services and transportation. Journey Home has contracted and coordinated with local social service providers such as Meals on Wheels to deliver meals for the 175 people staying in hotels. So far, the plan has been incredibly successful with only one hotel resident testing positive for COVID-19.
All of these efforts have come at significant expense. In addition to the support from the Hartford Foundation, Journey Home has also received funding from the Connecticut Department of Housing and ImmaCare, and has raised additional dollars from their existing supporters. With the state hotel contract set to end on June 1, Journey Home and the Greater Hartford network of providers are shifting their efforts toward transitioning households from the hotels into safe housing of their own. Journey Home is currently recruiting landlord partners who have affordable, units available to rent and who are open to exploring shared housing units for those residents on fixed, limited incomes. While the work of increasing access to housing has been Journey Home's focus since 2007, these unprecedented times are catalyzing creative solutions that ensure every person has a safe place to call home.