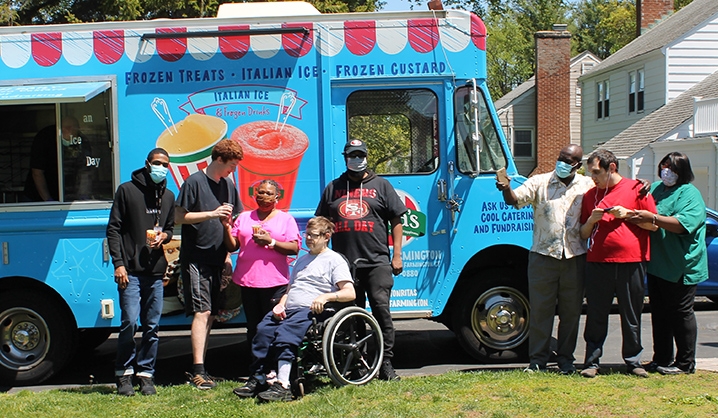 COVID-19 Response Fund Grantee Stories: Jewish Association for Community Living
When COVID-19 hit Connecticut in March and the Department of Developmental Services began temporarily closing day programs, the team at the Jewish Association for Community Living (JCL) faced a number of questions. How would they make sure their 40 residents enjoyed meaningful days without going to worksites or day programs? How would the organization meet the need for increased staffing and additional cleaning? As it turned out, they needn't have worried.
Day and overnight staff, in spite of their personal responsibilities, did not waiver in their love for and dedication to JCL residents. For example, the staff at JCL's Brookmoor Road group home exercised their creativity, one morning making a breakfast of pancakes and smoothies that was fit for royalty, another turning the home into a spa complete with a full day wearing pajamas. When things grew a bit dull, the team organized a round of "Sweatin' to the Oldies" with Richard Simmons.
"Our Brookmoor Road home is just one example of what our JCL homes have been doing since the start of staying home to stay safe," said Sarah Winiarski, Director of Community Relations. "The staff and supervisors are working tirelessly to ensure our residents have a joyful, fulfilling days. That is not easy in these times and with limited resources, yet our residents are smiling!"
Residential Supervisors have redesigned their programs to include everything from board games and making jewelry to gardening and Zumba. But new programs come at a cost. In addition to art and gardening supplies, there is a need for more staff and additional cleaning (as intellectually disabled residents are at high-risk for COVID-19).
"We are grateful for generous gifts from our donors and funders, and for the grant from the Hartford Foundation for Public Giving," continued Winiarski. "Those extra dollars have allowed our staff to focus their attention on our residents, keeping them safe and engaged. Although our staff have their own lives and families to care for, it is amazing and reassuring that those responsibilities have not lessened their care for our residents. If anything, they have poured even more love and care into our programs."