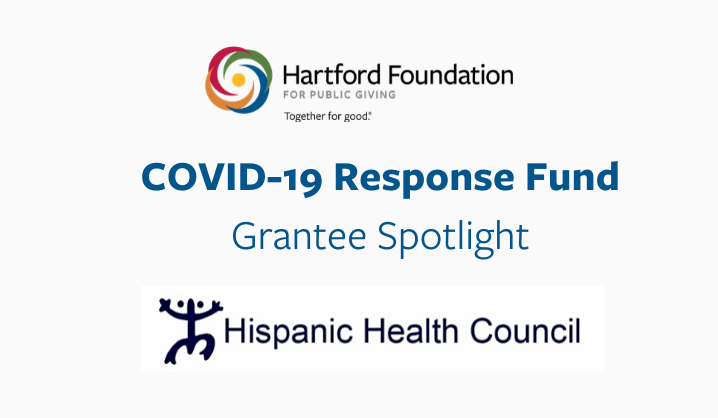 COVID-19 Response Fund Grantee Stories: Hispanic Health Council
The Hartford Foundation recently provided the Hispanic Health Council with a $100,000 grant to support immigrant families in Greater Hartford. These families include Latino and West Indian families, some of whom are undocumented. Many of these households were struggling to make ends meet prior to the COVID-19 crisis; now, many people are out of work as a result of business closures and the loss of jobs in the gig economy such as child care and housekeeping.
The Hispanic Health Council has received a large number of requests from families who are struggling to pay for a variety of basic needs including rent, food, utilities, medication, diapers, and personal hygiene and cleaning products. HHC staff is working to identify the families experiencing the most urgent needs to get them support as quickly as possible.
For example, one single mother with three children contacted HHC for assistance to help cover her $1,340 rent payment. The woman was able to put aside $500 for the rent but needed the rest of her limited funds to pay for other basics, such as food. In response, the HHC will send the remaining $840 directly to the woman's landlord to cover the rent. For expenses such as rent, utilities and medicine, the HHC makes support payments directly to the landlords, utility companies and pharmacies. While the state has placed moratoriums on evictions and utility shutoffs, most families want to avoid accruing additional debt when they already face challenges to cover their typical needs. The HHC provides food support incrementally on a weekly basis to ensure that families have a least some basic items to feed their families each week.
Of the 108 people in the 29 families have received support thus far during the pandemic, 51 are adults and 57 are children. The majority of the families live in Hartford, but others receiving support live in East Hartford, Manchester, Marlborough and Newington.