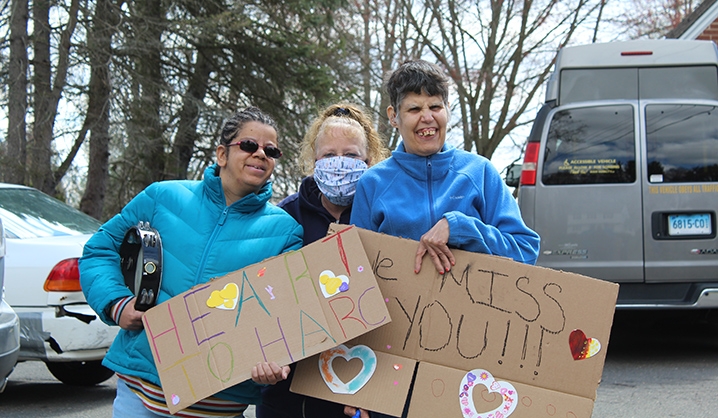 COVID-19 Response Fund Grantee Stories: Harc
The 1,800 participants and families who rely on Harc for special needs support still count on the agency during a pandemic. So when Annette Hargrove, Harc's Interim President and CEO, received word from the Department of Developmental Services (DDS) and the Office of Early Childhood they would be closing day programs and cancelling home visits, she and her team quickly reimagined how to keep participants engaged and learning.
For the Birth to Three program that serves more than 450 children, Harc's board-certified behavior analysts, development therapy assistants, special education teachers, speech pathologists, case managers and social workers converted in-home visits to virtual visits in just five days.
In early May, DDS notified its partner agencies two weeks to provide services virtually; Harc was up and running on May 4 with Harc's Connection Corner. Through this Facebook Live group, Harc provides six hours of curriculum each day, which is similar to their typical in-person programs. During live check-ins at 9:00 am, 12:00 pm, and 3:00 pm, participants can interact with presenters and peers. One hundred sixty people joined in the group discussions during the first week alone, and the numbers continue to grow.
Harc staff redesigned physical therapy, art therapy and music education from day program formats to a group home curriculum. Group home managers adapted their menus and budgets to account for additional meals and other expenses. Harc's wellness coordinator took her classes on the road, teaching Zumba® to her students through windows then creating a series of videos.
Another hurdle required the "hardest communication I have ever authored, but felt so strongly that it must be done," said Hargrove. DDS prohibited visits to group homes; Harc took it one step further, ensuring all staff assigned to residential homes were the only staff allowed inside.
In the absence of visits from loved ones, Harc's Day Program and Residential Program staff worked together with families and guardians to create Virtual Visits. Staff use iPads, phones, and computers to connect residents with families though FaceTime and Zoom. The team is coordinating drive-by parades and host game nights on Wednesdays using Zoom. Staff also created a weekly newsletter – Heart to Harc – to keep parents and caregivers connected with each other and with Harc staff.
Perhaps the hardest hit were participants with jobs, some of whom rely on that income to help support their families. When area employers started closing, Harc case managers reached out to ensure those jobs would still be available when the businesses reopen. In a few cases, employers such as cleaning companies and laundry services kept their operations running, so Harc's case managers and staff stepped in and have been working at those jobs in place of the participants until it is safe for participants to return.
Harc established the Harc Heroes Fund to accept grants and donations to cover expenses related to the COVID-19 pandemic, including a grant in April 2020 from the Hartford Foundation for Public Giving. Dollars from the fund are being used to help compensate participants for lost wages, procure additional personal protective equipment (PPE), cover the costs for additional cleaning, and buy supplies to support revised programming.
"It was a tough transition for our participants, their families and guardians, and our team," said Hargrove. "Harc did have several cases of COVID-19 within a group home and with staff. But thanks to the generosity of our community, we were able to secure personal protective equipment."
"Since many of our participants deal with multiple health conditions, Harc will likely be one of the last organizations to re-open. It will be a long road," Hargrove said in closing. "But thanks to the generosity of many, including the Hartford Foundation, the determination of our staff, and the flexiblity of our participants and their families and guardians, I have no doubt we will come through this and be stronger for it. Everything will be ok."