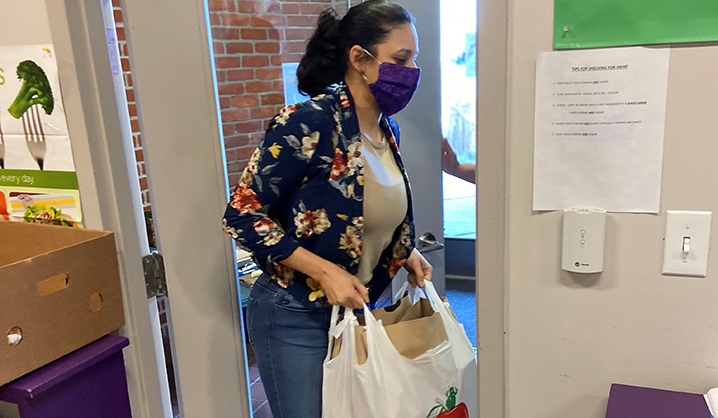 COVID-19 Response Fund Grantee Stories: Hands on Hartford
Hands on Hartford has provided for the emergency and basic human needs of our capital city's residents for more than 50 years. The agency has been a reliable source of housing assistance (especially for people with complex health conditions), case management, food assistance and community meals for thousands of people each month. COVID-19 has created a new level of need and demands a different approach to caring for the community.
"Like so many, we have had to build the plane while flying it," said Barbara Shaw, Executive Director. "Once the virus arrived in Hartford, it's been non-stop."
Hands on Hartford quickly shifted from serving seated community meals at 45 Church Street to providing meals to go from its Center for Community at 55 Bartholomew Avenue. They replaced the full-service shopping model at their food pantry to providing pre-bagged, nutritious groceries. While they continue to provide case management services, housing and food supports, they've adjusted to the new guidelines from the CDC and Department of Health.
The Hands on Hartford team has also faced unprecedented demand. "We are meeting new people every day," said Shaw. "Many have never had to ask for help before. But the work is gone, especially in the low-wage sector, and unemployment benefits are slow in coming. Many families are coping with new levels of stress, with parents filling in as teachers while looking for work and struggling to pay rent. Each person has their own story and heartache."
Perhaps the biggest adjustments have been among the people who work on behalf of Hands on Hartford. "We miss our volunteers terribly, not only because of what they do, but because they are a part of our extended family," said Shaw. Many volunteers are older and in a high-risk population, so it's unsafe for them to leave home. Others who are employed at nearby businesses are now working from home, and volunteering is not feasible under the current restrictions.
"But at the same time, we've seen new levels of generosity. Several of the groups scheduled to volunteer have sent in a combined donation instead. Our Community Engagement Manager has been able to forge new relationships. We've done our best to use this opportunity to innovate."
Hands on Hartford has benefitted not only from grants from organizations such as the Hartford Foundation for Public Giving, but also gifts from individuals, everything from face masks to hand lotion to donations of food and money.
"We've been able to meet current needs and start planning for our future. As we learned in 2008, even when economic recovery comes, it will come to low-income workers last. So we are taking the time now to prepare for summer and fall and beyond, ensuring we can continue to meet the increased demand for support while following health guidelines and ensuring the health and well-being of our staff. For as many challenges as we've faced in the past two months, individuals, faith groups, and businesses have been quick to join the Hartford Foundation in providing extraordinary support. Their generosity gives us hope."