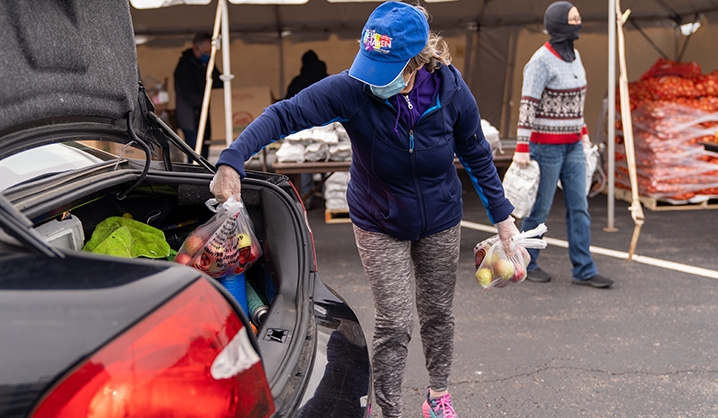 COVID-19 Response Fund Grantee Stories: Foodshare
"During times of crisis, when unemployment is high, we always see a spike in the need out there," says Jason Jakubowski, President and CEO of Foodshare, "and we're certainly seeing that now in a way we've never seen before."
As a regional food bank serving Hartford and Tolland Counties, Foodshare already plays a vital role, operating 60 neighborhood Mobile Foodshare sites and teaming up with more than 200 local partner programs to distribute food to those in need. Since the COVID-19 crisis began, they've seen a 35% increase in demand at those locations.
In addition to their regular work, Foodshare has been leading a massive, weeks-long food drive at Rentschler Field in East Hartford. Each day, nearly 1,500 cars line up and approximately 30,000 pounds of food is distributed.
"When I got there at 8 o'clock on the first day and there were already six lines of cars wrapping around the stadium, it was a moment that took my breath away," said Jakubowski.
A survey conducted at Rentschler Field revealed that more than 70% of the households utilizing the food drive were new to food insecurity. Many lost their jobs during the COVID-19 crisis and found themselves in need for the first time ever.
Operating during COVID-19 is expensive. Food is in short supply, which leads to increased prices as agencies bid against each other. The Rentschler food drive alone costs $40,000 a week. In the past five weeks, faced with soaring demand, Foodshare has already surpassed their entire budget for 2019.
Thankfully, the Greater Hartford community has been incredibly generous. According to Jakubowski, there has been a significant increase in donations from local individuals and companies. The Hartford Foundation for Public Giving recently awarded Foodshare a $150,000 grant from the COVID-19 Response Fund to support the agency's operating capacity.
"It can definitely be sad when you think about all of the people whose lives have been upended by this," Jakubowski notes, "but it also puts a smile on my face to see how the community has come together around this particular cause and really been there for each other."