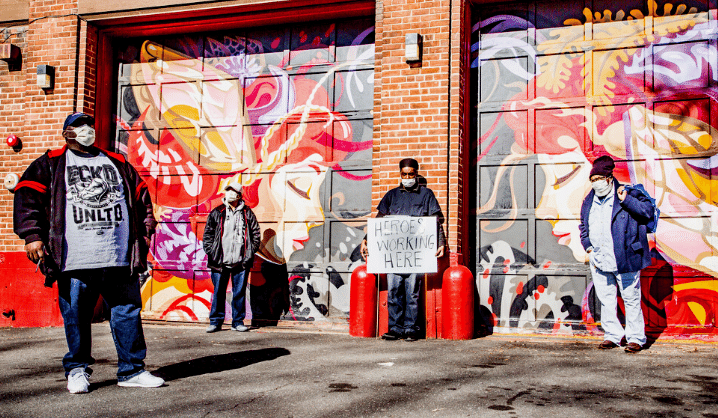 COVID-19 Response Fund Grantee Stories: Community Renewal Team
Despite COVID-19, much of the work the Community Renewal Team (CRT) does - connecting people to resources, programs and services - has remained the same. The delivery model may be different, but the need is greater than ever.
"[Our work] is harder now because of the way it has to be done, but it has not diminished the need at all. If anything, the need has increased over the past couple of months with people who are now out of work and finding themselves in need of support they might not have even thought about previously," said Jason Black, Communications Director at CRT.
Through the COVID-19 Response Fund, the Hartford Foundation for Public Giving awarded CRT a $150,000 grant to increase cleaning at its assisted living facility, meet the increased need for client assistance fund resources and maintain its food delivery services to vulnerable residents.
"CRT has really had to shift how we do our work so that we can be as agile as possible to be responsive to the needs of the individuals and the families we serve, both in the Greater Hartford area and throughout central Connecticut," said Black.
The agency's assisted living facility, The Retreat, houses 100 seniors on fixed incomes in individual apartments. The Retreat's staff has diligently enforced new protocols to ensure they keep residents safe. As of June 9, the facility has been COVID-19 free for 91 days – mitigation plans went into effect on March 10, 2020.
The Community Renewal Team also supports seniors through two food programs: Meals on Wheels and Senior Community Cafes. Due to COVID-19, Meals on Wheels, a lunch delivery program serving homebound seniors 60 and older, slightly adjusted its requirements to serve those 60 and older assessed as medically homebound. Over the past few months, the program has been serving more than 1,000 meals a day with one fewer truck in its fleet.
Unfortunately, in mid-March one of the trucks was involved in a serious accident, totaling the vehicle. The community quickly rallied and provided the funds to purchase a new truck, which is expected to join the fleet soon. Thanks to the outpouring of support from individuals, church groups and businesses, Hartford Foundation grant dollars were used to purchase meals for the program's participants rather than to fund the vehicle itself.
For many seniors enrolled in Meals on Wheels prior to COVID-19, this food delivery was also an opportunity to interact with a familiar face. Where many seniors who were accustomed to the same driver/volunteer coming to their home Monday through Friday, interactions are now limited to conversations on the phone or through the door to check in.
The agency's Senior Community Cafe Program also shifted to a "grab-and-go" model to ensure those individuals who rely on this meal are still fed.
CRT has also seen an increased need for behavioral health services during this stressful time. The organization's Behavioral Health Services offer a combination of in-person and telehealth services to satisfy individual needs and varying levels of comfort. So far, there has been no waiting list to receive Behavioral Health Services, and individuals can obtain these services even if they do not have health insurance.
"It has been impressive to see how quickly our staff have managed to find new ways of working and continue to keep programs up and running and keep things available for the people we serve as much as possible," said Black.
For more information about the services and programs Community Renewal Team provides, or to become a volunteer, visit their website: crtct.org.