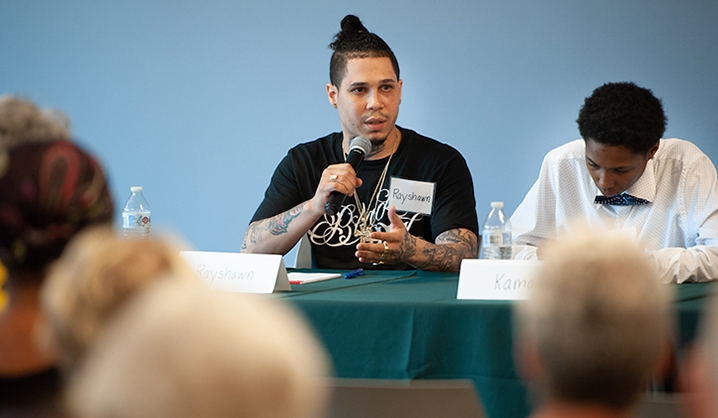 Breaking the Cycle of Juvenile Justice Involvement: COMPASS Youth Collaborative and the Peace Center of Connecticut Receive Grants from the Catalyst Endowment Fund at the Hartford Foundation
An estimated 3,000 children enter Connecticut's juvenile justice system each year. Once released from custody, about 75 percent of those youthful offenders are rearrested, with the majority being recommitted. Furthermore, youth of color are significantly over-represented within the juvenile justice system—black children are five times more likely than white children to be arrested. With those facts as the backdrop, members of the Catalyst Endowment Fund at the Hartford Foundation began asking important questions: should the court system be more protective of criminal defendants until the age of 21? Once youth have been incarcerated, what can be done to get them back on a path to success?
Each year, the members of the Catalyst Endowment Fund choose a topic affecting the community and invite local experts to present programs in March and June. Area nonprofits are invited to submit grant proposals that address the issue, and members of the giving circle analyze the proposals and award grants over the course of a year.
This year's applicants were asked for proposals that aim to break the cycle of juvenile justice involvement by applying one or more of the following strategies:
Prevention programs for youth at high risk of entering the juvenile justice system.
Diversionary programs that prevent first-time juvenile offenders from entering juvenile detention.
Reentry programs to support juveniles who have completed sentences in juvenile detention and are returning to their communities.
Support for families/caregivers of youth at high risk of entering the juvenile justice system or for families/caregivers to prepare for and support juvenile offenders who are returning to their communities.
In October, the Catalyst Endowment Fund member heard five presentations and chose to organizations for grants. COMPASS Youth Collaborative received a grant of $41,750 for the Navigate Program to help youth inside Hartford's Juvenile Detention Center prepare for reentry and to develop strategies to avoid recidivism. In addition, the Peace Center of Connecticut Inc. received a grant of $16,250 to develop and implement professional training and supports for nonprofits and volunteer groups working with justice-involved youth.
"Throughout the year, members of the Catalyst Endowment Fund have listened to youth involved in the juvenile justice system who shared their stories and offered solutions to reduce recidivism and help them become productive members of the community," said Catalyst Steering Committee Chair Kathleen Costello. "These young men and women reported that what is most important is to be able to relate to the providers who are working with them and to have opportunities to develop skills that will keep them out of the system. We strongly believe that the COMPASS and The Peace Center of Connecticut programs are catalytic, research-based, and offer the supports that this population desires for success."
COMPASS Peacebuilders is a model anti-violence and dropout prevention program serving youth at risk of perpetrating or becoming the victims of violence. Peacebuilders' street outreach teams comprised of youth development advisors (YDAs) who themselves are former at-risk youth, mediate conflicts and prevent youth violence by building relationships, providing training, and promoting nonviolent solutions to problems.
The Catalyst grant for COMPASS' NAVIGATE program supports youth who reside at the Hartford Juvenile Detention Center using an evidence-based social-emotional learning (SEL) curriculum created to help youth overcome trauma and make positive life choices. COMPASS' YDAs will help these young people navigate the reentry process – and will continue to offer support for four years after their release. Through its work, COMPASS has learned that those involved in the juvenile justice system have the greatest chance of success when a caring adult role model becomes a trusted and consistent presence in their lives.
"We are extremely grateful to receive this support from the membership of the Catalyst Endowment Fund," said COMPASS Chief Executive Officer, Jacquelyn Santiago. "The intensive, long-term, support we offer juvenile-justice-involved youth is what makes us unique. We not only work with youth before and during reentry, our staff remains a caring presence in their lives for years to come – helping them set and achieve goals, comply with courts, enroll in school, and find employment. Through daily interactions with youth, Peacebuilders Youth Development Advisors model alternatives for youth who might otherwise succumb to a cycle of negative choices."
The Peace Center of Connecticut engages in partnerships to promote peace in our communities. The Peace Center's work includes supporting professional skills development in agencies and schools to better serve young people and promoting youth leadership for peace through its Youth Peace Alliance.
With this grant, The Peace Center of Connecticut will develop professional training and support for small agencies and volunteer groups that are working to deter juvenile delinquency, including local juvenile review boards. The training program will incorporate principles of restorative practice, peer mediation, youth courts, and action projects as a model for communities. The project will include training for youth to serve as a peer review board to receive technical assistance and support for youth-led community action projects designed to have a positive impact for peace in the community.
"The Peace Center of Connecticut is delighted to receive this grant from the Catalyst Endowment Fund to support communities with strengthening their capacity to serve youth in risk of becoming entangled in the juvenile justice system and to develop those youth to be the leaders in their community," said Peace Center President/CEO Iran Nazario. "Peace Lives Here."
Since the Catalyst Endowment Fund was established 26 years ago, grants totaling more than one million dollars have been awarded in support of nonprofit programs in areas such as health, housing, workforce, and community development and education. The Hartford Foundation pools and invests donations from members to fund grants based on program areas selected by the membership. Funds like Catalyst, also known as 'giving circles,' provide individuals with an opportunity to be involved with philanthropy while providing greater impact through the pooled contributions. For more information on the Catalyst Endowment Fund, contact Betty Ann Grady at bagrady@hfpg.org or 860-548-1888 x1055.