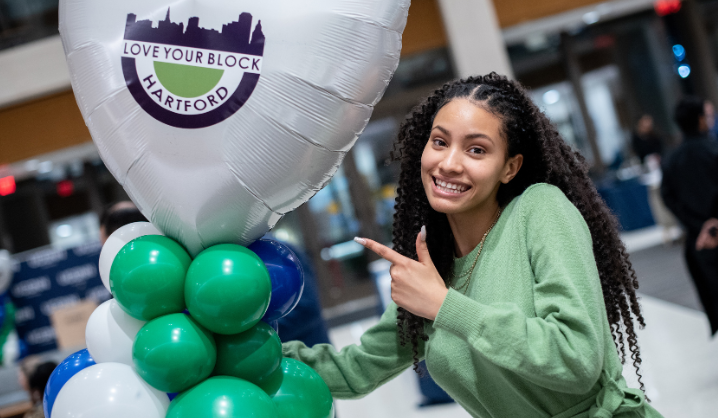 City of Hartford and Hartford Foundation Announce $224,000 in Love Your Block Grants for Neighborhood Improvement Projects
Today, the City of Hartford and the Hartford Foundation for Public Giving announced this year's Love Your Block (LYB) grant recipients, awarded to projects proposed by community members to beautify Hartford neighborhoods. This latest round of grants commits more than $224,000, funding 26 projects in 12 different neighborhoods.
This year, the program offers LYB Resident Grants and LYB Community Grants. The LYB Resident Grant continues the work of the original LYB program, supporting resident-led projects with up to $2,500. Resident groups are also able to team up with nonprofit organizations for the LYB Community Grant. In total, eleven Community grants and fifteen Resident grants were awarded.
Grant applications were accepted from February 14 to April 7 and ideas were reviewed by a panel of Hartford residents. In December 2022, the Hartford Foundation announced that it will invest some $300,000 over the next three years to support the resident engagement components of Love Your Block, with the aim of increasing community connectedness.
"We are thrilled to partner with residents and community-based organizations to support more than two dozen neighborhood-led projects, from improvements to Heaven Skate Park, to pollinator gardens in Frog Hollow, to converting 10 vacant lots across the City into community farms," said Mayor Bronin. "The Love Your Block program gives residents the resources to make the changes they want to see on their own block, in their own neighborhood — whether it's the small resident projects, where a couple thousand dollars can make the difference, or whether it's the larger community grants that help connect and energize our neighborhoods. We're incredibly grateful to the Hartford Foundation for Public Giving for their commitment to Hartford's Love Your Block program and for recognizing the power of funding these community initiatives."
"The Hartford Foundation continues to be inspired by the dedication and creativity of Hartford residents and community organizations that have participated in the Love Your Block program," said Hartford Foundation President and CEO Jay Williams. "This year's projects, originating from a wide variety of organizations and residents throughout the city, are revitalizing neighborhoods one block at a time, connecting residents with one another and building a sense of pride any ownership of these neighborhoods. Neighborhood residents are the most knowledgeable about their needs and are best equipped to identify beautification activities. Love Your Block provides them with the tools and resources to make their visions a reality."
"The growth of the Love Your Block program and the Love Hartford Initiative overall are constant reminders that the people of Hartford, all of us who live here, work here, and play here, are the solution," said Janice Castle, City of Hartford Director of Community Engagement. "Whether we are combating litter, or blight, or vacant/abandoned lots, we can speak up and advocate on behalf of our city. Together we can continue our work to revive, reenergize and show pride in our community."
Love Your Block has been the spark to a broader neighborhood beautification and resilience strategy supported through the partnership between the City of Hartford and the Hartford Foundation. Branded as "Love Hartford," the strategy supports large neighborhood pride and beautification through the Adopt Your Block trailer, anti-litter marketing, engagement of local artists to reinvigorate bus shelters, resident recognition awards to celebrate beautification achievements, and an employment program to expand the Neighborhood Ambassador model to Hartford neighborhood corridors.
This round of Love Your Block Community Grants includes:
| Organization Name | Project Name | Project Description | Neighborhoods | Grant Amount |
| --- | --- | --- | --- | --- |
| Colt Park Foundation | Beautification and Family Fun in Colt Park | Beautify Colt Park with new planters at four park entrances, paint sidewalk games and add flowers. | Sheldon Charter Oak | $3,405 |
| Friends of Zion Hill Cemetery (Hartford Preservation Alliance fiscal sponsor) | Hop In!! - Promoting and Greening Our Walkable Frog Hollow | Creation of the Frog Hollow walking tour guide and beautifying walking route. | Frog Hollow | $7,000 |
| Harriet Beecher Stowe Center, Inc. | Harriet and Sam's Backyard: Creating a Unified, Inclusive, and Interpreted Urban Greenspace in Hartford's Historic Nook Farm Neighborhood | Create a shared community space between Mark Twain House and the Stowe Center through the installation of two gardens (sensory and pollinator garden), little library and pantry. | Asylum Hill | $24,390 |
| Keney Park Sustainability Project, Inc. | Vacant Lot Conversion Project | Continuation of project to transform 10 vacant lots throughout Hartford over three years in farms. | Barry Square, Clay Arsenal, Northeast, Upper Albany | $14,000 |
| Friends of Heaven Skatepark (KNOX, Inc. fiscal sponsor) | Heaven Skatepark Renovation Project | Enhancement of Heaven skatepark with the addition of ramps, fixing cracks and adding permanent art murals. | Downtown | $23,000 |
| Lawson Chapel/Urban Hope Refuge Church | Sacred Roots Neighborhood Farm | Create a small-scale farm to provide food for the community. | Blue Hills, Northeast | $17,600 |
| Real Art Ways Inc. | Park Art Food Garden and "Sidewalk Tattoo" | Enhance existing raised garden, improve walkways and add programming in George Day Park. | Parkville | $20,896 |
| South Downtown NRZ (Hartford NEXT Inc. fiscal sponsor) | Capitol Avenue Holiday Light Project | Beautify neighborhood during the winter season by installing LED garlands on capitol avenue. | South Downtown | $4,980 |
| Southside Institutions Neighborhood Alliance, Inc. | Nuestra Historia | Paint a mural on the blighted building at 617 Park Street to build on previous murals in the neighborhood. | Frog Hollow | $59,000 |
| Southwest and Behind the Rocks NRZ (Hartford Next fiscal sponsor) | SWBTR beautification and tree project 2023 | Creation of mural at Hyland Park, New Britain Avenue flags and adding trees. | Southwest and Behind the Rocks | $25,000 |
| The iQuilt Partnership | Walking in Hartford's Winter Wonderland | Adding lighting decorations in the park during Winterfest. | Clay Arsenal, Frog Hollow, Parkville, Southend, Upper Albany | $25,000 |
The sixteen $2,500 Love Your Block Resident Grants projects administered by Southside Institutions Neighborhood Alliance (SINA) include:
| Project Name | Project Lead Name | Project Neighborhood |
| --- | --- | --- |
| 6th District | Kelly Bilodeau | Southwest and Behind the Rocks |
| Art on Farmington | David MacDonald | Asylum Hill |
| Asylum Hill Boys & Girls Club Beautification | Anthony Daddona | Asylum Hill |
| Barry Square Community Clean-up | Hyacinth Yennie | Maple Avenue/Barry Square |
| Beautification of Hartford North Senior Center | M.O.U.T.H. BLOCK WATCHERS | Northeast, Blue Hills |
| Beautification of Sigourney Square Park | David MacDonald | Asylum Hill |
| Black Girls LEAD Community Clean Up | Taniqua Huguley | Northeast |
| Frog Hollow and Southwest Bench Builds | Kerri Anna Provost | Frog Hollow, Southwest and Behind the Rocks |
| Intersection Beautification | Kathy Evans | Southwest/Behind the Rocks |
| Lighten Literacy | Alicia B Parrilla | Southwest/Behind the Rocks |
| Love conquers Everything | Susan Sarmiento | Frog Hollow |
| love your block | Solmary Cruz | Northeast |
| North End Little Pantries | Joanna Iovino | Clay Arsenal, Northeast, Upper Albany |
| Wolcott Family Park | Taquisha Ramos Huff | Frog Hollow |