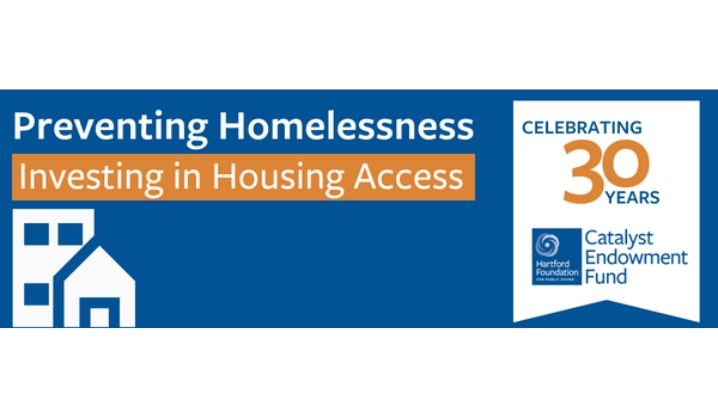 Catalyst Endowment Fund at the Hartford Foundation Awards Grant to CT Fair Housing Center to Support Tenant Organizing Efforts
Connecticut evictions spiked to 70 percent above pre-COVID averages statewide in March 2021. Since then, filings have remained above pre-COVID rates; so far this year, in Hartford alone there have been 2,579 evictions.
One of the organizations helping to lead efforts to stem the tide of rising evictions is the Connecticut Fair Housing Center. For nearly three decades, the Center has fought for housing justice by helping residents overcome housing discrimination, exploitation, and unjust eviction and foreclosure through free investigative and legal services.
The Center conducts statewide education and outreach to ensure that residents understand their fair housing rights. Center staff works with state and local government, housing professionals, and others to promote compliance with federal and state fair housing laws. To ensure that community members are heard and supported with forceful advocacy, representation, and power building, the Center promotes housing security and access, provides free legal representation and advocacy, education, and outreach, and supports community organizing.
The Center's work organizing work has expanded in recent years, supporting tenants who are building an infrastructure for collective change through grassroots community efforts.
The Center was instrumental in a 2022 campaign to improve housing code enforcement in Hartford. Dozens of tenants attended a city council meeting and discussed their experiences renting from slumlords while the city failed to enforce its housing codes. These efforts led to the city agreeing to collaborate with local tenant unions to hold slum lords accountable and improve housing conditions citywide. The City of Hartford allocated $3,000,000 to address poor conditions through a $1,000,000 repair fund, increased code enforcement including the hiring of additional housing code inspectors and enforcement support staff (to bring the department up to sixteen) and started a fund for security deposits for tenants moving away from poorly maintained and unsafe housing.
The Catalyst Endowment Fund at the Hartford Foundation for Public Giving has awarded the Center a one-year, $68,000 grant to support a collaboration with the Connecticut Tenants Union (CTTU) to support tenant groups in developing capacity and wielding power to decrease and prevent eviction.
"We are excited to receive this funding to support expansion of our tenant organizing work," said Connecticut Fair Housing Center Executive Director Greg Kirschner. "This grant from the Catalyst Endowment Fund will allow us to ensure that tenants in Greater Hartford and beyond have the capacity to fight for tenant protections as a unified front. When we advocate together, we can redistribute the balance of power to tenants and prevent people from entering the cycle of homelessness in the first place."
With the goal of reaching at least 1,575 Greater Hartford tenants, the Center will provide support and technical assistance to those advocating for legislation that prevents eviction. The CTTU will identify at-risk tenants and organize them to fight for eviction protections. Efforts will include advocating for state and local legislation that prevents eviction or displacement and technical support to newly established municipal Fair Rent Commissions. Training and ongoing support will be provided to tenants on how to start, develop, and run a tenant union, with the goal of providing intensive support to at least four tenant unions or tenant-led organizing projects in the Greater Hartford area. Additional training and education will also be provided on how to organize strategic campaigns, eviction protections available to tenants, and the benefits of joining a tenant union.
"Our members were inspired by the work Connecticut Fair Housing Center is doing in our region," said Amanda Aronson, Vice Chair of the Catalyst Endowment Fund. "The proposal they presented included a collaborative effort with another organization to build the capacity people have to fight displacement and organize for eviction protections. Their work will have both immediate and future impact, and we are pleased to have a role in supporting their efforts."
Established in 1993, the Hartford Foundation's Catalyst Endowment Fund is a giving circle of generous, civic-minded donors in the Greater Hartford area. Each year, members select a topic, with the goal of making one or more grants that will be catalytic in the 29-town region served by the Hartford Foundation. This year's topic was Preventing Homelessness: Investing in Housing Access. Throughout 2023, members of the Catalyst Endowment Fund giving circle at the Hartford Foundation for Public Giving learned about issues related to tenant protection and homelessness prevention to identify the most significant challenges and opportunities facing families and providers.
The Catalyst Endowment Fund provides opportunities to learn about the critical issues facing our region, meet new people who share their commitment to the community, and determine grants to help tackle those issues. Since 1993, when a small group of volunteers came together to create the fund, this Giving Circle has worked together to make a positive impact in Greater Hartford. The fund's endowment is now more than $2 million, and the fund has awarded more than $1 million to dozens of nonprofits. For more information, contact Ramonita Garcia at RGarcia@hfpg.org or visit hfpg.org/catalyst.
The Hartford Foundation for Public Giving is the community foundation for Hartford and twenty-eight surrounding towns. Through partnerships, the Foundation seeks to strengthen communities in Greater Hartford by putting philanthropy into action to dismantle structural racism and achieve equity in social and economic mobility. Made possible by the gifts of generous individuals, families and organizations, the Foundation has awarded more than $948 million since its founding in 1925. For more information, visit www.hfpg.org or call 860-548-1888.