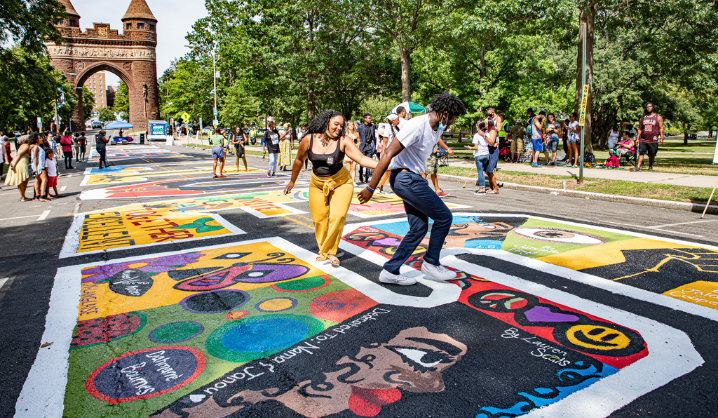 Artists of Color Unite! at the Hartford Foundation Announces $400,000 in Grants to Support Region's Artists of Color
In May, the Hartford Foundation for Public Giving announced the formation of an advisory group to lift up and influence resource allocation for artists of color in the region. The Foundation's Artists of Color Unite! (AOCU) advisory group closed out 2020 by recommending three grants totaling $400,000 to support arts projects, capacity building and COVID-19 relief.
"The last seven months with the Artists of Color Unite! have been a whirlwind of passionate discussions among incredibly community-centered, caring artists," said Senior Community Impact Officer Jacqueline Coleman. "The Hartford Foundation has already learned a great deal in this process, and we will continue to expand our inclusive approach to supporting the region's arts sector."
The group awarded a $50,000 grant to Hartford Performs. With an extensive database of Greater Hartford artists, the organization was able to readily provide payments to dozens of artists of color for COVID relief. In October, an application was open to any artists of color who lost wages as a result of the public health and economic crises. Of the 100 applications received, 90 artists received grants. Mini-grants were provided to artists from throughout the region with the largest numbers residing in Hartford (47 percent), Bloomfield (13 percent), East Hartford (12 percent) and Windsor (9 percent). Artists representing a broad spectrum of art forms received mini-grants, including visual arts (37 percent), music (33 percent), theater (27 percent) and dance (23 percent). The majority of the artists receiving mini-grants self-identified as Black (72 percent) followed by Latinx (12 percent) and indigenous (10 percent).
"Hartford Performs was so pleased to partner with the Hartford Foundation and Artists of Color Unite! on this grant program," said Hartford Performs Executive Director Rie Poirier-Campbell. "Most of the avenues artists rely on for revenue were shut down cold by the pandemic, without the safety nets that many of us fall back on. These grants provided a little support to the very creative people we turn to in our community for joy, beauty and inspiration."
With guidance from AOCU, the Hartford-based Free Center is developing a $150,000 funding award program for artists of color in the Greater Hartford region. Free Center will manage the fund request process using a collaborative approach with AOCU to expand the availability of resources to artists of color who have not yet received support.
"The pandemic has stalled or canceled many arts events," said Artists of Color Unite! Committee Member Rico Reyes. "Our art project subcommittee emphatically wanted a large portion of the funds to go directly to artists to support the planning, execution, and presentation of their work. We wanted a streamlined and simplified grant process for artists of color to continue their creative endeavors, and our collaboration with Free Center allows us to make this happen."
The Artists of Color Unite! identified 224 EcoSpace, the social enterprise of The Conference of Churches, as the organization to manage the Artists of Color Incubator project. The Conference of Churches/224 EcoSpace is receiving a $200,000 grant to provide capacity building to artists of color in the region. The project will include the recruitment and selection of ten fellows to be paired with ten local arts organizations. The host organizations will receive a stipend, equity and inclusion training, and diversity group coaching. The artist fellows will also receive stipends, ten tailored workshops led by master artists and coaches, and group coaching. In addition, master teaching artists from across the country will provide ten online seminars for the broader artists of color community. These workshops will cultivate prospective future fellows and provide training for the general artists of color community.
"The 224 EcoSpace (and its parent organization The Conference of Churches) is honored to share in the important work of Artists of Color Unite!" said 224 EcoSpace President/CEO Dr. Rev. Shelley D. Best. "We believe the arts are the ultimate tool for healing our community, our nation and our world. The work we are doing with Artists of Color Unite! in this region will serve as a powerful tool for bridge-building and advocacy as well as a catalyst for economic growth."
The Artists of Color Incubator project will culminate with an Arts Venture Capitalist Pitch Day. Each host organization and artist fellow will present a plan for a project or venture that they would like to produce together after the fellowship ends. At least two of the pitch teams will receive $5,000 to implement their project. During the year, the 224 EcoSpace will recruit and engage a network of arts funders, donors and patrons of the arts through a high-capacity social media campaign in partnership with the Hartford Foundation; host organizations; regional influencers; and the arts fellows themselves. This outreach is designed to raise the profile of the work of the fellows and may result additional funds raised to support more arts ventures.
The Hartford Foundation for Public Giving is the community foundation for Hartford and 28 surrounding communities. Made possible by the gifts of generous individuals, families and organizations, the Foundation has awarded grants of more than $785 million since its founding in 1925. For more information about the Hartford Foundation for Public Giving, visit www.hfpg.org or call 860-548-1888.