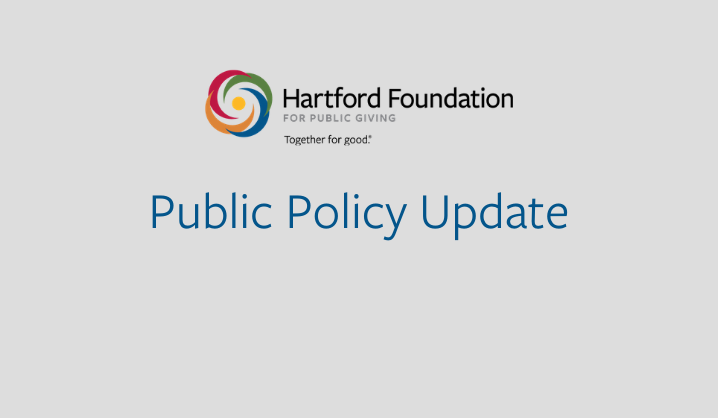 2022 Connecticut General Assembly Session Recap
With the state experiencing an unprecedented projected surplus of $7.9 billion, the legislature and Governor Lamont approved revisions to the state budget for the 2022-2023 Fiscal Year totaling $24.2 Billion. The surplus allowed the state to enact approximately $600 million in tax cuts including an expansion of the state earned income tax credit for low-income families and a new state child tax credit.
The Foundation provided testimony on several items that were included in the final budget, including support for returning residents, homelessness prevention, affordable housing construction and maintenance, childcare, mental health, and increased state support for the nonprofit sector.
Senate Bill 01, An Act Concerning Childhood Mental and Physical Health Services in School
Increases funding to assess the needs for physical and mental health services in school districts and provide substantial resources to expand these vital health services to support our students:
$21.24 million to expand services of existing school-based health centers to include mental health services
$13 million in ARPA funds to support the existing 15 districts participating in the Learner Engagement and Attendance Program (LEAP) and expand participation in the LEAP program to include five additional high-need districts
$13 million to support the existing 20 districts participating in the Learner Engagement and Attendance Program (LEAP).
Senate Bill 02, An Act Expanding Preschool Mental and Behavioral Services for Children
Provides increased funding to the Office of Early Childhood for Care4Kids, expanded preschool and mental and behavioral health services, and expand child mentoring and civic engagement programs by increasing funding to Department of Children and Families for child welfare and support services.
$202 - $210 million across both years due to increasing childcare rates for providers and their employees
$13.2 million to expand access to DCF mobile crisis services
Up to $1 million to evaluate the impact of social media and mobile phone use on students' mental health
$2.8 million in increased General Fund appropriations and $31.1 million in increased state fiscal recovery American Rescue Plan Act (ARPA) allocations.
House Bill 5001, An Act Concerning Children's Mental Health
Establishes a grant program to local school boards to hire social workers and school psychologists. The measure also creates a new grant program for the delivery of school-based mental health services to children and adolescents.
House Bill 5248, An Act Concerning Collateral Consequences of Criminal Convictions on Occupational Licensing
Provides access to a range of occupational licenses to people with criminal records by requiring consideration of whether a criminal conviction is reasonably related to the ability to safely or competently perform the duties or responsibilities associated with the license.
Senate Bill 101, An Act Concerning Workforce Development Programs for Incarcerated Person and Persons Reentering the Community After Incarceration
Requires the Commissioner of Economic and Community Development to evaluate workforce development programs for incarcerated persons and persons reentering the community after incarceration, and create an employer toolkit to facilitate such persons' employment.
Senate Bill 334, An Act Making The Commercial Driver's License Knowledge Test Available To Certain Incarcerated Persons
Directs the Commissioner of Correction, in consultation with the Commissioner of Motor Vehicles, to establish a program to make preparation materials and instruction for and administration of the commercial driver's license knowledge test available to incarcerated persons who are reentering the community in six months or less and are not subject to disqualification from driving a commercial motor vehicle or subject to suspension, revocation or cancellation of operating privileges in any state.
Senate Bill 408, An Act Establishing A Small Business Child Care Incentive Program
Requires the Commissioner of Economic and Community Development, in consultation with the Office of Early Childhood and the Connecticut Health and Educational Facilities Authority, to develop and implement a small business childcare incentive program to promote the expansion of existing childcare centers and the development of new childcare centers in the state.
House Bill 5267, An Act Concerning the Department of Economic and Community Development's Strategic Planning Regarding the Promotion of Arts and Culture
Requires the Department of Economic and Community Development to include the arts and culture industries in the department's strategic state-wide marketing plan.
The Hartford Foundation recognizes the power of public policy to increase the impact of our investments. An overview of our public policy work is available on our website.