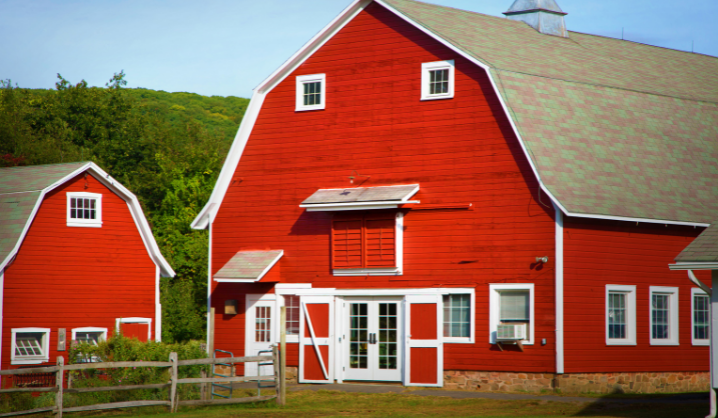 Pomeroy-Brace Fund at the Hartford Foundation Announces Grants to Support Projects Serving Granby Residents
Seth Pomeroy Holcombe and Lucy Eaton Holcombe were longtime residents of the village of North Granby in the Town of Granby. Both were active in their community, enthusiastically supporting the culture and history of the town they loved. Seth and Lucy served on many boards and committees, and shared a passion for Morgan horses, giving a home to many horses over the years and founding the Granby Horse Council. To continue their lifetime of giving back, the Holcombe's established the Pomeroy-Brace Fund at the Hartford Foundation for Public Giving to support organizations serving the residents of Granby.
This month, the Fund provided 16 grants totaling more than $200,000 to local nonprofit organizations. Among these was a $15,000 grant to Granby Racial Reconciliation (GRR) to support its Granby Celebrates Juneteenth event.
Following the murder of George Floyd in May 2020, many Granby residents sought community as a way to process their grief. GRR emerged as a way to address racism through dialogue and relationship building; it hosted a series of conversations throughout the summer and fall, providing a safe space for Black residents to share their personal experiences. For many white participants, what began as an attempt to fathom the unbelievable grew to acknowledging the unacceptable: the depth and breadth of systemic racism in American society.
GRR went on to host several community events, including a local candidate forum, a racial equity challenge with Nourish My Soul, and coordinating church sermons on King's Letter from the Birmingham Jail for Martin Luther King, Jr. Day weekend.
While this work has been impactful, it's reach has been limited. To engage more residents, GRR will use the $15,000 Pomeroy-Brace grant to host a free Juneteenth arts and education festival, designed to increase the community's comfort level by acknowledging and discussing racism and celebrating the newly designated Juneteenth federal holiday (officially observed on June 19.) GRR's Juneteenth event will be held on Saturday June 18, 3:00 pm – 8:30 pm, and will include artists and musicians of color who do not typically participate in Granby arts events. The event will also feature educational sessions on the history of Juneteenth and issues around racial justice in America. More details on Granby Celebrates Juneteenth are available at www.GranbyRacialReconciliation.com
"We are extremely grateful to receive this grant from the Pomeroy Brace Fund at the Hartford Foundation for Public Giving," said Ken Mouning, a founding member of Granby Racial Reconciliation. "While we have been grateful for the commitment of the people who have participated in the many challenging conversations we have had around race in our community and throughout the country, the Granby Celebrates Juneteenth event provides an opportunity to engage the broader community in a more celebratory way."
Below is the complete list of Pomeroy-Brace grants awarded.
A Promise to Jordan received a $6,000 grant to canvas the Granby community to learn about their needs related to substance use education and prevention as well as support needs during active addiction and recovery. Results of the survey will be used to create a plan of action to meet those needs.
Asnuntuck Community College – Garden Club received a $3,200 grant for supplies for students to plant garden beds, allowing them to learn about sustainable gardening and to offer fresh produce to food insecure Asnuntuck students.
Citizens for a Better Granby received a $7,500 grant to update the Granby Drummer website which reports on the civic, social, economic, and cultural life of Granby monthly.
Community Health Resources, Inc. received a $28,000 grant to provide outpatient mental health services including individual and group therapy and intensive residential services to approximately 187 Granby residents of all ages, primarily through their Enfield offices.
Families United Serving and Embracing received a $25,000 grant to fund a capital project to remodel an existing property to create a teaching kitchen, wellness space, greenhouse and retail space for a social enterprise program for young mothers and their children. Funding is being requested for equipment for the teaching kitchen and storefront.
Friends of Granby Wildflower Meadow received a $6,568 grant to plant 20-35 species of native plants throughout a 5-acre field in Granby to create a stop on the Pollinator Pathway. Planting sustainable native plant species will strengthen the local ecosystem, support wildlife, and support the local economy, which is dependent on a healthy ecosystem.
Granby Land Trust received a $7,910 grant to print 1,000 copies of a Trail Guide/Walkbook that includes the seven trail systems Granby Land Trust manages and other trails in the town of Granby. The printed trail guide would be used as a membership incentive and a pdf version will be made available on the web for the general public.
Junior Achievement of Southwest New England received a $5,000 grant to provide free financial literacy, work readiness, and entrepreneurship programming to students attending Kelly Lane Primary, Wells Road Intermediate, Granby Middle, and Granby High Schools.
Marquis of Granby Jr. Ancient Fife and Drum Corps. received a $11,500 grant to refurbish existing drums, maintain existing uniforms, and invest in new uniform components to support their performances in parades and events throughout Connecticut and New England. Some funds will also be used to purchase instructional tools such as musical recording and printed musical handbooks to enhance musical instruction.
New England Air Museum received a $15,000 grant to upgrade the technology, including the Bernoulli Wind Tunnel, used by the Kidsport Exhibit which is designed to provide an educational and entertaining experience for children. This includes the 4th grade students from Wells Road Intermediate School in Granby. In 2021, more than 500 Granby residents visited the museum in addition to 100 students from Wells Road Intermediate School.
Nutmeg Senior Rides received a $8,365 grant to increase the number of free rides available to Granby residents over the age of 50 who need transportation. Rides are primarily for medical appointments but can be used for any reason. This door-to-door service operates 365 days a year and provides service regardless of the destination.
Oak Hill received a $14,265 grant to equip three Oak Hill group homes in Granby with a "Getting Connected AT Home Kit" and provide training resources to support the successful adoption of the technology into the daily lives of the 18 individuals who live in the homes. The proposed assistive and smart technology includes a kit that offers accessibility, social connectivity, and independent living aids.
The Connecticut Invention Convention received a $14,000 grant to bring their programs to 150 students across Granby's public schools and community organizations. The program includes professional development for up to 20 Granby educators, operation of the program and support for Granby students who qualify for the statewide Connecticut Invention Convention Finals.
Town of Granby (Durable Medical Equipment) Loaner Closet received a $19,600 grant to provide capital funds to improve the Granby Senior Center's volunteer-run durable medical equipment (DME) Loaner Closet. Capital improvements include enhancing building safety and improving climate control to ensure client and volunteer safety and comfort as well as to protect the integrity of the medical equipment. The Loaner Closet gives Granby seniors access to important medical equipment, including canes and wheelchairs.
Valley Brook Community Church received a $13,530 grant to fund a capital project to paint the exterior of a group home established to provide shelter to the homeless as well as access to prenatal care and life skills training to help residents become successful, independent members of the community.
The Hartford Foundation for Public Giving is the community foundation for Hartford and 28 surrounding towns. Through partnerships, the Foundation seeks to strengthen communities in Greater Hartford by putting philanthropy in action to dismantle structural racism and achieve equity in social and economic mobility. Made possible by the gifts of generous individuals, families and organizations, the Foundation has awarded grants of more than $894 million since its founding in 1925. For more information, visit www.hfpg.org or call 860-548-1888.