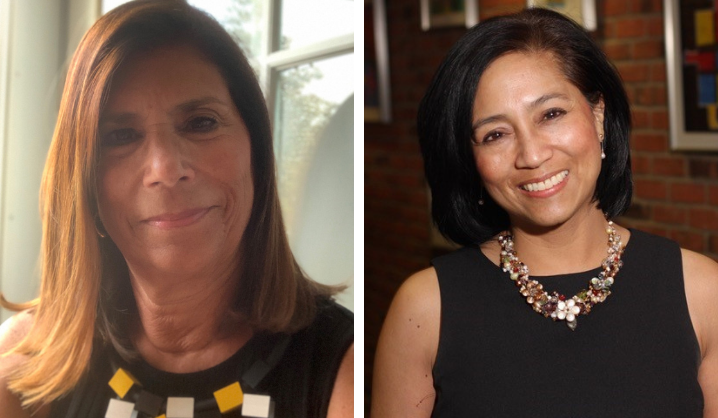 Hartford Foundation for Public Giving Announces New Appointees to Board of Directors
Former United Way President Susan B. Dunn and State Appellate Court Judge Nina Elgo to Begin Terms in 2022
The Hartford Foundation for Public Giving is pleased to announce two new appointments to its Board of Directors. Susan B. Dunn and Judge Nina Elgo will each begin their terms on January 1, 2022, on the Board of the Hartford Foundation, the community foundation for Hartford and 28 surrounding communities. Dunn is filling the term vacated by Nancy Bernstein, and Judge Elgo is filling the term vacated by Min Jung Kim.
Dunn is a trained Interim Executive Director for Nonprofits and has worked as a nonprofit consultant. Previously, she was the first woman to lead the United Way of Central and Northeastern Connecticut since its founding in 1924 and only the fifth staff leader in its 90-year history. Dunn joined United Way in 1990 as communications director; the Board of Directors named her president in November 2006 after the sudden death of George Bahamonde. During her tenure, she oversaw the organization's largest ever fundraising year, procuring $28 million in 2008. Under Dunn's leadership, United Way launched the Working Families Initiative to maximize people's income, earnings and assets while also help them move up the career ladder. The Volunteer Income Tax Assistance or VITA program was a key piece of this effort (with sites run by the Internal Revenue Service) that continues to provide free tax preparation for low-income people. This effort has resulted in major increases in families receiving the federal Earned Income Tax Credit and other refunds and credits to eligible taxpayers in New Britain and Hartford. Dunn received her bachelor's in marketing from Fairfield University. She and her husband Edmund (Ned) Dunn currently live in Clinton.
Judge Nina Elgo is the first Asian Pacific American judge appointed to both the Connecticut Appellate Court and the Connecticut Superior Court. Prior to her appointment to the Appellate Court, Judge Elgo served as a Superior Court judge where she heard civil matters in the Hartford Judicial District and served as presiding judge for the Child Protection Session in the Middlesex Judicial District. Since 2012, she has served as a member of the Connecticut Bar Examining Committee and previously served on the Rules Committee of the Superior Court. She is a James W. Cooper Life Fellow and serves on the Education and Program Committee of the Connecticut Bar Foundation. Judge Elgo is a first generation Filipino-American, born in Groton, CT and raised in Norwich, CT. She received her BA from Connecticut College and her Juris Doctor from Georgetown University Law Center. She and her husband Attorney Christopher Kriesen and daughter Caroline reside in West Hartford.
The Hartford Foundation for Public Giving is the community foundation for Hartford and 28 surrounding towns. Through partnerships, the Foundation seeks to strengthen communities in Greater Hartford by putting philanthropy in action to dismantle structural racism and achieve equity in social and economic mobility. Made possible by the gifts of generous individuals, families and organizations, the Foundation has awarded grants of more than $849 million since its founding in 1925. For more information, visit www.hfpg.org or call 860-548-1888.