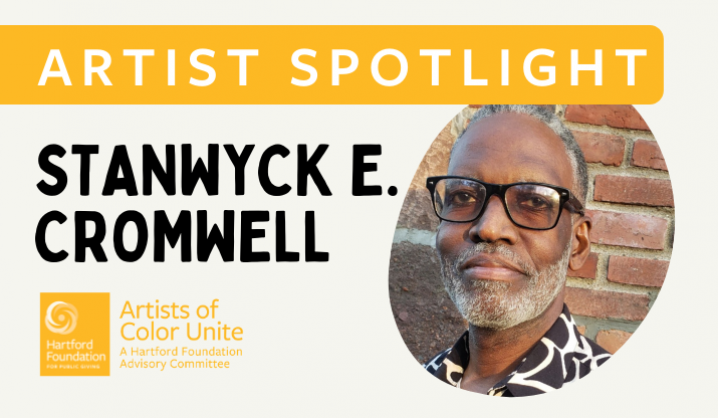 Artists of Color Unite Spotlight: Stanwyck E. Cromwell
Artists of Color Unite: A Hartford Foundation Advisory Committee is excited to launch a special bi-monthly Artists of Color Spotlight, where we will highlight our region's talented artists of color within all kinds of art forms (painting, photography, music, dance, acting, and more!).
Our first spotlight feature is:
Stanwyck E. Cromwell
Mediums: paint, draw, collage, watercolor and more
Artist Statement:
I'm a Guyanese-born contemporary visual artist and a retired Adjunct Art Professor, who have lived and work in the United States of America, for the vast majority of my adult life. A visual kaleidoscope from this exotic place, is referenced in my art. Saturated colors, patterns and textures, reveal themselves in my collages, paintings and drawings. Sometimes my subject matter is abstract forms, while other artworks are about self. My work, is a fusion of my Guyanese heritage and my experiences, living in a multi-cultural America.
What is your favorite thing about the Greater Hartford community?
My favorite thing about the Greater Hartford community is the very rich and diverse culture, food and art forms. In addition, the peace and tranquility of Greater Hartford, unlike other urban cities, allows the ability to focus on my work and family.
How can people support your work?
In order for people to support my art and those of my fellow artists, downtown Hartford needs a revival, or renaissance. I recall Hartford, once being a city that once embraced the visual arts. there were lots of galleries in the Greater Hartford area. Last but not least, serious artists need to have access to funding, so that they afford more materials.
Connect with Stanwyck:
Website | Flickr
No images were found.